Table of Contents
01 3 Key Questions, HCPs should consider for 2022
02 The Health Tech Monthly Roundup
03 Building Blocks for India's Healthcare Ecosystem
04 The 6 Global issues in Healthcare
05 How can HCPs scale up their digital healthcare delivery?
3 Key Questions, HCPs should consider for 2022
What are some 'no-regret moves' that health care systems can make to support the convergence of digital transformation and health care delivery models? Innovative digital plays can assist healthcare systems in overcoming a variety of clinical and operational difficulties, as well as unwrapping opportunities to take them closer to the Future of Health. Some of the 'No-regret move' to consider are:

Investing in 5G infrastructure particularly in distant areas can help remote populations have more dependable and timely access to services.
Moving contact centers to the cloud can boost customer engagement and streamline issue resolution.
Creating a delivery system without walls by shifting from inpatient visits to more outpatient and digital management can revolutionise the care delivery journey.
Strengthening interoperability and connectivity can give healthcare systems the capabilities and flexibility they need to offer the appropriate care at the right time and location.
Broadening the concept of partnering can lead to cost savings, operational efficiencies, affordability, increased data security and clinical innovation, all of which can improve population health outcomes.

How can scientific innovation help stakeholders control health care costs while also improving overall public health? Scientific research, development, and commercialization are expensive, especially when it comes to tailored therapies. The three primary focal areas that healthcare leaders may focus on to improve general public health include tapping into consumer empowerment by allowing them to experience medical breakthroughs first-hand, establishing healthcare innovations, and investigating collaborative funding and development approaches.
How can stakeholders capitalize on current momentum to reimagine public health for the future? Public health systems face chronic clinical, financial, and technological problems across the value chain. There is a dire need to reimagine and transform the struggling and constrained public healthcare systems into ones that are human-centered, inclusive, and resilient to future shocks.
Opportunity Matrix & High-Value Use Cases for Healthcare Providers
Read now
The Health Tech Monthly Roundup
A quick roundup of the month's latest health tech activity, both in India and globally.
The

digital-health

market

in India is predicted to grow at an annual rate of 39% over FY20-FY23 and will reach $50 billion by 2033.

Union minister Jitendra Singh launched the Tele-Digital Healthcare Pilot Programme at Banaras Hindu University, which will cover 60,000 patients in the three districts of Varanasi, Gorakhpur and Kamjong in Manipur in the initial phase

.

Nitin Gadkari unveiled

Power MAP

, an application created for doctors to help them access necessary medical intelligence regarding a patient's clinical data all at the touch of a button.

Pytheos Health unveiled

Resolute Active Care

, an integrated digital health and wellness service that provides continuous virtual care, precision wellness, and doctor-led programs for the entire family using medical, nutrition, movement, mindset, lifestyle, and skills.

Docprime launched India's first digital health locker integrated with Ayushman Bharat Digital Mission which will give users a digital and self-consented health data management system free of cost.

HealthQuad

raised

$150 million in the pre-final close of its second fund which has become the largest healthcare VC fund in India.

Pristyn Care

received $96 million in Series E round which will be utilized in adopting the latest surgical technologies, expanding into new disease categories, strengthening and modernizing partner-hospital infrastructure, training its surgeons and further developing its product and technology.

Transcarent

has raised a $200 million series C round to scale their Concierge Medical business. The infusion will be used on expansion and R&D to deliver better care at lower costs, and to expand into new markets such as government employers, unions and Medicare Advantage. 
Opportunity Matrix & High-Value Use Cases for Healthcare Providers
Read now.
Building Blocks for India's Healthcare Ecosystem
The NDHM Blueprint underlines key principles which include the domain perspective — Universal Health Coverage, Security & Privacy by Design, Education & Empowerment, and Inclusiveness of citizens; and the technology perspective — Building Blocks, Interoperability, a set of Registries as single sources of truth, Open Standards and Open APIs. 
In order for the digital health ecosystem to evolve, a minimum viable set of building blocks is being created. While the Blueprint identifies 23 such blocks, for the purposes of this white paper, we will explore the six most relevant to healthcare providers.
The healthcare ecosystem allows for registered participating entities to integrate with these building blocks. An entity is a type of software service provider that facilitates integration for healthcare providers.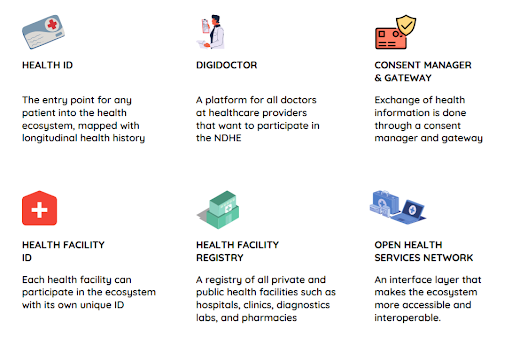 Source: Mantra Labs Whitepaper
While India meets the global average in number of physicians, nearly 75% of dispensaries, 60% of hospitals and 80% of doctors are located in urban areas. Doctors cater to a third of the urban population, or no more than 442 million people.
One the other hand, only 3% of specialist physicians cater to rural demand – which points to the glaring dearth in both quantity and quality of healthcare services available for rural areas. India has a lower than average doctor to patient ratio, which is further skewed by concentration of medical facilities in the urban centers. 
The journey towards an Open Health Ecosystem is still nascent in its development, and its transformative impact can only be realized through the participation, collaboration and approaches of all health ecosystem players. The effective rollout of the project will be carried out over several waves. 
Read the full whitepaper, here.
The 6 Global issues in Healthcare Industry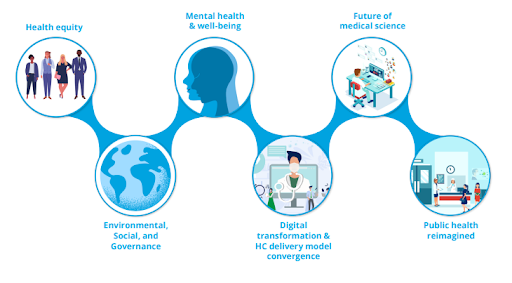 Source: Deloitte 2022 Global Health Care Outlook
Health Equity:

Studies show that pandemic disproportionately affects historically marginalized and low-income people, wreaking havoc on their overall health than the general population. Health equity in the system exists as a result of structural defects, systemic and unintentional prejudice and discrepancies in the drivers of health. Healthcare leaders who act as both employers and change agents, are at the forefront of tackling health disparities. However, they must realize that health equity goes beyond 'equal access to care'.

Environmental, Social, and Governance (ESG) :

Climate change and pollution are increasingly being scrutinised for their negative health effects, at the same time functioning as a healthcare catalyst. According to WHO, ambient pollution contributes to 4.2 million premature deaths worldwide each year, with the Western Pacific region among the worst affected. Climate change has been declared officially as a health emergency by leading organisations all over the world.

Mental health & well-being:

The global pandemic has both highlighted and aggravated the world's mental health challenges. Mental and behavioral health has become the top most area of discussion for government, provider, health plan, and employers.

Digital transformation and health care delivery model convergence:Global

The global healthcare system is under more pressure and scrutiny than ever before, resulting in issues such as rising patient numbers, employee burnout and personnel shortages, supply chain disruptions and equipment scarcities, and outdated facilities.One way to tackle these issues is to accelerate the convergence of digital transformation and health care delivery models (HCDMs). Healthcare leaders are turning to cloud computing, 5G telecommunications, artificial intelligence (AI), and interoperable data and analytics to build digitally driven care delivery models for the future.

Future of Medical Science

:

Effective utilisation of medical science capabilities on a large scale is still a work in progress.The high R&D costs associated with developing new immunotherapies, digital medicine products and personalized medicine act as bottlenecks in utilising medical science opportunities to scale up the development. Even after they have been cleared by regulatory authorities, health care professionals, insurers, and patients are still hesitant to engage with innovative medical therapies.
Public Health Reimagined: The necessity of investing in public health has been underscored by the global health crisis. To improve healthcare delivery, healthcare executives are increasingly focusing on systemic reform and cross-sector coordination.
Digital Health: Building Blocks For A Covid World
Read the full report.
How can HCPs scale up their digital healthcare delivery?
The pandemic has fast-tracked digital health innovation in Africa. The 'what the doctor says goes' approach is now a thing of the past. In fact, consumers are becoming more involved in the decision-making process. In reality, they're starving for information. Here are some key takeaways from experts in Africa on how to scale up digital health solutions:
The consumer-first approach is the key:

Pandemic has forced more public health professionals to start by considering the needs of the consumer before asking what the system needs which gives more effective and scalable results.

Understanding the hidden costs:

One of the key factors for the successful adoption of a digital health solution is cost. But in low-resource settings, investors, governments, and implementers often lack visibility on this critical information.

Overcoming 'survivorship bias':

The digital health business has been accused of creating a never-ending cycle of piloting technologies that never scale up. This has to do with "survivorship bias," in which people draw conclusions from examples that currently exist rather than focusing on what has failed. Industry leaders should realize that even if technology is built correctly, most new ideas will fail.

Breaking down silos:

Healthcare providers now have new opportunities to customize care delivery, thanks to digital health solutions. However, one of the greatest challenges they confront in delivering tailored treatments is that different funding streams support different illness areas. They need to explore how to create cross-cutting breakthroughs that benefit people in a variety of ways.
Integrating With a Nationalized Health Ecosystem
Read the Whitepaper here.
Business cognizance for the new-age digital insurers