Table of Contents
01  The Business Impact of COVID-19 So Far
02  Webinar: AI for Data Driven Insurers, 14th April 2020, 3PM GST
03  Is the Future of Customer Service at home?
04  Embracing AI & Insurance in 2020 (Report)
05  The Technology 'Upgrade Burden' for Insurers
---
Latest

THE BUSINESS IMPACT OF COVID-19 SO FAR
Barclays estimates that India's growth rate could drop down to 2.5% from the current 4.5% for FY20, while business continuity planning floats to the top agenda amidst a looming financial crisis. Here are ten key insights on how the pandemic is affecting businesses and the economy:
So far, the cumulative shutdown cost for India is estimated at 4% of GDP or $120 billion already. Over 50 per cent of Indian

companies

have seen their operations impacted and nearly 80 per cent have witnessed decline in cash flows.

Most countries are still in the early stages of the pandemic, while China is slowly transitioning into the 'post-peak' period.

This means China is most likely to get its industries up and running in time to meet the global 'post-pandemic' demand.

Wuhan, the centre of the pandemic, is also one of the largest auto hubs in the world. With Wuhan shut for months, there's going to be a huge shortage of components too.

China, with its head start, could still manage to get low-cost products to the world, creating a massive competition issue for Indian exporters.

Sales of 'Cancel for Any Reason' (CFAR) policies, that allows travelers to cancel for any reason including fear of travel from the coronavirus, spiked worldwide before the global travel shutdown came into effect. If the spread of the virus doesn't slow down soon, many global insurers may stop selling travel insurance altogether.

India's smartphone production could be setback by four years, taking its global share from 16% to 9%.

Indian MSMEs, that employ upwards of 110 million people, are too small to cushion the long-term impact of the pandemic — forcing many of them to go out of business.

The pandemic will drive individual need for health insurance. During the SARS epidemic, critical illness and life policy sales soared in Asia. A similar phenomenon is expected post-coronavirus.

Ongoing treatment requirements and eventual morbidity rates from the coronavirus are still speculative, making it harder to gauge actual costs for health insurers.
Enterprises investing in workplace mobility are surviving the pandemic.
Read our latest blog here.
---
Latest
WEBINAR: AI FOR DATA DRIVEN INSURERS, 14TH APRIL 2020, 3PM GST
According to a recent IDC study, most C-level executives are recognizing that AI isn't mature enough within their organization and nearly half of all AI pilot projects in insurance have failed to take off. Mantra Labs will be hosting an exclusive Webinar for Insurance Business Leaders to help address these concerns, and chart the course forward with AI for Insurers. 
The Webinar will cover:
Real-world challenges in AI implementation

Creating competitive advantage through Enterprise AI Integration

Enhancing Customer Experience with AI-driven Claims

A fireside chat with Parag Sharma (CEO, Mantra Labs)
Register here to save your spot.
---
Opinion
IS THE FUTURE OF CUSTOMER SERVICE AT HOME?
As companies continue to deal with COVID-19 related business disruptions, organizations are facing a serious reality: Is the future of service at home? And, if so how can companies safely keep the lights on for both customers and employees?
Dealing with remote customer service teams requires improved knowledge bases, skill building and maintaining collaboration throughout all teams. Moving business software to the cloud and the availability of easy-to-use collaboration software are two recent trends that have made 'remote customer servicing' even possible. 
Customer-care organizations have to realign their strategic goals to accommodate modernized, future-fit business continuity plans. In the wake of the ongoing crisis, building operational resilience takes the topmost precedence. From flexible working models to virtualization of key processes, the shifting focus turns towards building new capabilities.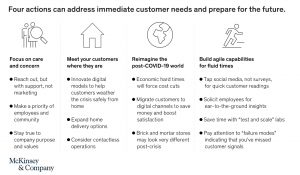 Mckinsey: Moving from Crisis Management to Recovery
Read the article here.
---
Insights
EMBRACING AI & INSURANCE IN 2020 (REPORT)
Mantra Labs has published a report and brief outlook on the State of AI in Insurance for 2020. According to the findings of the survey, predictive analytics has risen to the top of insurer priorities for the coming decade. As investments in Artificial Intelligence continue to rise, Insurance analytics has the potential to improve several functions of the value chain including underwriting, risk appraisal, claims, pricing and marketing.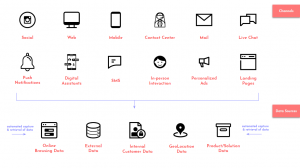 Omni-Channel Fulfilment with AI
Read the full report here.
---
Opinion
THE TECHNOLOGY 'UPGRADE BURDEN' FOR INSURERS
Many insurance enterprises, even at the global scale, are running layers of outdated technology with too many highly skilled back-office teams mired in "just keeping the lights on". This often results in more frequent system downtime and a lack of interoperability that makes other inefficiencies almost unavoidable.
The Legacy of 'Legacy Technology Layers'
A recent study done by Duck Creek, surveying 100 senior insurance executives reveals:
Majority of insurers characterise their IT infrastructure as multiple legacy systems operating across a host of different IT vendors, and often falling behind on upgrades.

The cost of performing an enterprise-wide upgrade of one version of a system to the latest version is nearly

$1.2 million

, according to 20% of those surveyed.

90% of insurers agreed that out-of-date IT systems create inefficiencies and costs that their customers (insured) have to ultimately pay for.

Over two thirds of insurers were not confident in their current IT systems ability to support future growth strategies.
It's clear the eradication of the upgrade burden would constitute one of the biggest steps forward in insurance operations. Upgrades are holding insurers back from innovating. In contrast, software as a service (SaaS) enables faster upgrades that provide insurers with the latest features and functionality and provides greater speed and agility to meet evolving customer needs.
Read Raconteur's Future of Insurance report, here.
Business cognizance for the new-age digital insurers