Table of Contents
01 Claims Management and Customer Servicing are the Top 2 Investment areas for Insurers
02 The Insurance Monthly Roundup
03 Future Market Insights Insurtech Report: Key Takeaways
04 Drive better, Pay less: New Motor Insurance Policy in India
05 Understanding the Agent Perspective in Insurance
Claims Management and Customer Servicing are the Top 2 Investment areas for Insurers
With a sudden hike in insurance demand, customers' expectations have escalated, and so does the complexity involved in creating an exceptional experience on such a wide scale. According to the survey conducted by Mantra, the majority of insurers want to invest in improving Claims Management process (69%) and Customer Servicing (65%). Canada-based Manulife increased its straight through claims processing rate from 68% in 2018 to 81% in 2020 by digitizing all its processes, from claim submission to servicing. International Data Corporation (IDC) predicts global IT spending in insurance will grow at a CAGR of 6% by 2024, hitting a market size of $135 billion, with customer experience accounting for 37% of this investment. This means more insurance organisations will be deploying AI, IoT, data analytics to understand customer persona at the grassroot level and scale up customer experience across the entire value chain.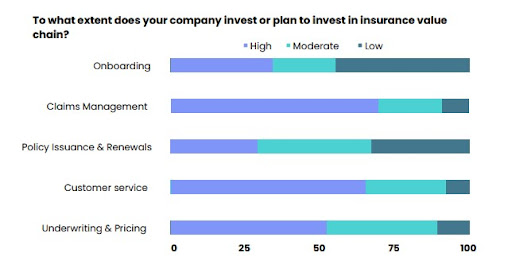 Source: Mantra Labs Report
For insurance firms, data-driven claims management can help in improving operational efficiency and offer an exceptional customer experience.
State of CX In Insurance
Read the full report.
The Insurance Monthly Roundup
A quick roundup of the month's insurance and insurtech news.
(India)
Life insurance market is expected to rise in India is anticipated to

rise

at a compound annual growth rate (CAGR) of 10.3% through 2026, fueled by rising awareness and a favorable regulatory landscape, according to experts at Global Data.

To encourage innovation in the InsurTech industry, Swiss Re has teamed up with T-Hub. Swiss Re GBS India will make use of the ecosystem of start-ups, corporates, and investors on T-Hub. Furthermore, T-Hub would assist Swiss Re GBS India in gaining access to six to eight startups in the insurtech sector.

City Union Bank (CUB) and Tata AIA Life Insurance Co Ltd have teamed up to offer life and health insurance solutions to the bank's customers. This partnership will enable CUB customers to make use of Tata AIA Life's term insurance, savings & investment, retirement, and health solutions through the bank's 700 branches.
Bajaj Allianz Life Insurance and DBS Bank India have collaborated to offer life insurance solutions to the bank's customers. The alliance with Bajaj Allianz Life will pave the way for all DBS Bank customers to enjoy comprehensive end-to-end life insurance solutions.
(Global)
InsurTech JAROWA, located in Switzerland, has collected CHF 12.4 million in Series A investment round. With this funding, the organisation plans to grow even further across Europe.

Tartan

has acquired $4.5 million funding that it plans to use to accelerate its go-to-market operations, grow its internal engineering team, double its workforce employees, and improve its product offerings.

Lami Technologies, a Kenyan insurtech, has

secured

a $3.7 million to increase the range of insurance products. The company wants to improve insurance penetration across the continent which currently is less than 3%. Furthermore, Lami will utilise the funds to hire, push its expansion plans, and strengthen underwriter partnerships.

Raincoat, an insurtech that creates parametric embedded climate insurance products, has acquired $4.5m in seed funding.

Swiss-based Grape Insurance has

garnered

€1.7 million to revamp employee insurance. The additional financing will be utilised to further develop the product and the team in order to spread the company's vision across more businesses and markets.

Mulberri, an integrated platform for business insurance used by brokers and professional employer organizations (PEOs), has

earned

$4 million in seed funding.
How to Win Customers through Smarter Form Filling?
Read our Latest Blog here.
Future Market Insights Insurtech Report: Key Takeaways
In the last couple of years, insurtech funding has witnessed a significant rise attracting great deals from venture capitalists. Tech-driven insurtechs are transforming customer experience in the insurance landscape creating personalized solutions for insurance seekers. Here are some of the key insights from Future Market Insights (FMI) reports published recently: 
The insurtech industry is anticipated to grow from US$ 12.5 Billion in 2021 to US$ 165.4 Billion in 2032 witnessing a CAGR of 25.9%.

AI in the insurance market is likely to touch US$ 6.68 Billion in 2026 with an impressive CAGR of 24.05% during the forecast period. Growing demand for personalized insurance services is driving the use of artificial intelligence (AI) in the insurance market.

IoT in the insurance market will reach US$ 301.85 Billion in 2026 witnessing an impressive CAGR of 63%. The main factors fuelling this expansion include rising demand for cloud platforms and other value-added services in the insurance industry and increase in the use of IoT products in developed and developing nations. Insurers are using in-built sensors and global positioning systems to track, locate, analyze vehicles, and monitor driving patterns during the claim process.

The solution sector is increasing at a much faster rate than the service segment and is likely to dominate the global insurtech market witnessing CAGR of 25.8% during the forecast period. Insurers want to create a technology-based service platform for their customers which will help them simplify claim processing, lower insurance rates, reduce fraud possibilities, and decrease underwriting costs. 

Over the projected years, cloud computing is expected to dominate the insurtech landscape witnessing a CAGR of 25.2%, Benefits such as rapid deployment, cost-effectiveness, and scalability are the key drivers behind this adoption. 

On-demand insurance is becoming more and more popular among customers because of the convenience it offers. Customers can get insurance coverage on their mobile phones at their own convenience and comfort of their homes.  Insurance organizations are leveraging cutting-edge technologies like IoT, AI, Big Data, and predictive maintenance to transform the way on-demand insurance products are underwritten, created, and delivered.

US has the highest amount of insurtech capital globally, valued at about US$ 6 Billion in 2022. It is also the best-performing nation, with a CAGR of 25.6%, and it is anticipated that by the conclusion of this projection period, the net worth of the regional insurtech

market

would reach US$ 58.6 Billion.
Here's how Neobanks are Changing the CX game in Banking
Read our blog here.
Drive better, Pay less: New Motor Insurance Policy in India
Insurance landscape is continuously evolving with newer customer demands and tech-enabled innovation rising in the market.  In the insurance industry, businesses are making every effort to enhance customer experience (CX) and earn customers' trust. And to make it simpler for insurers to conduct business, India's Insurance Regulatory and Development Authority (IRDAI) is giving the much needed support to insurance providers by easing up the current norms and rules. For instance, a few months ago, IRDAI extended the 'use and file' approach for all health insurance products enabling insurers to launch new products without the regulator's prior approval. This is helping insurance companies to come up with faster product innovation in order to meet the constantly evolving customer demands. Additionally, the regulator approved insurers' introduction of tech-enabled insurance solutions including Pay as You Drive, Pay How You Drive, and Floater policies as add-ons last month in order to lower the cost of auto insurance and boost insurance penetration in the country. Based on the usage of the car and driving habits, the telematics-based insurance plan would adjust the premium amount.
Here are the 3 types of policies: 
Pay As You Drive: Pay as you go will let policyholders pay for their insurance based on how much they actually use it. Customers can make an estimation of their intended usage here, which can subsequently be tracked via geotagging. In the meanwhile, the insurance provider will have to make clear how claims will be resolved if a customer exceeds the indicated usage.

Pay How You Drive: This insurance cover depends on how a customer would drive the car. They will be given the choice to select live tracking of their driving, including usage, speed, etc. On the other hand, the insurance provider will present a price based on these criteria. Pay how you drive will encourage consumers to drive carefully because they will pay lesser premiums for doing so.

Floater policies for vehicles belonging to the same individual: A customer can choose this cover for all of his cars if he owns more than one two-wheeler and one four-wheeler.
Advanced economies like the US are already using usage-based insurance. In India, Edelweiss General Insurance (EGI) has introduced the Switch Pay as you Drive (PAYD) add-on. EGI will offer additional premium savings of up to 25% depending on the usage disclosed by the customer. For car insurance Own Damage (OD) coverage, Go Digit Insurance has also offered the "Pay as you Drive" (PAYD) add-on feature. Customers who purchase this add-on cover will be able to complete the tech-enabled video pre-inspection process in under 5 minutes and the entire policy issuance process in under 30 minutes.
Technology like AI and data analytics will assist insurers in tracking trends and enhancing product innovation. Usage-based plans are cost-effective for customers and encourage safe driving habits while providing insurers with cross-sell and up-sell opportunities.
AI and the Gen Z Experience
Read the full blog, here.
Understanding the Agent Perspective in Insurance
Agents are exposed to volatile changes in consumer needs due to which they are finding it difficult to understand their exact requirements. According to Mantra Research 2022, poor productivity tools (81%) and inflow of qualified leads (72%) are the top two challenges that agents face while service delivery leads to lower conversion rates and performance.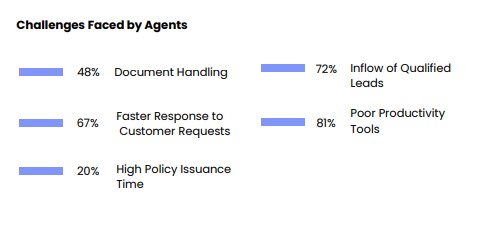 According to Capgemini report, 44% of Agents want support from their insurers. More than half of the agents and brokers surveyed said that they need digital collaboration and engagement solutions like screen-sharing platforms and digital document signing systems to service and support customers.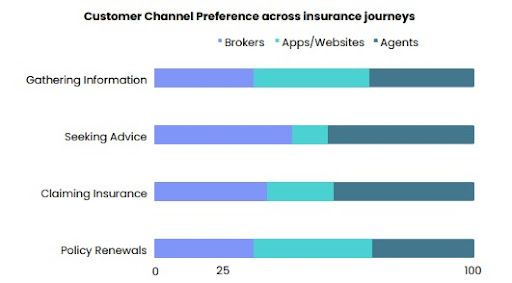 According to Mantra Research 2022, customers prefer to interact with an insurance agent over other channels like brokers and chatbots when it comes to seeking advice (46%) and claiming insurance (44%). Insurers need to create a better experience for agents by providing them with regular company updates, customer insights and marketing collateral that'll help them drive sales. Even though investments in AI and automation have been witnessing a sharper rise, empowering agents with digital tools and capabilities will help in improving customer engagement and retention for insurers.
State of CX In Insurance
Read the full report.
Business cognizance for the new-age digital insurers