Table of Contents
01 Customer Retention Vs. Acquisition In Insurance
02 The Insurance Monthly Roundup
03 Economic Survey 2022: Key Insights
04 Rising need for Financial Immunity in India – An opportunity for Insurers?
05 How Digisafe is using the "Doorstep delivery" model to insure rural India?
Customer Retention Vs. Acquisition In Insurance
Customer acquisition expenses have been rising and are set to further rise from 15.8% of GWP in 2018 to 16.6% in 2020, and up to 17.9% in 2022. Instead of pursuing an omnichannel approach for retention, many insurers continue to engage customers primarily by call and traditional mail. The latter is relatively expensive and makes seamless integration difficult, requiring several steps to digitize, analyze, and integrate communications. 
According to Mantra Labs latest report 'Elevating Conversational CX in Insurance' — Only 35% of insurance executives actively prioritize retaining customers as more important than new business. Research shows customer retention is at least four times as cost-efficient as pursuing new business.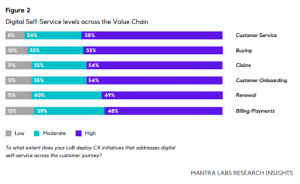 Carriers who prioritized CX before the pandemic have already gained an early advantage. Mature CX organizations are more than six times as likely to exceed their customer retention goals. Investments in digital front-office transformation would better align Carriers with their customers' engagement needs and improve cost efficiency.
Elevating Conversational CX In Insurance
Read the full report.
The Insurance Monthly Roundup
A quick roundup of the month's insurance and insurtech news.
(India)
Tech Mahindra Ltd. acquired Com Tec Co IT Ltd. for €310 million to scale up its European presence and provide end-to-end digital engineering, AI/ML, and DevSecOps capabilities.

Finsall secured ₹12 Cr in a Pre-Series A funding round. The startup plans to deploy the infusion in scaling the platform, increasing market share in the insurance premium financing segment, and building lending partnerships with banks NBFCs.
(Global)
Laka

has secured $12 million to advance its insurance model. With this fresh funding, the company is planning to increase its presence across Europe in the first half of 2022 and expand its product offering to e-scooters, e-mopeds, and, eventually, e-cars to serve Europe-wide partnerships including manufacturers, retailers, and leasing businesses.

Sayata added $35 million to its

Series A

funding, taking it to a total of $52 million. The Israeli company, which streamlines the quote-bind-issue process for insurance brokers plans to increase its workforce by an additional 50% during 2022 with this new infusion of funding.

Honeycomb

raised

$15.4 million in a Series A funding round. The company is planning to expand its operations in 10 more states covering 60% of the country. 

Vesttoo received $15

million

Series B at $300 million valuations which will be used to drive the expansion of Vesttoo's Insurance-Linked Program (ILP) offering and digital marketplace for insurance-based risk transfer and investments.

Accelerant raised $193 million at a $2 billion pre-money valuation. The funding will be used to further invest in Accelerant's platform, scale their operations and expand to new geographical footprints.
Delivering Superior Customer Experiences over Video.
Download Report, here.
Economic Survey 2022: Key Insights 
The total insurance penetration in India reached 4.2% in 2020 which is low as compared to Asian countries such as Singapore (9.5%), South Korea (11.6%), and Taiwan (17.4%).  

Life insurance penetration in India

touched

3.2% in FY21 which is close to the global average of 3.3 %; non-life insurance penetration is still at 1% which is much lower as compared to global penetration at 4.1%.

The gross direct premium (within and outside India) of non-life insurers was ₹ 2,02,082 crore, as against ₹ 1,92,193 crore in 2019-20, recording a growth of 5.2% where motor and health were a major contributor in the growth.

The life insurance industry recorded a premium income of ₹6.29 lakh crore in FY21, as against ₹5.72 lakh crore in the previous financial year, registering a growth of 9.74%.

The renewal premium accounted for 55.7% of the total premium received by the life insurers, new business contributed the remaining 44.3%.
Conversational Intelligence: The Next Big Thing In Customer Experience
Read our Latest Blog here.
Rising need for Financial Immunity in India – An opportunity for Insurers?
Along with the Covid, the pandemic brought a lot of uncertainty. Creating financial immunity became as important as building physical immunity. SBI Life Insurance recently conducted the Financial Immunity Survey 2.0 in collaboration with Nielsen India to understand how Indian consumers are reacting to the ongoing pandemic in terms of financial immunity. Here are the 5 key takeaways for the insurers:
78% of Indians feel that it is extremely important to have Insurance in their financial planning process which means more people are planning to invest in insurance.

For 57% of the Indian population, financial immunity is directly associated with the financial security and stability of an individual and the family.

44% and 46% have bought life and health insurance respectively, for the first time during COVID-19.

56% of Indians have accumulated emergency funds since the pandemic and 53% insured themselves with life and health insurance.

3 out of 4 Indians have increased their saving/investing since January 2021 and 56% of the Indians will use this accumulated amount to buy life insurance. 
India's evolving Insurance landscape during the Pandemic
Read our Latest Blog here.
How Digisafe is using the "Doorstep delivery" model to insure rural India?
Only 3% of India's 830 million rural residents have insurance, owing to the high costs, a lack of trust and awareness about insurance, and a gap in the claims procedure. This clearly indicates that reaching out to the rural population is still a struggle for insurance providers. Since opening new branches in multiple areas is expensive and unsustainable, Industry leaders are now on the lookout for new and cost-effective methods to address these concerns while maximizing the benefits.
Digisafe, a tech-backed insurance business, has come up with a novel approach to make insurance more accessible in rural India. DigiSafe effectively acts as a conduit between insurance buyers and sellers. It not only makes it easier for people in remote locations to buy insurance, but it also brings services to their doorsteps. There is a lack of trust and understanding in the rural population when it comes to buying insurance. To simplify the process, the company appoints on-ground personnel who play a dual role here- to act as point-of-sale persons (PoSPs) and at the same time assist customers with paying premiums and filing claims. People who buy insurance prefer to speak with someone they know rather than a stranger over the phone with whom they may not be completely comfortable. These PoSPs are well-known faces and village inhabitants, which adds a personal touch to the insurance purchasing process.
In addition to promoting a general sense of trust through PoSPs, the doorstep delivery approach, known as DigiONE, helps empower and develop entrepreneurs in rural areas, who not only earn a living but also obtain insurance and sales training, as well as plenty of upskilling chances, thereby enhancing future career prospects. In fact, this distribution model is turning out to be cost-effective and also placing the company to be the first to address the untapped rural market and establish a significant presence in locations where buying insurance is still a dream.
CX Trends 2021: How Businesses are Winning Customer Experience Moments
Read our latest blog, here.
Business cognizance for the new-age digital insurers