Table of Contents
01   Can Healthcare Exists Without Walls
02   The HealthTech Monthly Roundup
03   Emerging Business Risks: Digital Health & Wellness
04   Six NDHM Building Blocks for Healthcare Providers
05   Emergent Behavior Trends in the Second Wave
Can Healthcare Exists Without Walls
The Pandemic is shifting the lines of how and where actual work gets done. Healthcare is no different, as organizations had to fortify the front lines while shifting some employees to remote work. Physical distance became a necessity, even for those delivering care in person. With virtual collaboration and care capabilities, digital health is expanding the continuum of care for patients situated in rural areas or under at home care.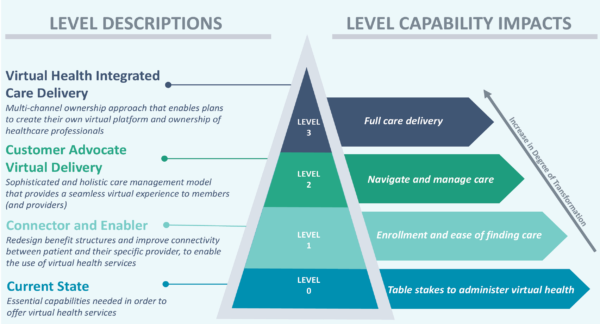 Source: Healthscape Advisors
Democratization is breaking down traditional divisions between the technology and business sides of the healthcare organization. Natural language processing, low-code platforms and robotic process automation (RPA) are just a few of the capabilities and services making technology more accessible.
Stacking strategically includes investing in core digital technologies – social, mobile, analytics and cloud (SMAC) – which are the foundation of the post-digital healthcare organization. Many healthcare organizations are bogged down by technical debt that accumulates as legacy solutions that were perhaps leading edge at the time become outdated and hinder the enterprise from realizing its strategy.
New digital services and remote work is extending the healthcare setting beyond the hospital, where a large portion of work can be done from anywhere. Some work—such as surgical procedures—must be conducted in a clinical setting. However, there may be ways to increase productivity by having a dispersed workforce. To take advantage of Bring Your Environment (BYOE), digital twins and mirroring are becoming vital to monitor, simulate and streamline data from devices. According to a recent Accenture report, 66% of healthcare executives expect their organization's investment in intelligent digital twins to increase over the next three years.
Why Healthcare Enterprises Should Get NDHM Integration-Ready Now
Read the Whitepaper here.
The HealthTech Monthly Roundup
A quick roundup of the month's latest healthtech activity, both in India and globally.
In the first quarter of 2021, digital health companies