Table of Contents
01   Can Healthcare Exists Without Walls
02   The HealthTech Monthly Roundup
03   Emerging Business Risks: Digital Health & Wellness
04   Six NDHM Building Blocks for Healthcare Providers
05   Emergent Behavior Trends in the Second Wave
Can Healthcare Exists Without Walls
The Pandemic is shifting the lines of how and where actual work gets done. Healthcare is no different, as organizations had to fortify the front lines while shifting some employees to remote work. Physical distance became a necessity, even for those delivering care in person. With virtual collaboration and care capabilities, digital health is expanding the continuum of care for patients situated in rural areas or under at home care.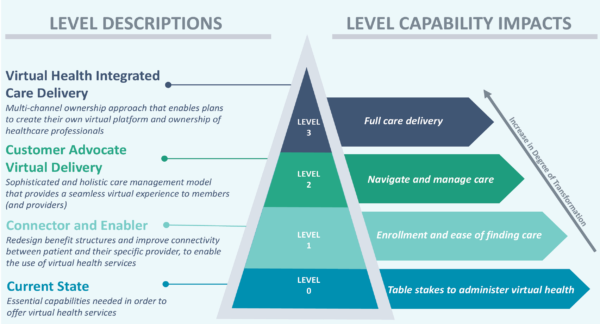 Source: Healthscape Advisors
Democratization is breaking down traditional divisions between the technology and business sides of the healthcare organization. Natural language processing, low-code platforms and robotic process automation (RPA) are just a few of the capabilities and services making technology more accessible.
Stacking strategically includes investing in core digital technologies – social, mobile, analytics and cloud (SMAC) – which are the foundation of the post-digital healthcare organization. Many healthcare organizations are bogged down by technical debt that accumulates as legacy solutions that were perhaps leading edge at the time become outdated and hinder the enterprise from realizing its strategy.
New digital services and remote work is extending the healthcare setting beyond the hospital, where a large portion of work can be done from anywhere. Some work—such as surgical procedures—must be conducted in a clinical setting. However, there may be ways to increase productivity by having a dispersed workforce. To take advantage of Bring Your Environment (BYOE), digital twins and mirroring are becoming vital to monitor, simulate and streamline data from devices. According to a recent Accenture report, 66% of healthcare executives expect their organization's investment in intelligent digital twins to increase over the next three years.
Why Healthcare Enterprises Should Get NDHM Integration-Ready Now
Read the Whitepaper here.
The HealthTech Monthly Roundup
A quick roundup of the month's latest healthtech activity, both in India and globally.
In the first quarter of 2021, digital health companies raised over $6.7 billion in venture funding, the largest dollar value of investment in history for digital health.

The EU COVID digital health pass has gone live in seven countries, to millions of people, ahead of the July 1 deadline set for return-to-travel norms within the EU. To support border reopening efforts, Linux has launched the Global COVID Certificate Network (GCCN) to provide countries with a global trust registry for interoperable COVID certificates.

Humana (HUM), League Tie Up for a Digital Health & Benefits

Platform

for Humana Employer Group and Specialty insurance members.

India's e-sanjeevani portal has crossed over 3 lakh teleconsultations in a span of six months.

Tata Digital

is set to acquire a majority stake in digital health platform 1mg, as it plans to build a unified consumer ecommerce platform. Tata digital has also picked up majority stake in Big Basket and Curefit, recently.

India's National Digital Health Mission (NDHM) sees generation of 12 lakh IDs, with 3,106 doctors and 1,490 facilities registered on the platform.
Delivering Superior Customer Experiences over Video.
Download Report, here.
Emerging Business Risks in 2021: Digital Health & Wellness
Amid heightened health risk and social distancing, consumers have become far more receptive to digital health and wellness offerings. In 2019, the industry was estimated to be worth US$106 billion and was projected to top US$640 billion in 2025, even before the arrival of COVID-19.

According to Beazley's recent digital health findings: 
Established businesses trading for over three years are substantially more concerned about the threat of cyber attacks or system failures with 31% rating cyber as their number one risk compared with only 25% of start-up businesses. 

The top concern within life science technology businesses – the most established of the digital health sub-sectors – is inadequate client care due to human error, cited by 29% of business leaders. 

Well over a third (39%) of telemedicine, telehealth and health technology businesses were most concerned about media liability risk. 

Because the industry is not yet mature, the pattern of insurance claims in the digital health space is still emerging.

The mHealth sector seems substantially less concerned about the cost involved with informing customers of a data breach. Just 16% of mHealth leaders rank this as their top concern – lower than in every other sub-sector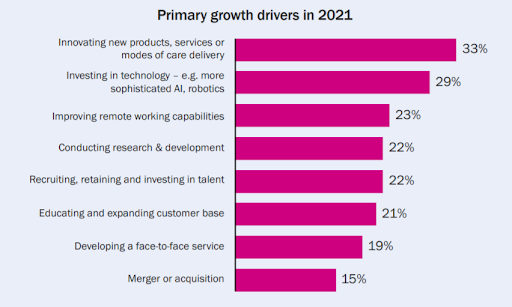 Source: Beazley Digital Health Report 2021
Risk Profiles are changing
Across the digital health and wellness industry, over 66% of businesses lack cover for existential risks including: Loss of personal medical data, System failure or cyber hack resulting in bodily injury, Medical malpractice due to the provision of remote care.

Telehealth clients that previously covered the bulk of their risk under a product liability policy form have expanded their online presence because they are now providing more advice, exposing themselves to professional liability risks.

Disease testing and monitoring via track and trace or similar systems is now widespread and attracting the attention of hackers. This puts stress on service providers' data privacy policies and technology product liability policies. 
Digital Health: Building Blocks For A Covid World
Read the full report.
Six NDHM Building Blocks for Healthcare Providers
The NDHM Blueprint underlines key principles which include the domain perspective — Universal Health Coverage, Security & Privacy by Design, Education & Empowerment, and Inclusiveness of citizens; and the technology perspective — Building Blocks, Interoperability, a set of Registries as single sources of truth, Open Standards and Open APIs. 
In order for the digital health ecosystem to evolve, a minimum viable set of building blocks is being created. While the Blueprint identifies 23 such blocks, for the purposes of this white paper, we will explore the six most relevant to healthcare providers.
The healthcare ecosystem allows for registered participating entities, to integrate with these building blocks. An entity is a type of software service provider that facilitates integration for healthcare providers.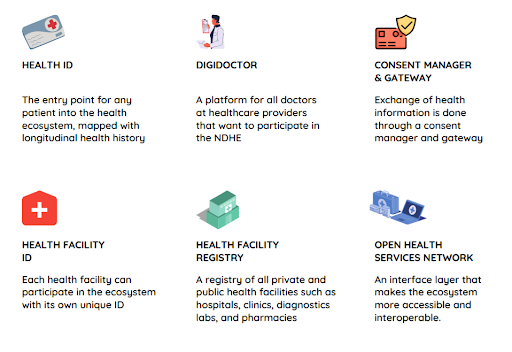 Source: Mantra Labs Whitepaper
While India meets the global average in number of physicians, nearly 75% of dispensaries, 60% of hospitals and 80% of doctors are located in urban areas. Doctors cater to a third of the urban population, or no more than 442 million people.
One the other hand, only 3% of specialist physicians cater to rural demand – which points to the glaring dearth in both quantity and quality of healthcare services available for rural areas. India has a lower than average doctor to patient ratio, which is further skewed by concentration of medical facilities in the urban centers. 
The journey towards an Open Health Ecosystem is still nascent in its development, and its transformative impact can only be realised through the participation, collaboration and approaches of all health ecosystem players. The effective rollout of the project will be carried out over several waves. 
Read the full whitepaper, here.
Emergent Behavior Trends In The Second Wave
With a Second & Third Wave of the Pandemic affecting the global economy, the role of technology has accelerated especially for the healthcare industry. For health leaders preparing to make significant digital transformation decisions, here's a look at the trends that will matter for the next 12 months. According to a Techaeris study:
4 in 5 doctors

are high adopters of digital in their practice, which means they are more likely to recommend health apps to their patients and will encourage onboarding new ones.

At least 3 in 5 doctors

believe that the benefits of embracing digital will improve patient care through easy access to health information and remote health services.

57% of patients

who are high digital adopters will choose their care provider based on their use of digital tools in their practice; while

87% of care providers

who are high digital adopters will share educational health content with patients.

More than 1 in 4 doctors

use Whatsapp for professional use.

77% of high digital adopters

will use online scheduling to book their next visit with a care provider

At least 3 in 5 patients

embrace digital because it gives them control over their own health records.

Digital health tools preferred by patients:

smartwatches

,

smart workout equipment

, and

fitness wearables

. 

Patients will increase their use of smartwatches this year by at least 12% compared to last year.

Nearly half of young consumers now rely on Ayurveda for their immunity needs. Around 60% of respondents turned to immunity-boosters, with a drastic rise in the demand and preference for ayurvedic treatments. This split is more or less equal among millennials and Gen Z. Their preferred brands include Dabur Chyawanprash, Revital, Patanjali and Himalaya Vitamins.

Close to 60% of transactions of surveyed consumers were fulfilled via virtual wallets, 23% via credit and debit cards and the rest through cash. Digital payments platform Google Pay enjoys the lion's share of online payments, followed by Paytm.
Digital Everything UseCases for the Post-COVID World.
Read our latest Use Cases here.
Business cognizance for the new-age digital insurers