Table of Contents
01  The State of AI In Insurance 2020 Report
02  The Implications of the Data Protection Bill for Insurers
03  Is the Marketplace model next for Indian Insurance Inc.?
04  Key Trends in 2020 for APAC's General Insurers
05  How Machine Vision Can Revolutionize Motor Insurance
---
Insights
STATE OF AI IN INSURANCE, 2020 REPORT
Mantra Labs has published a report and brief outlook on the State of AI in Insurance within the Indian Landscape for 2020. According to the findings of the survey, predictive analytics has risen to the top of insurer priorities for the coming decade. As investments in Artificial Intelligence continues to rise, Insurance analytics has the potential to improve several functions of the value chain including underwriting, risk appraisal, claims, pricing and marketing.
Omni-Channel Fulfilment with AI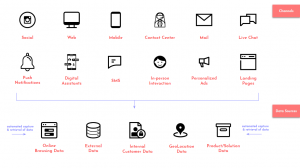 Read the report here.
---
Opinion
THE IMPLICATIONS OF THE DATA PROTECTION BILL FOR INSURERS
Amidst growing concerns from India's netizens over the misuse of personal data to manipulate their own behavior — New Delhi has finally adopted a EU (GDPR)-inspired bill to tackle the issue. For insurance organizations, the bill necessitates several modifications to existing processes such as the collection, processing and storage of customer data. Also, to keep compliance with regulators, insurers will need to adopt a 'Privacy by Design' approach that keeps user's data and privacy at the fore of the product development lifecycle. This will open up avenues for new technological innovations in areas like de-identification, masking and encryption of user data. Regulators will also bear responsibility of approving new policies based on compliance to the new privacy laws.

Interestingly, India's data protection bill imposes criminal sanctions on companies found guilty of violating these laws, unlike GDPR where there is no such penalty. Companies can be fined up to ₹15 crore or 4% of an organization's total worldwide turnover.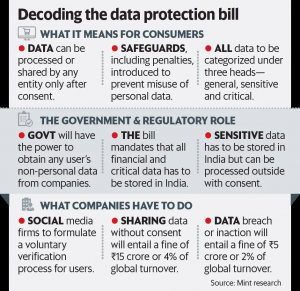 Also unlike GDPR, India's bill has defined Sensitive Personal Data (SPD) to include health data, sexual orientation, gender, financial data, biometric data, caste or tribe. Foreign multinational companies will also need to implement a stronger compliance strategy to avoid a breach of SPD under the Bill. There will be a greater need for adequate insurance cover for protection against cyber & data breach exposure, especially in light of the proposed monetary penalties and criminal sanctions.
Read more about the bill's features here.
---
Opinion
IS THE MARKETPLACE MODEL NEXT FOR INDIAN INSURANCE INC.?
Over the past few years, India has gradually introduced new & innovative classes of insurance products like bite-sized coverages for fitness, health, short-distance commute, and mobile among others. In the Indian landscape, insurance partnerships and collaborations are on the upswing — and this trend could lead towards bundling of products and services via platforms that can satisfy all of the customers' financial and non-financial needs. Consumers typically feel withdrawn from confusing jargon in their policies while Insurtechs are able simplify the products, increase transparency, and create greater customer engagement. 
The industry is already heading towards a marketplace model, since it can benefit rural India the most. With the onset of impending 5G, the industry needs to realign their business models to stay adrift the shifting tides. During this transition new player roles will emerge, that will deeply benefit Insurers — such as suppliers, aggregators and orchestrators. 
New Business roles for Marketplace Ecosystem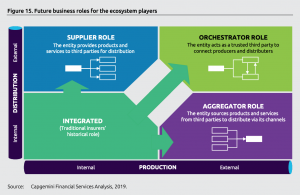 Source: Capgemini Services
For insurers to succeed in this new landscape, it is critical for incumbent carriers to boost their digital agility by adopting three critical capabilities: real-time data gathering, advanced analytics, and re-engineering complex processes and automating them.
Real-time data gathering: By capturing real-time data, insurers will be able to deliver innovative, timely and personalized services to customers.
Real-time insight generation: Generating real-time, actionable insights will be a key enabler for delivering innovative, timely and personalized services.
Digital transformation-led process automation & integration:

In order to maximize the value from real-time insights, execution will need to take place at the digital layer. 
Read the World InsurTech Report here.
---
Opinion
KEY TRENDS IN 2020 FOR APAC'S GENERAL INSURERS
A recently published EY report, highlights the rising trends that will affect insurance for the APAC region in 2020. For insurance carriers to succeed they need to develop offerings that will work for a dynamic risk landscape, and address new customer expectations. The high standard of customer expectations will foster the necessary innovation needed for using the right set of technologies to enhance efficiency, reduce costs and scale up across the region. 
Embed digital in everything:

Start with core business problems and identify the technologies that will best solve them; develop an agile approach, test new tech and quickly scale up winning experiments; adapt offerings and experiences to consumer preferences in individual markets. 

Assess regulatory impacts and transform accordingly:

Identify innovation and performance improvement opportunities relative to compliance initiatives, such as those around financial reporting and capital requirements; minimize effort and investment in other areas.

Set specific and measurable cost efficiency targets across the business:

Compare and contrast the costs and benefits of different efficiency options such as robotic process automation (RPA), core system transformation and regional service centers; diligently measure progress with holistic metrics. 

Re-orient the distribution strategy toward omni-channel:

Consider which products and offerings are best suited to digital channels, experiment with them and decide where to scale; embed digitized experiences to offer genuinely omni-channel propositions. 
Read the EY report here.
---
Insights
HOW MACHINE VISION CAN REVOLUTIONIZE MOTOR INSURANCE
The motor insurance market in India is about ₹70,000 crore in terms of Gross Written Premiums. While motor insurance has grown by 16% over the last year, the new digital insurers in the marketplace have seen their premiums increase by 4X-6X. 
This underlines a shift in the way customers choose to buy motor insurance – from the convenience of their smartphone or computer, instantly. There is no reason to think that they would not want to settle an insurance claim in the same convenient manner. Fortunately, machine vision technology solves claims settlement challenges to a great extent.
Claims Settlement Process with FlowMagic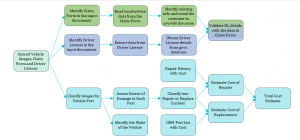 Using machine vision, insurers can process the car image and identify not only the damaged parts but also the severity of damage to those parts and whether it requires repair or a replacement. Using repair cost data and images from tens of thousands of accident cases, an Artificial Intelligence Costing Model can be built that estimates the cost of repairing any part. All this means that the insurer doesn't need the surveyor and other manual checks in most cases and the customer can submit a claim from the convenience of a smartphone and get an approval decision within minutes.
Read our latest blog here.
Business cognizance for the new-age digital insurers