Table of Contents
01   Healthcare App Trends in 2021
02   The HealthTech Monthly Roundup
03   Big Techs Like Apple are Entering Virtual Primary Care
04   What's Fueling Global Digital Health Demand
05   Inside Look: Funding Boom for Digital Health Startups
Healthcare App Trends in 2021
Historically, there have been more than 500,000 healthcare apps. As of Q1, 2021, there were 53,054 healthcare apps available on the Google Play Store representing a 6.5% increase over the previous quarter; and 53,979 iOS apps representing 4.8% increase. 
However, most healthcare apps have fewer than 10,000 downloads. The growing disparity between adoption and usage is forcing healthcare providers and other ecosystem players to reevaluate what patients really want from their healthcare apps.
At the core, patients generally look for the three most basic functionalities – the ability to schedule/cancel an appointment, the ability to request prescriptions, and easy access to medical records.
Yet, only 11% of hospital apps offer one of these functionalities resulting in hospitals only engaging 2% of their patients on average — according to a recent Accenture health insights report.
Easy Access and Interaction with healthcare professionals is still a large barrier to cross despite advancements in telemedicine and telehealth during the Pandemic. This is prompted by the fact that roughly 75% of hospital visits are very basic and can be handled over the phone or video call. 
Patient Community is an important part of engagement. A social feature in-app can allow patients diagnosed with a certain condition to connect with similar patients. This can lead to positive interactions and form a supportive help group that encourages individuals to lead healthier routines.
Health App Usage Heatmap During Pandemic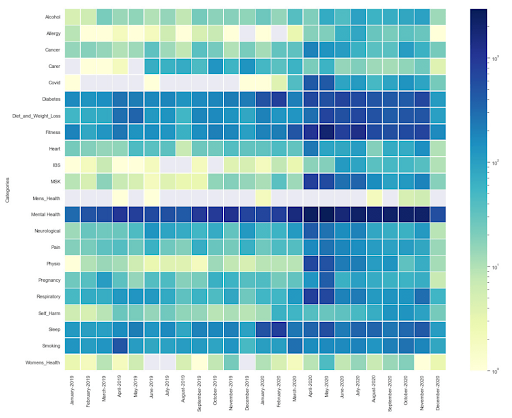 Source: ORCHA Digital Health Trends 2021 Report
Other Digital Health Trends coming to health apps:
Biofeedback

. Detecting health issues and alerting patients immediately based on data collected from wearables, especially around heart conditions.

Augmented reality surgery

. Companies like Augmedics are developing an AR system that essentially overlays the view from a screen onto the patient in real time with the aim of improving accuracy over freehand surgery.

On-demand care

. Using virtual visits and quick online scheduling to let patients get help in less than a day.

Assisted diagnosis

.

Machine learning

models can help human doctors detect symptoms & diseases earlier and with more precision. For instance, MammoScreen can help identify areas for radiologists to look at in mammograms and reduce false positives.

Predictive healthcare

. Data analysis can help healthcare companies anticipate when an outbreak will happen and plan accordingly. Even non-healthcare companies can use data to predict when they might lose more workers to sick days and staff accordingly.
Why Healthcare Enterprises Should Get NDHM Integration-Ready Now
Read the Whitepaper here.
The HealthTech Monthly Roundup
A quick roundup of the month's latest healthtech activity, both in India and globally.
Digital Health Startups Raised $14.7 Billion In First Half Of 2021, Already Surpassing Total 2020 Funding

Tata Digital is set to acquire a majority stake in online healthcare marketplace 1MG, which has received an infusion of $220M from existing investors.

The Indian Government has cleared a second Covid-19 Emergency Response Package of Rs 23,123-Crore which aims to accelerate health system preparedness for immediate responsiveness for early prevention, detection and management focusing on health infrastructure development, including paediatric care.

Philips and Cognizant are partnering to develop Digital Health Solutions for providers, researchers and patients. The strategic alliance brings together Philips HealthSuite, a cloud-based platform and Cognizant's digital engineering expertise.

GCC Hospitals are pushing towards digital health adoption to manage lifestyle diseases. More than 55 million adults aged between 20 and 79 were living with diabetes in the MENA region. The region's e-health market was valued at $989m in 2020 and is growing at nearly 13% a year.

The U.S. Government is investing $80 Million to create a new Public Health Informatics & Technology program

The Delhi State Government is working towards rolling out an HIMS project that envisages digital health cards which will essentially be a QR code-based system that will keep a record of clinical details such as health checks, follow-ups, surgeries, medications and vaccinations for each patient
Delivering Superior Customer Experiences over Video.
Download Report, here.
Big Techs Like Apple are Entering Virtual Primary Care
Amid heightened public health risks and social distancing measures, Big Techs are entering the healthcare services space hinged on their devices/hardware. Apple is launching its own virtual primary care service, which would include health monitoring as part of a subscription program.
The firm is leveraging its own devices for virtual and in-person care provided by a network of Apple-employed doctors and its own clinics. Apple's latest Series 6 Watch featured a new blood oxygen sensor, advanced sleep tracking, and upgraded heart health monitoring. 
The Tech giant is opening itself up to more remote patient monitoring (RPM) opportunities as the RPM market blossoms and more consumers purchase smartwatches: 21% of US adults already use a smartwatch—and there will be more than 30 million RPM users by 2024, up from 23.4 million in 2020.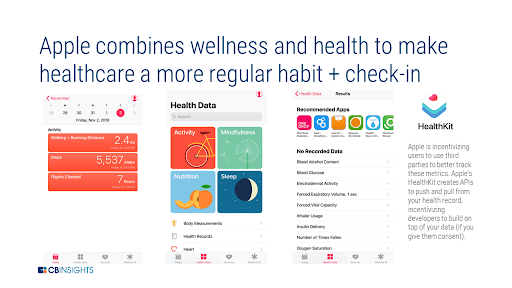 Source: CBInsights
All iPhones come with its own health app and securely collects and tracks health data like heart rate, activity levels, lab results, sleeping patterns, and menstrual cycles. This health information is then securely relayed to a user's care team. For example, the Mayo Clinic recently announced that it's supporting Apple's Health Records app to boost patient engagement and simplify access to EHRs.
Apple's Healthcare services could tap its 113 million-plus pool of iPhone users, of which nearly half (47%) of all smartphone users in the US are iPhone users. This means users can easily access their health data on a device they already own, and providers can access more health data collected from Apple's devices to provide better, personalized care.
Digital Health: Building Blocks For A Covid World
Read the full report.
What's Fueling Global Digital Health Demand
The global digital health market, according to ResearchAndMarkets, is expected to grow at 13% CAGR during 2021-2026, and will potentially touch $500 billion in market value by 2025.
Digital healthcare provides smoother functioning of traditional healthcare processes. The integration of AI, machine learning, big data, and analytics platforms has also contributed to the adoption of new digital health solutions. Let's look at key drivers behind this growing demand:
Rise in smartphone use and mHealth apps has reduced the time and cost gap between doctors and patients. mHealth accounts for more than 47% of revenue within the digital health market.

North America has the highest revenue share of around 39% owing to an increasing geriatric population and rising prevalence of chronic diseases across the region.

The APAC region will grow the fastest owing to increasing spending on healthcare infrastructure and software to promote awareness among the public.

Healthcare software, fitness apps, and healthcare analytics platforms account for nearly 36% of total global digital health market value.

Global Healthcare firms invested heavily in digital collaboration tools and remote monitoring capabilities to support remote workforces during the Pandemic — a trend that will see continued uptick to prepare against future pandemics.

Growing adoption of processing & storage technologies have made cloud computing resources more affordable and accessible, bringing on-demand supply of these services to patients.
Read the full whitepaper, here.
Inside Look: Funding Boom for Digital Health Startups 
The first half of 2021 has seen the largest number of funding deals over the last ten years; in fact the funding value at the half year point in 2021 has already surpassed the whole of 2020. 
Digital health funding touched $14.7B with 372 deals and an average deal size of $39.6M, spearheaded by 48 mega deals ($100M+) which accounted for 59% of total H1 2021 funding. There has also been a lot of public exit activity with 11 closed IPOs.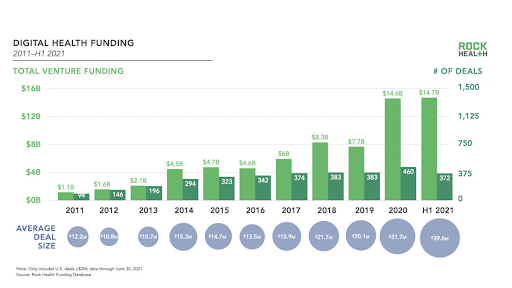 Source: Rock Health Funding Database
Key Trends:
Top funded clinical conditions: Mental health, cardiovascular disease, and diabetes, with oncology investments dipping from third to sixth place since 2020. 

Funding for startups helping to manage substance use disorders steadily rose to fifth place.

Top funded value propositions: Clinical R&D, On-Demand Healthcare, Fitness & Wellness.

Over a quarter (27%) of all digital health companies funded in 2021 were Direct-to-Consumer (D2C) only startups.

Over half (52%) belonged to B2B driven business models, while 21% of startups belonged to a combination of the two.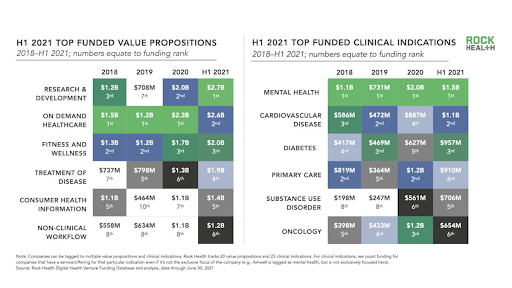 Source: Rock Health Funding Database
Digital Everything UseCases for the Post-COVID World.
Read our latest Use Cases here.
Business cognizance for the new-age digital insurers