Table of Contents
01   Healthcare App Trends in 2021
02   The HealthTech Monthly Roundup
03   Big Techs Like Apple are Entering Virtual Primary Care
04   What's Fueling Global Digital Health Demand
05   Inside Look: Funding Boom for Digital Health Startups
Healthcare App Trends in 2021
Historically, there have been more than 500,000 healthcare apps. As of Q1, 2021, there were 53,054 healthcare apps available on the Google Play Store representing a 6.5% increase over the previous quarter; and 53,979 iOS apps representing 4.8% increase. 
However, most healthcare apps have fewer than 10,000 downloads. The growing disparity between adoption and usage is forcing healthcare providers and other ecosystem players to reevaluate what patients really want from their healthcare apps.
At the core, patients generally look for the three most basic functionalities – the ability to schedule/cancel an appointment, the ability to request prescriptions, and easy access to medical records.
Yet, only 11% of hospital apps offer one of these functionalities resulting in hospitals only engaging 2% of their patients on average — according to a recent Accenture health insights report.
Easy Access and Interaction with healthcare professionals is still a large barrier to cross despite advancements in telemedicine and telehealth during the Pandemic. This is prompted by the fact that roughly 75% of hospital visits are very basic and can be handled over the phone or video call. 
Patient Community is an important part of engagement. A social feature in-app can allow patients diagnosed with a certain condition to connect with similar patients. This can lead to positive interactions and form a supportive help group that encourages individuals to lead healthier routines.
Health App Usage Heatmap During Pandemic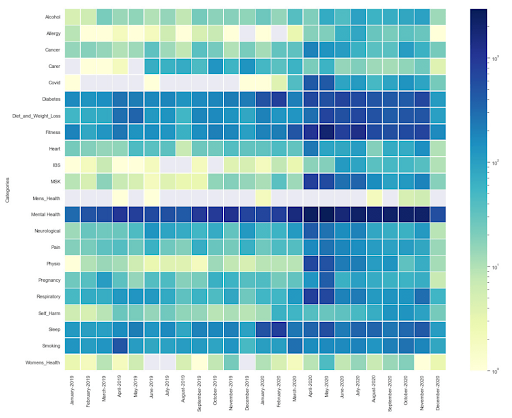 Source: ORCHA Digital Health Trends 2021 Report
Other Digital Health Trends coming to health apps:
Biofeedback

. Detecting health issues and alerting patients immediately based on data collected from wearables, especially around heart conditions.

Augmented reality surgery

. Companies like Augmedics are developing an AR system that essentially overlays the view from a screen onto the patient in real time with the aim of improving accuracy over freehand surgery.

On-demand care

. Using virtual visits and quick online scheduling to let patients get help in less than a day.

Assisted diagnosis

.

Machine learning

models can help human doctors detect symptoms & diseases earlier and with more precision. For instance, MammoScreen can help identify areas for radiologists to look at in mammograms and reduce false positives.

Predictive healthcare

. Data analysis can help healthcare companies anticipate when an outbreak will happen and plan accordingly. Even non-healthcare companies can use data to predict when they might lose mo