Table of Contents
01  The Insurance Monthly Roundup
02  Insurtech Trends to watch out for in 2023
03  Top 4 Customer-First Trends in Life Insurance
04  Retaining Customers has become an absolute necessity for insurers
05  Predictive Experience in Insurance
CEO Speak
"Creating the future customer experience on the foundations of data will need conviction and patience. However, continuous analysis and review of user behavior will result in long-term success and victory."
-Parag Sharma
                                                                                  CEO & Founder
                                                                           Mantra Labs
The Insurance Monthly Roundup
InsuranceDekho garners $36.5 million in its first external investment round.
The firm will use this funding for branding and strengthening its tech, product, and sales teams.
UK-based Superscript baggs £45 million in series B funding round.
The fresh funding will be used to develop Superscript's underwriting and broking expertise, expand its range of insurance products and services for international distribution, and build on its existing embedded partnership capabilities.
South Carolina-based Johnson & Johnson acquires Statewide Insurance Corp.
This takeover will help the company to increase its footprint in Southwest.
"This acquisition by Johnson & Johnson, a leading specialist in related businesses, will accelerate the growth in revenue and profitability of our existing business units and provide greater professional development and career advancement opportunities for the employees at Statewide," said Dan Braude, president, and COO of Statewide Insurance Corp. 
Propeller, a US-based firm, scooped $6.4M in seed funding. 
This fresh infusion will help the company to accelerate its growth expand its product line and intensify its marketing and sales activities.
How to Win Customers through Smarter Form Filling?
Read the full blog, here.
Insurtech Trends to watch out for in 2023
For 2023, we believe that InsurTech will be used to supplement the rising concerns of inflation, arrested economic development, and heavily burdened pension schemes by catering to customers with greater attention to detail. 
# Digitally Enabled CX 
Insurance models in the present context have become bloated and complicated to the point where customers feel alienated. Customer needs are also converging. Simplifying the existing delivery model is key, and one such model that is likely to emerge is that of being a 'distribution specialist'.
Insurtech firms will invest heavily in client-facing technology, and those that curate a delectable insurance discovery and delivery experience will have a huge leg-up over their peers.
# InsurTech native Telematics
Analysts and experts alike have been citing usage-based insurance programs as the next big thing in the world of insurance for nearly two years now. But how effective can usage-based programs be if they rely entirely on the customer to predict their decisions and make purchases accordingly? 
Telematics will be crucial for developing markets in Asia as societies become increasingly digitized and people start to get comfortable with the idea of insuring themselves and their vehicles separately. 
# Algorithmic Risk Assessments
Research has shown that with the application of machine learning models to the risk assessment strategies employed by risk analysts, Insurance companies can decrease the time taken to evaluate customer profiles by allowing faster servicing and thereby leading to greater customer loyalty and satisfaction. This will allow companies to process claims swiftly and accurately, thereby allowing risk assessment professionals to focus on refining their models.
# Broadening capabilities in the Metaverse
With over $25Bn dollars having been invested into it by Facebook alone, Metaverse is here to stay for the long run. And for Insurers, the possibilities offered by metaverse are hard to ignore. This means they finally have a tool to combine the efficiencies of AI-powered chatbots, with the warmth of face-to-face interactions. Internal training, conducting sales pitches, and using NFTs to verify personal documents are some of the most highly anticipated use cases.
# Disruptors will strive to stay afloat
Much of what made new-age insurers attractive to customers was the way they structured themselves (tech-first, expedited claims, etc.) that were antithetical to running an insurance business at scale. Kimberly Harris-Ferrante of Gartner predicts that the coming year will see a lot of new Insurtechs pivot to more traditional operating models, with the successful ones being acquired and the others being forced to shut shop.
Conclusion: 
2023 is likely to see the beginning of the final stretch of digital transformation in the insurance industry as many have already caught on to the basics that are required to run a robust digitally-enabled sales and servicing operation. Conservatism will go hand-in-hand with novel, disruptive technologies as incumbents will lap up all existing software capabilities to bolster direct distribution, simpler delivery mechanisms, and a narrower focus on servicing the customer.
Read the full blog, here.
Top 4 Customer-First Trends in Life Insurance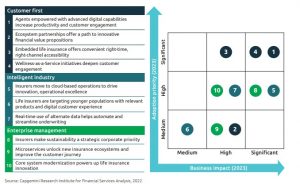 Agents are exposed to volatile changes in consumer needs due to which they find it difficult to understand their exact requirements.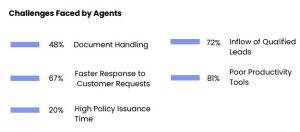 Source: Mantra Labs Report on State of CX In Insurance 2022

Agents with digital tools can help insurers quickly and efficiently handle customer requirements. This would not only increase sales effectiveness but also digital distribution, boost agents' sales performance, and increase insurers' revenues.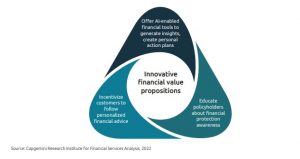 Ecosystem partnerships would help life insurers offer personalized solutions to help policyholders gain long-term financial goals.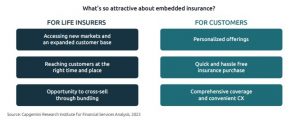 Embedded insurance offers seamless customer experiences and increases reach among underserved customer segments. DBS Bank formed an alliance with Bajaj Allianz Life Insurance to offer term, savings, retirement, and investment products to DBS customers at 550 branches. 
Life insurers are developing AI-enabled and data-driven wellness tools to generate insights that help customers track their fitness goals and create personalized action plans.
Read the full report here.
Retaining Customers has become an absolute necessity for insurers.
Belonging to one of the oldest industries in the world, Insurance companies have weathered multiple calamities over the years and have proven themselves to be resilient entities that can truly stand the test of time. Today, however, the industry faces some of its toughest trials yet. Technology has fundamentally changed what it means to be an insurer and the cumulative effects of the pandemic coupled with a weak global economic output have impacted the industry in ways both good and bad.
For instance, the U.S. market recorded a sharp dip in GDP in the wake of the pandemic and it was expected that the economy would bounce back bringing with it a resurgent demand for all products (including insurance) across the board. It must be noted that the outlook toward insurance products changed as a result of the pandemic. 
Life insurance products were no longer an afterthought, although profitability in this segment declined over the years. Property-and-Casualty (P&C) insurance, especially motor insurance, continued to be a strong driver, while health insurance proved to be the fastest-growing segment with robust demand from different geographies. 
Simultaneously, the insurance industry finds itself on the cusp of an industry-wide shift as technology is starting to play a greater role in core operations. In particular, technologies such as AI, AR, and VR are being deployed extensively to retain customers amidst this technological and economic upheaval.
Retention playbook for Insurers in the backdrop of financial crises
Read the full blog, here.
Predictive Experience in Insurance
Early movers in predictive analytics has transformed the art and science of customer experience and the way insurers evaluate customer expectations in their line of business. Using predictive consumer insights, insurers are able to connect more closely with the customers, anticipate behaviors and identify CX-related problems in real time. For instance, US-based Farmers Insurance has introduced a predictive risk-scoring model that assesses wildfire risk to properties around using high-resolution imagery and weather data. The data generated can be used to boost the number of residences eligible for insurance.
Implementing solutions that can forecast customer expectations based on their historical pattern without the consumer articulating their need explicitly can directly improve customer satisfaction and boost revenue per customer. Likewise, predictive insight can amplify agent experience by enabling them in meeting consumer needs.
Read the report here.
Business cognizance for the new-age digital insurers