Research
TAKING INDIA TO BHARAT
India's Crop Insurance market is the 3rd largest in the World, which covers nearly 57M farmers (35% of total Indian farmers), with a total premium of $3.5 B (35% of General Insurance market). Yet, only 38% of farmers were aware of crop insurance in 2018. The reality of insurance for rural India is the importance of claims settlement — accuracy in determining the index assessing claims remains a cornerstone issue. Products like Multi-Peril Crop Insurance products (MPCI) continue to work, and account for at least 90% of the market.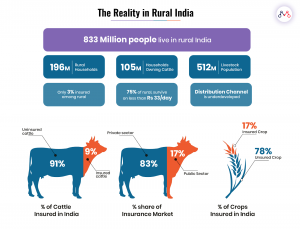 The key to innovating for rural, is to address these challenges with the customer in the middle. Solving for their needs will improve trust and reliability. New AI-enabled products designed for the rural mass like 'Loss Prediction and Coverage Estimation', and 'Telemedicine and Remote Health & Wellness' applications will be critical to reaching the next 100M farmers.
Read the full report in our next edition. To request a copy, mail us here.
---
Event
Insurance India Summit & Awards 2019 — INTEGRATING TECH & BIG DATA
This summit creates a platform for one of India's largest gatherings of Insurance leaders and Innovators. The 4th Annual Insurance India Summit & Awards 2019, with the motto of "Integrating Technology & Big Data to Enhance Distribution Channel, Marketing Strategy & Customer Experience" — aimed at having robust and key focused area discussions on the inherent insurance challenges. 
The New Product is the Customer Journey
The modern customer journey map has to be created for the complete omni-channel experience.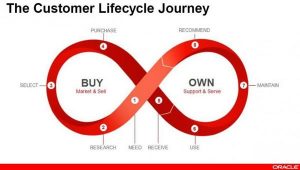 The Non-Stop Customer Model

Source: Oracle
Customers are now communicating with companies through 10 channels on average. Millennials & Gen Z are the most omni-channel group among today's consumers — utilizing around 11 channels on average.
Key Takeaways: