Does knowledge of investments and budgeting come more naturally to women than men? Most women feel confident about managing their day-to-day budgeting but at the same time, are not too comfortable discussing money with family and friends. Ironically, when it comes to investing for their own selves, women find it a daunting task. 
Did you know that most insurance companies are not upfront about selling insurance to housewives? The option of term insurance plans is also limited in India. However, there's a silver lining… housewives can opt for a plan which gives sufficient cover at a low rate, which includes money-back plans or ULIPs. 
In this newsletter edition, find the latest from the world of InsurTech globally, how the BFSI industry offers equal opportunities to women, and more. Read on. 
Table of Contents
01  Report: The State of AI Chatbots in Insurance 
Over the last five years and counting, chatbots have become the leading application of AI within Insurance especially for front-line operations like routine customer service and lead management. AI in Insurance will value at $36B by 2026. Chatbots will occupy 40% of overall deployment, predominantly within customer service roles. In India and APAC, advanced AI chatbots are primarily used in claims settlement. 
The State of AI Chatbots in Insurance
Read full report
02  What's making news in Insurance 
(Globally) 
The traditional insurance industry is being

disrupted by innovative InsurTechs

that use digital solutions to enhance the customer experience and fundamentally change how insurance is delivered. 
Symbo Platform Holdings,

an InsurTech platform headquartered in Singapore

, announced the completion of a US$9.4 million funding round led by CreditEase Fintech Investment Fund and San Francisco-based investment firm Think Investments, with participation from existing investors Integra Partners, Insignia Ventures and AJ Capital.
Financial independence does not depend on your work profile or how much money you earn. What's important is that you start early and plan to save towards your long-term goals as well as to

protect your loved ones in your absence

.
03  What will 'behavioural changes' mean for India's digital health future
India, which was on the cusp of a 'digital health' revolution, has now been forced to embrace innovation and emerging trends. The healthcare sector holds great promise since new-age technologies like telemedicine, robotics, artificial intelligence (AI), genomics, etc. are transforming healthcare services.
What will 'behavioural changes' mean for India's digital health future
04  Number of life insurance policies bought by women shrinks 12% in 2019-20
Rising awareness for insurance in the country over the past few years notwithstanding, the number of life plans bought by women during the financial year 2019-20 dropped 11.76% year-on-year, analysis of the data provided by Irdai in its annual report showed.
The number of life insurance policies bought by women shrinks 12% in 2019-20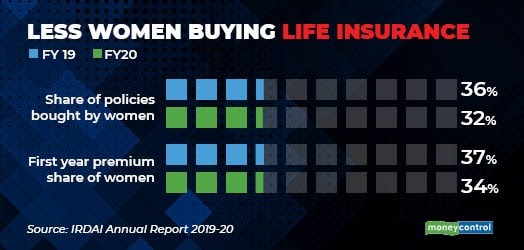 Source: moneycontrol.com
Business cognizance for the new-age digital insurers