Snippets
INSURTECH COVERS THE 'GIG ECONOMY' FUTURE
By 2027, the majority of the US labor force will work as freelancers, and by personalising policies for gig workers insurtechs are tapping early on the potential of the 'future of work'.
New insurance models combine home insurance with business coverage for temporary use, which users can switch on or off, at their convenience — with potential to offset traditional insurance.
Read more here.
BRINGING NEW-GEN INSURANCE TO MILLENNIALS
Croatian Insurtech Amodo's usage-based insurance is rewarding a user's desired behavior via a gamified try-before-you-buy approach. The "Are you the best driver in Hong Kong?" campaign rewards their best safe driver with one-year worth of free fuel. With a user-to-customer conversion ratio of 9%, exhibiting significantly safer driver behavior resulting in 25% fewer claims
Read more here.
---
Infographic
AUTOMATION ASSETS FOR THE COGNITIVE ENTERPRISE
Automation and AI are considered essential ingredients for enterprise digital transformation freeing up resources from routine tasks to pursue creative pursuits and complex issues. By eliminating manual touchpoints, data recognition-based capture can bring significant improvements to legacy systems and create capacity for data-driven & customer-centred growth.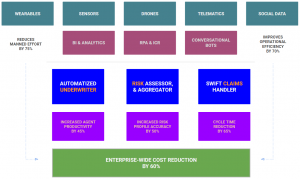 Improving 'Customer Service Personalization' remains a top priority among traditional insurers — as the global conversational AI market will grow from $4.2B in 2019 to $15.7B by 2024, at 30.2% CAGR. The main growth drivers for the market include the rise of customer engagement through social media platforms, and increasing omni-channel deployment.
---
Opinion
HOW IS AI CHANGING THE DIGITAL INDIAN
From a hyped technology to a direct-to-consumer product, that has infiltrated the tech-enabled services we use today — the adoption of chatbots (an offshoot of AI) is still in its infancy, yet the mushroomed effect it has had so far is remarkable. Most of us, are perhaps not even aware of how seamless this transition has been – since many now interact with several bots almost everyday!
ONLINE ACTIVITY OF INDIAN LANGUAGE USERS