Snippets
INSURTECH COVERS THE 'GIG ECONOMY' FUTURE
By 2027, the majority of the US labor force will work as freelancers, and by personalising policies for gig workers insurtechs are tapping early on the potential of the 'future of work'.
New insurance models combine home insurance with business coverage for temporary use, which users can switch on or off, at their convenience — with potential to offset traditional insurance.
Read more here.
BRINGING NEW-GEN INSURANCE TO MILLENNIALS
Croatian Insurtech Amodo's usage-based insurance is rewarding a user's desired behavior via a gamified try-before-you-buy approach. The "Are you the best driver in Hong Kong?" campaign rewards their best safe driver with one-year worth of free fuel. With a user-to-customer conversion ratio of 9%, exhibiting significantly safer driver behavior resulting in 25% fewer claims
Read more here.
---
Infographic
AUTOMATION ASSETS FOR THE COGNITIVE ENTERPRISE
Automation and AI are considered essential ingredients for enterprise digital transformation freeing up resources from routine tasks to pursue creative pursuits and complex issues. By eliminating manual touchpoints, data recognition-based capture can bring significant improvements to legacy systems and create capacity for data-driven & customer-centred growth.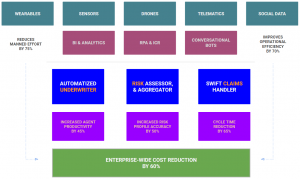 Improving 'Customer Service Personalization' remains a top priority among traditional insurers — as the global conversational AI market will grow from $4.2B in 2019 to $15.7B by 2024, at 30.2% CAGR. The main growth drivers for the market include the rise of customer engagement through social media platforms, and increasing omni-channel deployment.
---
Opinion
HOW IS AI CHANGING THE DIGITAL INDIAN
From a hyped technology to a direct-to-consumer product, that has infiltrated the tech-enabled services we use today — the adoption of chatbots (an offshoot of AI) is still in its infancy, yet the mushroomed effect it has had so far is remarkable. Most of us, are perhaps not even aware of how seamless this transition has been – since many now interact with several bots almost everyday!
ONLINE ACTIVITY OF INDIAN LANGUAGE USERS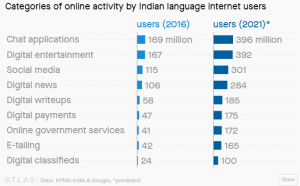 While most people in India (59%), prefer to talk to an actual person for customer service needs, the attitude is steadily reversing. A majority (61%) see the benefits for chatbots in customer service beyond 2020.
AI chatbots are revolutionizing the attitudes & perceptions of India's netizens.
Read our latest blog here.
---
Case Study
SAY HELLO TO YOUR NEXT CUSTOMER SERVICE AGENT 
Modern insurance is plagued with manual processing of several business functions — like customer support where most queries are handled over call, and on average would cost an insurer upwards of $16 per chat session, keeping costs continually high.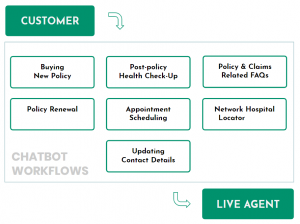 Mantra Labs operationalised a customer-centric chatbot for a national insurer — built for scale, and handles the bulk of customer queries without the need for human intervention for services like buying a new policy, renewing insurance, scheduling health checkups, and FAQs. The solution helped the insurer achieve significant cost reduction — bringing lost dividends back into the organization.
For the digital insurer, AI chatbots are championing personalised customer experiences.
---
Country Profile
THE RESHAPED LANDSCAPE OF MALAYSIAN INSURANCE
AI is poised to play a crucial role in Malaysia's next big step — By 2021, AI will allow the rate of innovation to almost double (1.8x) and increase employee productivity improvements by 60% in Malaysia, according to an AI study put forth by Microsoft & IDC-ASEAN Research Group. Malaysia, drawn by its strong economic growth, expanding middle-class income and rising insurance penetration levels, is witnessing a new era of innovation – with AI leading the charge. While 'motor' remains the largest class of insurance with a market share of 45.6%, followed by fire at 19.2% and marine, aviation and transit (MAT) at 8.2%; Takaful has been outpacing conventional insurance in the Islamic peninsula.
Malaysia is also moving towards a cashless society with infrastructure being put into place to facilitate e-payments which have more than doubled per capita from 2011 to 2019. For insurers, claims settlement will represent a large customer service touch point, during this transition.
Claims Automation is poised to transform the insurance customer experience in Malaysia.
Read our latest blog here.
---
Snippets
AMAZON IS NOW INSURING THE INDIAN CONSUMER
Amazon has begun selling smart home kits that include water sensors, security cameras, motion detectors etc. offering life, health, general and potentially home coverage in India. The move comes after the 2018 World Insurance Report revealed that 30% of customers worldwide would be up for buying insurance from tech firms like Google and Amazon.
Read more here.
WAYMO REACHES ITS FIRST  1,000 RIDERS
The Self-Driving taxi service owned by Alphabet Inc., took six months to reach its first milestone. While this signifies that growth in this space is relatively slow, Waymo has solidified its position as an early leader. As progress deepens, insurers have to reassess the new coverage potential for an autonomous robot-taxi summoned by app.
Read more here.
Business cognizance for the new-age digital insurers