Table of Contents
01   The Top Benefits of Digital Health Tools for 2021
02   The HealthTech Monthly Roundup
03   Where's the Next Digital Health Value in India
04   Why is Rural Healthcare still offline
05   The Role of Young India in The Next Normal
The Top Benefits of Digital Health Tools for 2021
Digital health tools have found greater adoption during the Pandemic, and are being utilised for a variety of scenarios including for remote monitoring of patients, and detecting early symptoms of infection, among others.
From smart patient monitoring through IoT devices to virtual care consultations, digital health has expanded the continuum of care for patients situated in rural areas or under at home care. 
Healthcare professionals and providers are able to improve clinical outcomes and efficiency of these services through the rapid deployment of digital-first tools. This approach benefits through increased patient empowerment, according to a recent survey conducted by Verdict.
Top Benefits of Digital Health Tools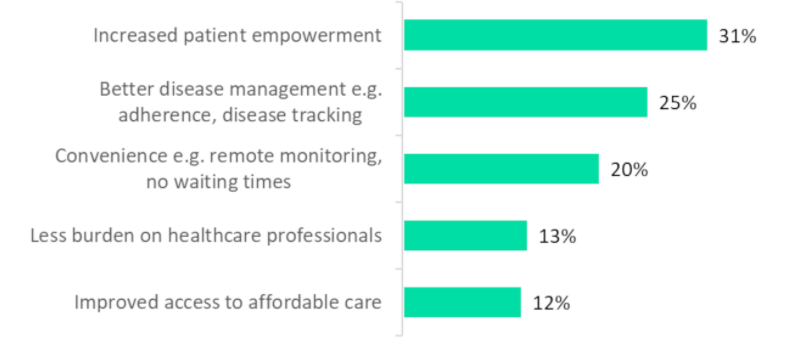 Source: Verdict Poll 2021
There are a set of core technologies like Artificial Intelligence (AI), and Machine Learning (ML) compounded with big data analytics to make these services reliable at scale. These technologies have the potential to improve medical diagnosis for the healthcare provider, and improve the self-managed care experience for patients.
Digital Health: Building Blocks For A Covid World
Read the full report.
The HealthTech Monthly Roundup
A quick roundup of the month's latest healthtech activity, both in India and globally.
Huma Therapeutics

raised $200 million in a Series C funding to scale their modular platform to bring digital hospitals at home.

Microsoft & AXA are partnering together to build a digital healthcare platform that is 'open to all', that will include services like a self-assessment and prevention tool, a medical concierge, a teleconsultation interface, a digital document vault, home care services, or a directory of healthcare professionals. 

India's healthtech industry is likely to touch $5 billion (about Rs 37,500 crore) by 2023, according to a recent

(IAMAI)-Praxis study

.

The eSanjeevani initiative is now operational in 31 states and union territories in the country with a daily traffic of around 40,000 patients — garnering 5M consultations till date.

The Healthcare AI market is most likely to witness a 40% CAGR in 2021, and it inherently has the potential to transform healthcare outcomes by 30-40% and slash treatment costs by half.

There's been a 3X expansion in the number of users ordering medicines online, which is creating a strong uptick in orders during the Pandemic, and increasing revenue for the e-pharma industry by 35%.
Delivering Superior Customer Experiences over Video.
Download Report, here.
Where's the Next Digital Health Value in India
Hospital Providers eager to seize early value from the ecosystem, will look to adopt API-level integration. A rich compilation of patient data based on digitally stored information such as prescriptions, diagnostic reports and previous hospitalization records will help healthcare providers design a personalised treatment plan for each individual. 
At present, there are approximately 25 Lakh health facilities in the country; of which 60% of health facilities are already registered with the NHRR (National Health Resource Repository) which has successfully verified over 1400 data sets per facility. Each facility is also issued a unique NIN, a key requirement for interoperability.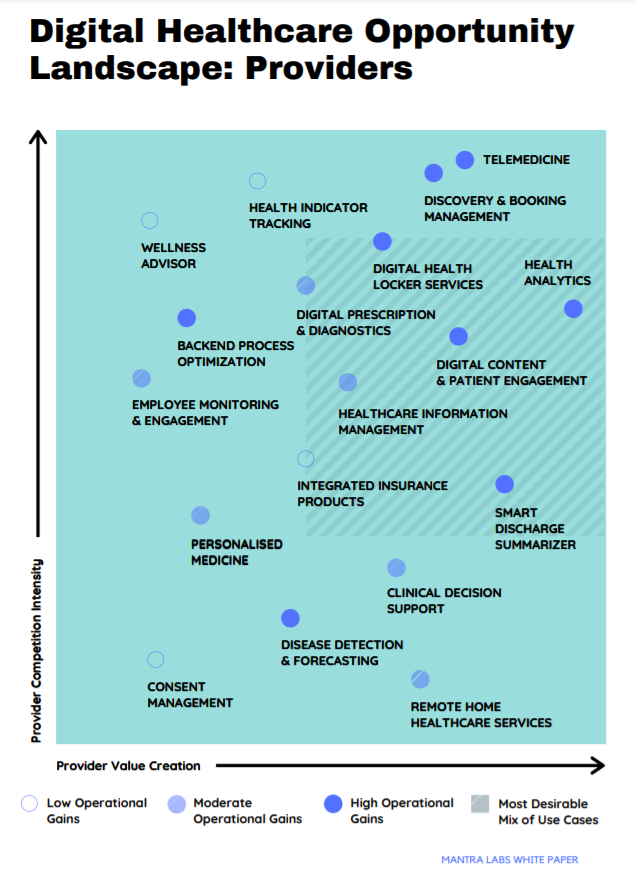 Source: Mantra Labs Whitepaper – NDHM Opportunity Landscape
The creation of a single patient identity and integration with the NDHE will allow providers to get exposed to new demand pools. This will help offset fixed costs and change pricing for the treatment funnel, which was previously price-indexed for a localised populace only. 
The NDHE will allow providers to gain better reach to new demand pools in OPD & IPD care. India's OPD rates are currently only at 4 per day per 1000 population. 
Why Healthcare Enterprises Should Get NDHM Integration-Ready Now
Read the Whitepaper here.
Why is Rural Healthcare still offline
According to the telecom regulator's data, tele-density, or the number of wireless devices per 100 people, was 60% in rural areas, compared with 140 in cities. Low smartphone penetration and Internet access, and lack of digital literacy are also blocking rural folks' reach to vaccines in the backward areas of the country.
On one hand, the digital divide in the country is still quite large – take the CoWin registrations for instance, where digital literacy is also blocking rural folks from vaccine access. As per the Press Information Bureau, there are about 30,000 primary healthcare centres in India and 24,855 of these are situated in rural areas – which are still being underutilised owing to vaccine hesitancy. A digitally backward group is predisposed to deprioritizing access to digital health for themselves, unless intervening measures are adopted. 
One the other hand, only 3% of specialist physicians cater to rural demand – which points to the glaring dearth in both quantity and quality of healthcare services available for rural areas. India has a lower than average doctor to patient ratio, which is further skewed by concentration of medical facilities in the urban centers. 
While India meets the global average in number of physicians, nearly 75% of dispensaries, 60% of hospitals and 80% of doctors are located in urban areas. Doctors cater to a third of the urban population, or no more than 442 million people.
To close the last mile gap, rural India needs
Capacity-building operational models

Innovations like remote diagnostics and remote consultations

Accountable health financing

Digital recording of patient health profiles and prescriptions

Linking of rural outlets with main community health centres

Equipping rural care centres with diagnostic tools for coordinated patient management

Training doctors and nurses to use digital platforms as part of their core care services.
Reimagining Medical Diagnosis with Chatbots.
Read our latest blog, here.
The Role of Young India in The Next Normal
According to a report titled 'The Next Normal: The Rise of the Contactless Economy' from the data sciences division of advertising agency Dentsu India – the pandemic has already shifted consumer behaviors among India's young people.
Key Highlights:
7 in 10 consumers prefer local brands to international ones in categories such as fast-moving consumer goods, personal and home care, health products and apparel.

Millennials and Gen Z audiences lean towards local, socially and environmentally sustainable choices and are mindful of what brands stand for as well.

There is a heightened preference for products that use organic and ayurvedic ingredients as opposed to those that have high chemicals in the personal care category.

Covid has led to a sharp focus on health, reflecting in higher spending on sanitization and immunity products. 

84% of millennials and 75% of Gen Z surveyed said they constantly worry about their personal health.

Nearly half of young consumers now rely on Ayurveda for their immunity needs. Around 60% of respondents turned to immunity-boosters, with a drastic rise in the demand and preference for ayurvedic treatments. This split is more or less equal among millennials and Gen Z. Their preferred brands include Dabur Chyawanprash, Revital, Patanjali and Himalaya Vitamins.

Close to 60% of transactions of surveyed consumers were fulfilled via virtual wallets, 23% via credit and debit cards and the rest through cash. Digital payments platform Google Pay enjoys the lion's share of online payments, followed by Paytm.

Online spendings by Gen Z is up from 12% earlier to 30% now, while millennials have doubled it from 16% to 32% during the lockdown.
Digital Everything UseCases for the Post-COVID World.
Read our latest Use Cases here.
Business cognizance for the new-age digital insurers