Table of Contents
01 Rise of AI & CX-aided Super Agents
02 The Insurance Monthly Roundup
03 Outlook for Insurance Industry in 2022
04 How Lemonade is Using Data To Personalize Motor Policies
05 The Future of (Re)insurance Risks
Rise of AI & CX-aided Super Agents
AI-aided Super Agents can 'engage to win' customers with 63% more success.
Though AI saw adoption rates jump 50% in 2020, usage rates remain low. This gap presents an opportunity for businesses to make AI a better partner to agents. 
Only 47% of agents believe they have tools to succeed in a post pandemic world. AI remains an underutilized tool, despite the adoption boost, among larger carriers.
High-performing teams across other industries are 93% more likely to have agents working across multiple channels, and have three times more agents doing so. Agents empowered by AI can increase productivity and boost sales performance with contextual insights — like the customer's email, order history, or why they last reached out.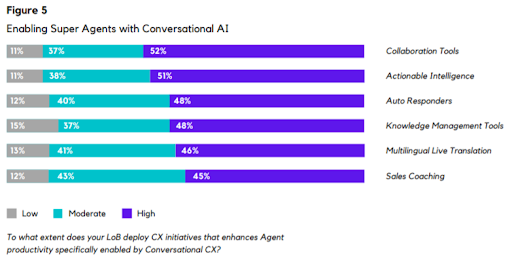 Source: Mantra Labs Whitepaper
Elevating Conversational CX In Insurance
Read the full report.
The Insurance Monthly Roundup
A quick roundup of the month's insurance and insurtech news.
(India)
A

mazon-backed digital insurtech Acko has raised $255 mn, at a valuation of $1.1 billion. The company will use this funding to boost its healthcare vertical with a $150 million investment.

Slice, a fintech startup focussed on millennials becomes the 11th  fintech in India to turn

unicorn

this year, after raising $220 mn. The company will utilise this funding to scale up their business, invest in newer products and fund its non-banking financial company (NBFC) arm.

Insurtech firm RenewBuy raised $45 million in a series-C funding round. With this capital infusion, the company is planning to

expand

its reach internationally, specifically targeting the MENA regions.

Digit Insurance, a private insurer that ranks 15th among the top 30 non-life companies is set to use their $3.5bn fund to grow their market share. The company has recorded a GWP of ₹2,196 crore for the first half of FY22, which is 67% more than the same period of the previous fiscal.

Artivatic.AI has launched AUSIS, a smart AI-based underwriting

platform

which can run in-depth individual health-risk analysis and suggest an underwriting decision in less than 60 seconds.
(Global)
Delivering Superior Customer Experiences over Video.
Download Report, here.
Outlook for Insurance Industry, in 2022
Here are some of the key findings from Deloitte's 2022 insurance industry outlook.
In a survey carried out by Deloitte, 33% of the respondents expect revenues to be "significantly better" in 2022.  But with ongoing COVID-19 concerns and non-pandemic challenges around regulation, talent, sustainability, and evolving consumer preferences, the global demand for insurance will go up with few speed bumps in-between.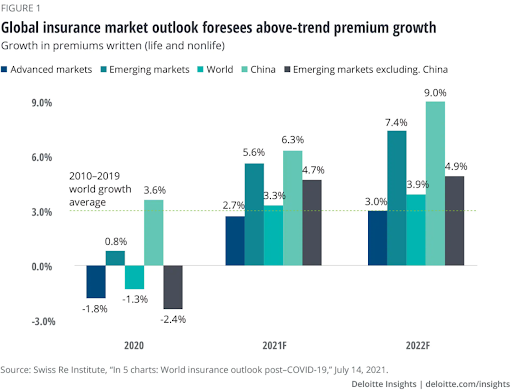 Most of the insurers today have become completely dependent on emerging technologies and data resources. They need to focus on improving the customer experience by both streamlining the process with automation as well as providing customised service where needed and preferred.

Insurance industry is a highly competitive market. Hence, attracting and retaining employees has become difficult for the companies, particularly for those with advanced technology and data analytics skills.

Pandemic has created new opportunities for the insurers to boost trust amongst the stakeholders. This will help them to increase retention and profitability.
Read more from the report here.
How Lemonade Is Using Data to Personalize Motor Policies
While Lemonade has been at the forefront of using big data and AI in home and pet insurance, it needed a new move to boost its newly launched auto insurance offering – Lemonade Car. The Insurtech giant has acquired MetroMile to scale their business and meet the needs of the customer. By using Metromile's telematics, a usage-based insurance technology, Lemonade can measure how much people drive, and how safely they do so, to provide better rates for safe and low-mileage drivers.The app will also provide real-time crash detection, access to 24/7 roadside assistance, and the ability to dispatch emergency services. 
With annual revenue of $94 million in 2020, and $87.4 million in the first three quarters of 2021, the company is still struggling to make profit. But with this new move, Lemonade is set to unlock the most customer-centric, fair, and affordable car insurance.
Conversational Intelligence: The Next Big Thing In Customer Experience
Read our Latest Blog here.
The Future of (Re)insurance Risks
Among the 9 new faces of (re)insurance risks, the two that are deemed to be the most impactful and influential ones are – climate change and cyber/digital outage. 
Weather and climate can impact the entire insurance industry directly and indirectly. Firms find it difficult to manage climate change risks due to lack of data availability. Insured loss reduction is a direct reflection of those who no longer have insurance as a financial cover. This is because certain areas of the world have become uninsurable or insurance products have become expensive and unaffordable for people.
Uncertain weather patterns and climate  creates contemporary opaqueness and redundancy of not just aged data but also the ways in which data (that is available and relevant) correlates to how products and services should exist in the market.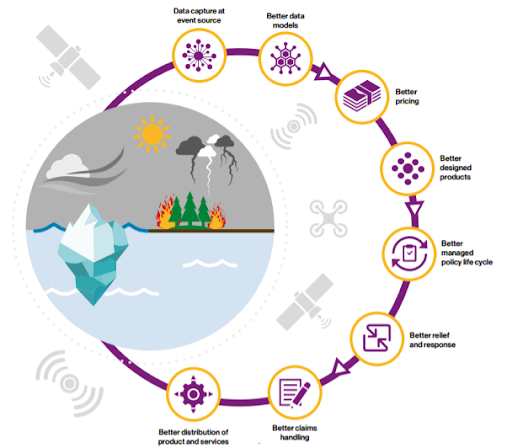 Impact of better data capture at the point of weather and climate source
Technology has a primary and secondary role to play as it relates to climate and weather changes; the primary function is event preparation and response. It can be used to capture (better) data at source; to write, collaborate and improve models; be fuel for predictive analytics; improve prices, products and services; and improve distribution. In addition to data capture, technology refines the rest of the (re) insurance life cycle.
The secondary function is event reduction and even possibly event mitigation for ex: predicting the weather conditions. The technology expansion brings with it inherent vulnerabilities – cyber risks which have a major impact in (re)insurance industry. Due to digitalization, digital security and privacy has become a growing concern in recent years. InsurTechs that are using innovative ways to handle cyber security issues are aware that it is technology itself that will help them in solving cyber related problems.
CX Trends 2021: How Businesses are Winning Customer Experience Moments
Read our latest blog, here.
____________________________________________________________
Copyright © 2021 Mantra Labs. All Rights Reserved.
414, 7th Main Rd, HRBR Layout 1st Block,
Bengaluru, Karnataka 560043
To continue receiving our latest thoughts on AI in
the Insurance Industry, subscribe with your email.

To 'unsubscribe' from all future Mantra Labs
Email communications, simply reply to this mail with 'No'.
Business cognizance for the new-age digital insurers