Table of Contents
01   Digital Health Trends in 2021
02   The HealthTech Monthly Roundup
03   How Consumer Health Apps Mitigates Pandemic Impact
04   Digital Patient Journeys Now Start At Home
05   Inside Look: The Future of Digital Health in Asia
Digital Health Trends in 2021
The COVID-19 pandemic has rapidly thrust patients and physicians into a world of digital health tools. The digital health space has seen an increase in investment, with a record $24 billion of investments in digital health in 2020. This trend is likely to continue as opportunities expand for mobile technologies to intervene in patient health. Here are the top trends for 2021:
Growing maturity of digital health tools

: Multiple types of digital health tools contributed to reducing the impact of the COVID-19 pandemic. These tools are now established parts of the digital health landscape. Consumer apps are the most widely used digital health tools, shifting rapidly toward disease-specific needs. But quality is inconsistent, and consumers need to be selective.

Digital Therapeutics and Digital Care products

: Incorporating software as a means to treat, prevent or manage specific diseases or conditions has increased. More than 250 such products are now identified, including about 150 products commercially available and the rest in development.

Wearables and digital biomarkers

: The use of wearables, connected sensors and digital biomarkers is expanding. They are gaining adoption in clinical trials and enabling remote monitoring of patients that can influence care delivery. Activity monitoring devices that measure heart rate, steps taken, distance traveled, and calories burned account for about 55% of the 384 wearable devices currently marketed to consumers. 

Evidence

: The body of evidence around the effectiveness of digital health apps is now substantial and supports the inclusion of digital health tools in treatment guidelines for an expanded set of health indications. These include cardiovascular applications and the management of some chronic conditions (e.g., pain). More than 2,000 efficacy studies have been published since 2007, including almost 1,500 published in the past five years.

Commercialization Models

: Multiple commercialization pathways now exist for digital health tools. This expanded access offers opportunities for developers to attain an economic return on investment for those tools supported by robust evidence and user demand. Four broad commercial models are now in place and being used to pay or reimburse digital tool developers, namely —  direct-to consumer, value-based contracting, "device-like" reimbursement and "drug-like" reimbursement models
Integrating With a Nationalised Health Ecosystem
Read the Whitepaper here.
The HealthTech Monthly Roundup
A quick roundup of the month's latest healthtech activity, both in India and globally.
Health Budget for 2021-22 declined by  9.8% from revised estimates in 2020-21, despite an urgent demand for upscaling medical infrastructure due to the pandemic.

Forrester estimates that the US virtual care market will reach a potential $43 billion in 2021, with upwards of 440 million virtual ambulatory encounters. On the supply side, more than 50% of practicing physicians plan to make virtual care a permanent part of their care models for patients.

Google announced new funding commitments to strengthen healthcare infrastructure and workforce in rural India — and will invest ₹113 crore to support healthcare facilities and up skill frontline healthcare workers

Indian healthcare startup PharmEasy to acquire majority stake in listed firm Thyrocare for over $600 million

India-based digital chronic disease management platform BeatO has raised $5.7 million in a funding round led by W Health Ventures, to expand its subscriber base in ASEAN

GlaxoSmithKline To Spin-Off Consumer Healthcare Business By Mid-2022

Apple iPhone users will soon be able to review long-term analyses of their health, receive automated alerts of changes to their loved one's condition and share health data directly to their provider's EHR system through the Apple Health app
Delivering Superior Customer Experiences over Video.
Download Report, here.
How Consumer Health Apps Mitigates Pandemic Impact
The COVID-19 pandemic had significant impacts on the apps individuals chose to download and use in 2020, driven by widespread health anxiety, the search for health information, and the need to manage one's health during the pandemic and periods of lockdown. 
Across the patient journey, digital health apps can be divided into two main categories: those focused on "wellness management," which facilitate tracking and modification of fitness behaviors, lifestyle and stress and diet, and those which specifically focus on "health condition management," which supply information on diseases and conditions, enable access to care, and aid treatment such as through medication reminders.
Consumer apps are the most widely available and used digital health tools, shifting increasingly toward disease-specific uses. Digital health apps continue to proliferate, with more than 350,000 health and fitness or medical apps now available to consumers worldwide from the Apple Store and Google Play. In 2020 alone, more than 91,000 new apps were introduced to the stores — an average of 251 apps per day. 
Digital Health Apps Breakdown in 2021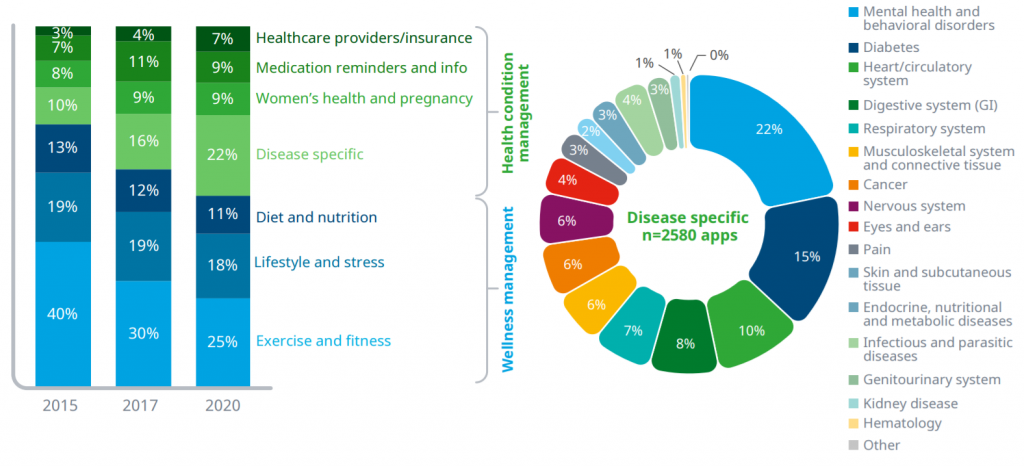 Source: IQVIA Digital Health Trends Report 2021
The mix of apps has shifted since 2015, with 47% of apps now focused on health condition management, whereas wellness management apps have been on the decline with relatively lower investment. Among the health condition management apps, the largest categories continue to focus on chronic conditions such as mental health and behavioral disorders (22%), followed by diabetes (15%) and heart and circulatory system apps (10%).
Digital Health: Building Blocks For A Covid World
Read the full report.
Digital Patient Journeys Now Start At Home
The pandemic has amplified the need for care provision and remote patient monitoring outside traditional healthcare settings, patient self-monitoring using various connected devices, and digital therapeutics that can deliver interventions via apps.
Digital Health Tools Along the Patient Journey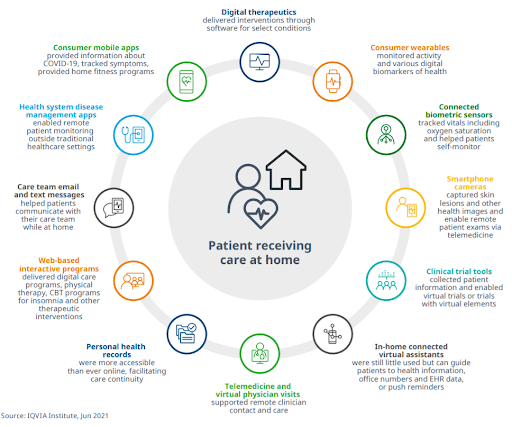 The COVID-19 pandemic has opened the door to reimagine where, how and by whom care is delivered. Patients are growing more comfortable with only connecting with their HCPs through video or voice calls if the quality of interaction can be guaranteed—such as by ensuring similar time and level of care as in-person appointments, good digital experience and assessments fed back into the broader care team. 
HCPs are also open to new ways care can be delivered: 65% said they value self-administration methods for patients, allowing increased treatment at home (auto-injectors, for example, or on-body devices), more than they did pre-COVID-19, according to a recent Accenture Health Report.
The report also says — If given the choice, many healthcare consumers would choose virtual for basic care services, and even for specialty care. They "definitely" or "probably" would receive health and wellness advisories (62%) and remote monitoring of ongoing health issues through at-home devices (57%).
Delivering Superior Customer Experiences over Video.
Download Report, here.
Inside Look: The Future of Digital Health in Asia
Consumer-oriented digital health in Asia will grow by 22% through 2025, and touch $100 billion in value, according to recent McKinsey insights. 75% of this value will come from digitization of healthcare delivery.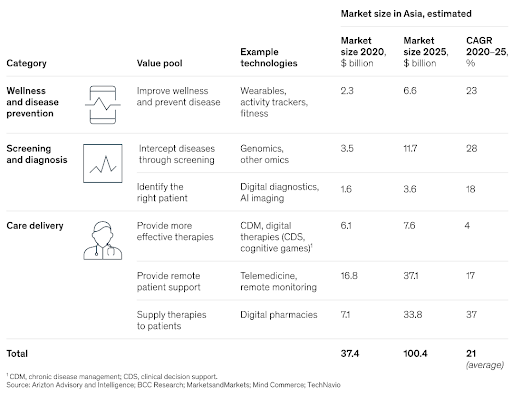 Source: McKinsey Insights
What's Disrupting Healthcare In Asia:
By 2025, Asia will be home to 456 million seniors aged 65 or older.This demographic change increases the potential demand for health services and decreases the available supply of manpower to deliver care. Over 50% of Asia's population lives in rural areas.

Geriatric health will be a key driver in the region.

The average number of doctors per 1,000 people in Asia (2.7) is lower than the OECD average (3.4). Southeast Asian countries tend to have fewer physicians on average (approx.0.6) for every 1000 people of the population.

WHO predicts a global shortfall of nine million nurses, with Asia being the most affected.

Governments in Asia, on average, spend only 4.5% of GDP on healthcare, compared with the OECD average of 12%.

VC and private equity investments in digital health in Asia have grown at 38% CAGR from 2015 to 2020. As a result, today Asia comprises 44% of global VC/private equity investments in digital health—$6 billion of $14 billion.
Digital Everything UseCases for the Post-COVID World.
Read our latest Use Cases here.
Business cognizance for the new-age digital insurers