Table of Contents
01 Top value chain areas for HCPs to deploy CX initiatives
02 The Health Tech Monthly Roundup
03 4 Key Innovations for HCPs to Consider for their Digital Health Strategy
04 Creating the Right Experience for Future Healthcare Consumers
05 Channel Preference across the Patient Journey
Top value chain areas for HCPs to deploy CX initiatives
88% of healthcare providers (HCPs) believe customer experience (CX) drives consumer purchasing decisions. Yet, only 42% of healthcare executives have deployed an advanced enterprise-wide CX strategy.
Health consumers today demand low-cost solutions, personalized care, and timely health engagement outcomes. A growing mix of both large and mid-sized healthcare organizations have transitioned to 'Value-based Care' from the older 'Fee-For-Service' model. However, elevating CX remains a major concern due to the lack of patient-recorded information (via voice, email, text) and a 360-degree view of the consumer (aggregated from clean data sources) creating disjointed care experiences.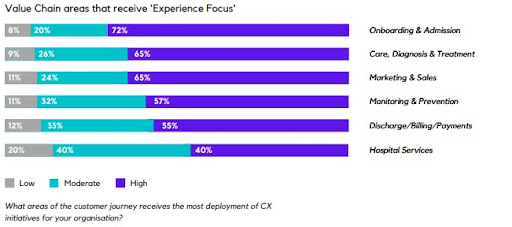 Source: Mantra Labs whitepaper
When it comes to the deployment of CX initiatives for HCPs, onboarding and admission stay at the top across the entire customer journey. Quick onboarding and admission of patients leave a better impression on the customer. In the face of greater patient demand and overburdened legacy health systems, CX tools & solutions form a critical starting point for Providers to transform simple touchpoints into connected care experiences. 
Elevating Conversational CX In Healthcare
Read the full report.
The Health Tech Monthly Roundup
A quick roundup of the month's latest health tech activity, both in India and globally.
According to an Inc42 report, health tech SaaS is set to become a $3.5 billion market opportunity by 2025, growing at a CAGR of 45%.

Medyseva has garnered ₹15 million in pre-series funding round. The firm plans to use this capital to spread its presence, strengthen its IT infrastructure, increase its service portfolio, and onboard specialist doctors to ensure smooth delivery of services for the rural sector.
Tata 1mg has infused $32 million for 24,711 equity shares in the recent funding round The company is now the 3rd business owned by Tata Digital to join the exclusive unicorn club and the 5th Indian health tech startup to become a unicorn.
Mojocare has garnered $20.6 million in a Series A investment round which will be utilized to diversify its product portfolio, scale its omnichannel go-to-market strategy with a specific focus on distribution and expand teams across content and care delivery.
Lyra Health, a digital mental health unicorn is expanding its teen behavioral health offerings. Teens will have access to video-based therapy and between-session digital exercises, guides, and assessments along with one-on-one messaging with their provider in-between sessions.
Remedial Health, a Nigeria-based health tech venture has acquired $130 million in Series D funding which it plans to infuse into expanding its operation to East and West Africa, digitizing pharmacies and bringing efficiency in the pharmaceutical supply chain.
Open Finance: Reality or Hype?
Read now.
4 Key Innovations for HCPs to Consider for their Digital Health Strategy
The new normal is all about instant healthcare delivery and seamless phygital patient experience. Healthcare organizations are upgrading their entire business model to get better in their service delivery and be prepared for pandemic-like situations in the future. Here are the 4 key innovation areas that HCPs should keep in mind while designing their digital health strategy: 
Digital Health Platform Architecture:


Healthcare organizations are adopting a more futuristic approach in their care delivery to create the next-gen patient experience of tomorrow. In the past two years, they have entirely upgraded their IT infrastructure. Cloud infrastructure, EHR data interoperability, and open-source developer tools are being rapidly used by them. Alongside this, platform architecture is gaining much attention from industry leaders for creating smart hospitals and care infused with the latest technology and data. Upgraded IT infrastructure will not only lower the overall technical debt but also result in higher ROI for IT investments and a boost in interest in addressing capability gaps in the digital ecosystem. However, this will need significant funding.

Data-Driven Medicine:


Digitalization has already gained momentum in revolutionizing healthcare delivery. The next step would be to dig deeper into the healthcare data to derive better insights, broaden the medical knowledge and fortify new research. However, implementation of data-driven care requires advancements in healthcare technology and research and improvement in data standards throughout the ecosystem.

Healthcare Application Marketplaces:


Upgraded healthcare platforms would be necessary to deliver data-driven care utilizing advanced IT infrastructure. Healthcare organizations would require a marketplace, which may be sector-wide to distribute apps from third-party vendors or organization-focused to share

support

and skills throughout a health network. More development will fill gaps in current digital health capabilities. However, solving difficulties like managing application onboarding and monitoring will require considerable IT skills. Also, a market that is exposed to the industry will raise some security and compliance issues.

Provider and Patient Portals:


Provider and Patient portals are the digital front doors for healthcare delivery and patient management. A

CHIME digital health

survey

showed that "83% of acute care organizations report high use of patient portals by patients." In addition to facilitating effective provider and patient engagement, these platforms also provide access to additional health and wellness resources and tools. However, issues like poor technological adoption amongst the user group lead to patients favoring in-person communications. Also, accessibility is based on many variables like technical capability, awareness, and internet connectivity which poses a bigger challenge, especially in remote areas. 
How to Win Customer through Smarter Form-filling?
Read the full blog, here.
Creating the Right Experience for Future Healthcare Consumer 
Patient loyalty is directly linked with their overall experience. According to Accenture, "Two-thirds of patients are likely to switch to a new health system if their expectations are not met."
Let's look at what a future healthcare consumer is looking for:
Omnichannel Experience:

According to

Mantra Labs

report, "healthcare providers that successfully initiate conversations, advise, engage and then close over multiple channels can potentially retain up to 7X more customers." Earlier healthcare customers relied more on in-person visits and consultations. But with the change in consumer dynamics in the past two years, industries have shifted to omnichannel engagement strategy to reach out to their customers who now expect a similar experience in healthcare as well. They want flexibility and control to communicate with their providers on their own terms over all the channels via chat, web, email, text, and call.

Digital Infrastructure: Covid-19 has taught us that there is an urgent need to build a strong Digital Infrastructure for a pandemic-like situation in the future. A study by CB Insights says, "Global digital investments in healthcare went record-high of $57.2 billion in 2021, a 79% jump from the $32 billion raised globally in 2020."
The number will keep going higher every year as there is a huge demand-supply gap in the healthcare industry. Providers would be better aligned with their patient's demands if they invested in digital front-office transformation. This would also increase overall cost efficiencies. The Indian government has allocated 200 Crt to set up an open platform for the National Digital Health Ecosystem (NDHE) which will include an exhaustive list of digital registries of health providers and health facilities, unique health identity, consent framework, and universal access to healthcare. This will create a much-needed interactive and transparent platform for healthcare providers and seekers to manage stacks of health data in the country.
Insurance & Financing: When it comes to healthcare, people have been compelled to pay for their healthcare coverage out of their wallets, especially in developing countries like India. According to research conducted by the Public Health Foundation of India, healthcare-related expenses push 4% of India's population below the poverty line every year. This creates an urgent necessity for insurance and healthcare partnerships to go beyond working in silos and integrate for creating a better patient journey.
What does the Digital & Connected Patient Experience of Tomorrow look like?
Read the blog, here.
Channel Preference across the Patient Journey
56% of Providers view private messaging channels as the biggest disrupter over the next 12 months. More than 90% of Gen Z and 71% of Millennial customers say they would prefer to use conversational chatbots that offer 'convenient experiences' as their primary mode of interacting with a healthcare brand. 
Source: Mantra Labs Whitepaper
Enterprises with best-in-class CX results are at least 1.5 times more likely to use messaging as the primary means of engaging customers, according to a ZenDesk report.
Providers that do embrace digital messaging channels have missed out on the conversational value of these platforms. In turn, 89% of customers who have bad experiences with virtual agents, are more than likely to stop engaging with that brand. Providers will need to embrace conversational design to raise their competitive bar, and recapture lost opportunities.
3 Trends shaping the Future of Healthcare in Middle East
Read here.
Business cognizance for the new-age digital insurers