Mantra Labs Inaugurates Its Brand New Headquarters
Up-scales its facility to support its business and employee needs.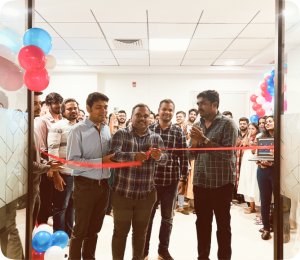 Monday,17th July, 2023, Bengaluru: Mantra Labs inaugurated its new headquarters at Camelot Tech Park, Whitefield. The site will serve as the headquarters of its global operations and will provide support to its existing facilities in Kolkata, Gurugram, and North Carolina. 
Mantra's new 16,500 sq. ft state-of-the-art facility is at a prime location with easy access to the metro station and multiple public transportation options. A 250+ seater space, the office is equipped with 18+ meeting rooms and modern amenities for its employees. The new office design is inspired by taking cues from experimenting with bold colours while still staying classy. 
"The new office is designed to promote cross-functional collaboration and teamwork, cultivate inclusion, and increase business agility while prioritizing employee wellbeing. We are super excited to move into our new home, where we aim to build and grow our team of technology tinkerers A.K.A Mantriks and continue to build Intelligent Experiences for Global Enterprises!", said Mikhail Mitra, Chief Strategy Officer, Mantra Labs.
Here are some more snapshots of the celebration.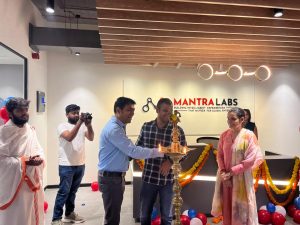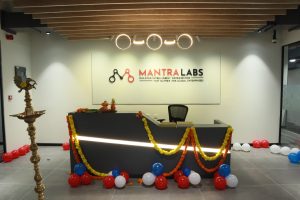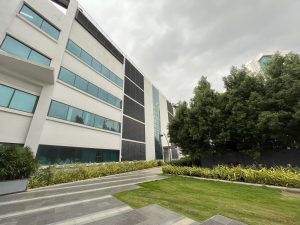 About Mantra
Mantra Labs is a renowned consulting and experience engineering company that caters to global enterprises by developing intelligent solutions and providing digital-first customer experiences. Their team comprises more than 300 skilled and passionate technolohgists who specialize in offering comprehensive solutions across eight key industries.
A CMMI level 3 and ISO 27001:2013 certified company, Mantra helps BFSI, Healthcare and Consumer Internet enterprises overcome their most pressing front and back-office challenges. Some of our key clients include AbbVie Pharmaceuticals, SAAB, Green Brilliance, PACE Industries,  American Auto Club, and leading Indian insurers such as ICICI Lombard, SBI General Insurance, Care Health Insurance, Pramerica, Aditya Birla Health, and AIA Hong Kong, etc. Our expertise in developing AI-powered technology solutions tailored to business-specific problems is well-established.
In addition to our proficiency in technology solutions, Mantra Labs is a strategic partner with MongoDB, IBM Watson, Microsoft Azure, and Nvidia.