Mantra Labs is now a CMMI Level 3 company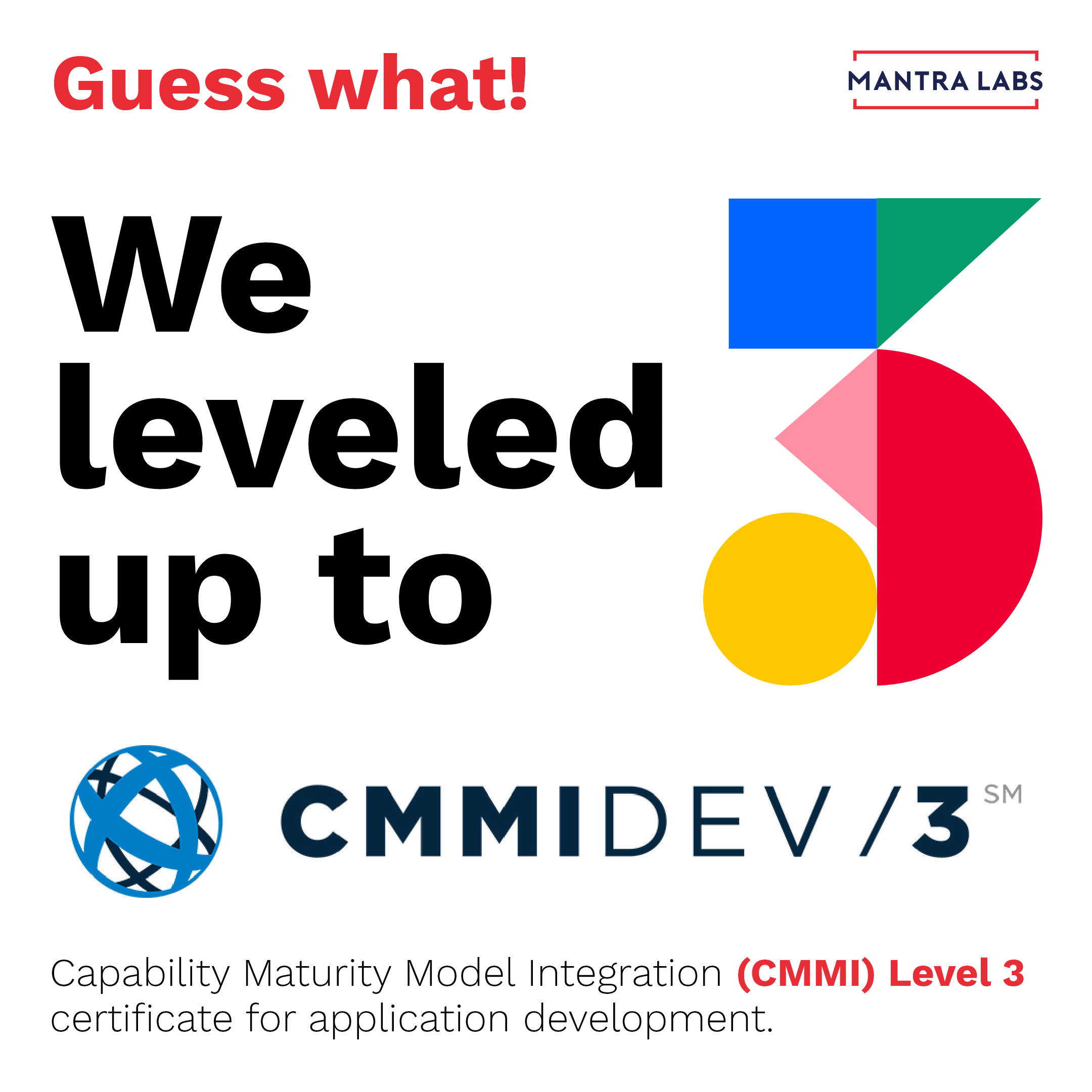 Mantra Labs announces today that it has been awarded with prestigious Capability Maturity Model Integration (CMMI) Level 3 for application development. CMMI Maturity Level 3 is one of five "Maturity Levels" in the CMMI which states that an organization has successfully completed the SCAMPI A appraisal (Standard CMMI Appraisal Method for Process Improvement). This indicates that the organization is performing at a "Defined" level ensuring its processes and quality are at par with the global standards.
"We are very proud of this accomplishment of achieving the CMMI Level 3 certification," said Mikhail Mitra, Chief Product and Marketing Officer at Mantra. "We at Mantra believe in thinking beyond the conventional practices and engineering innovative digital solutions for our clients. They have always shown their trust in our consulting approach and ability to deliver. We're happy to be acknowledged for our application development expertise. It doesn't stop here. We shall continue improving our processes to ensure superior experiences for our clients.", he adds further.
CMMI Institute (CMMIinstitute.com) is the global leader in the advancement of best practices in people, process, and technology. CMMI Institute's promise is to inspire cultures of continuous improvement that elevate performance and create sustainable competitive advantage.
With a level 3 maturity rating for service and development, Mantra's processes are well characterized and understood. Mantra Labs' forte lies in 'Experience Engineering' and has worked on several projects leveraging new-age technologies such as AI and ML.
About Mantra Labs
Mantra Labs is a global experience engineering & consulting firm that builds intelligence-driven solutions and delivers digital-first customer experiences for global enterprises. With its 275+ skilled and passionate technologists, the company specializes in providing end-to-end solutions for its clients across eight key industries. Mantra solves the most pressing front & back- office challenges faced by BFSI, Healthcare and Consumer Internet enterprises. Having worked with some of the World's leading Insurers like SBI General Insurance, Care Health Insurance, Pramerica, Aditya Birla Health and AIA Hong Kong along with unicorn consumer startups like Ola, Myntra, Yulu, BlueStone and Quikr – Mantra Labs has been deeply involved in developing AI-powered technology solutions for business-specific problems. The company also has strategic technology partnerships with MongoDB, IBM Watson, Microsoft Azure and Nvidia.