Mantra Labs' Mixed Reality-based solution Grabs Eyeballs at GoodFirms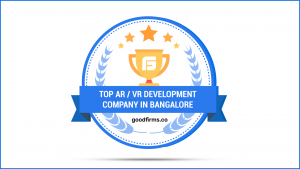 Mantra Labs is a global experience engineering and consulting firm that builds intelligence-driven solutions and delivers digital-first customer experiences for global enterprises. With its 250+ skilled and passionate technologists, the company specialises in providing end-to-end solutions for its clients across eight key industries. 
Mantra solves the most pressing front & back- office challenges faced by BFSI, Healthcare and Consumer Internet enterprises. Having worked with some of the World's leading Insurers like SBI General Insurance, Care Health Insurance, Pramerica, Aditya Birla Health and AIA Hong Kong along with unicorn consumer startups like Ola, Myntra, Yulu, BlueStone and Quikr – Mantra Labs has been deeply involved in developing AI-powered technology solutions for business-specific problems. The company also has strategic technology partnerships with MongoDB, IBM Watson, Microsoft Azure and Nvidia.
The firm has also been recognized by Fintech Global in their annual InsurTech100 list, which names the top 100 most innovative insurance solution providers in the world. Mantra has been named to the exclusive list for two years in a row.
GoodFirms is a well-known research interview platform that connects service seekers with service providers. The company's research team ensures to assess an IT firm based on three key criteria: quality, dependability, and competence. Companies that do well in this assessment are then recognised among the platform's top performers.
Mantra Labs was also reviewed by Goodfirms on the same parameters. Their team consistently exceeds the expectations of their clients, whether they are a small startup or a large enterprise. The company helps clients to achieve their organizational goals utilizing AI & ML for new and existing business operations and comes up with a working roadmap for the same. They also utilize the latest technologies in AR & VR to create mixed reality experiences for their clients. They created an AR-enabled experiential online catalogue for their German client Luminaire which has helped them in offering an immersive 'store-like' experience to their website visitors. As a result of its innovative customer-centric approach and excellent work environment, GoodFirms has selected Mantra Labs as one of the top AR & VR companies in Bangalore.