Mantra Labs, Now A Katalon Partner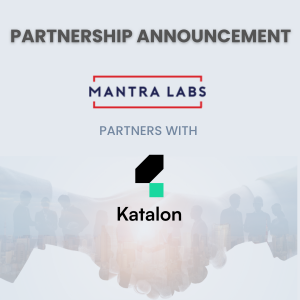 Mantra Labs is delighted to announce a strategic partnership with Katalon, a world leader in Test Automation. This alliance is set to strengthen Mantra's test automation offering and deliver superior digital-first customer experiences for its clients.
"We are an Experience Engineering firm and Testing plays a vital role in building intelligent solutions. Katalon has outstanding automated testing solutions. As software becomes more and more complex across heterogeneous environments, I believe Katalon's testing platform will provide Mantra with a set of sophisticated tools that we are able to deploy as a part of our testing and quality assurance solutions. We expect that our partnership with Katalon will provide tremendous value to our clients and customers.", says Mikhail Mitra, Chief Strategy Officer at Mantra Labs.
About Mantra Labs
Mantra Labs is a renowned consulting and experience engineering company that caters to global enterprises by developing intelligent solutions and providing digital-first customer experiences. Their team comprises more than 300 skilled and passionate technologists who specialize in offering comprehensive solutions across eight key industries.
A CMMI level 3 and ISO 27001:2013 certified company, Mantra helps BFSI, Healthcare and Consumer Internet enterprises overcome their most pressing front and back-office challenges. We have worked with leading insurers such as ICICI Lombard, SBI General Insurance, Care Health Insurance, Pramerica, Aditya Birla Health, and AIA Hong Kong, as well as unicorn consumer startups including Ola, Myntra, Yulu, BlueStone, and Quikr. The company also has strategic technology partnerships with MongoDB, IBM Watson, Microsoft Azure and Nvidia.