Table of Contents
01   Behind Complex Insurance Consumer Behaviours
02   The Insurance Monthly Roundup
03   Digital Transformation Strategies for APAC Insurers
04   Insuring Cattle using muzzle prints for Identification
05   Chatbot Trends in Insurance
Behind Complex Insurance Consumer Behaviours
Insurance is quickly becoming more relevant to consumers' daily lives. The abrupt and monumental shift in consumer behaviour resulting from the COVID-19 pandemic has also accelerated the pace of going digital for insurance companies. 
According to a recent Accenture report, 
Most consumers in major Asian markets expect insurers to use their data to anticipate what they need, and to offer relevant products and services: globally, about half do so; in China and India, it is closer to

two-thirds

.

Around

80%

of APAC consumers are willing to exchange their data for benefits such as receiving more competitive pricing, getting personalised advice or enjoying an improved service.

Consumers in APAC are far more willing to pay for integrated propositions (73%) than their global peers (60%). 

Accessibility is vital — Customers expect to access their insurer at a time that suits them, with one in four prepared to switch providers if that basic expectation is not met.

One in five

customers will leave their insurer if they have difficulty accessing digital services.

Although face-to-face is the dominant channel in most APAC countries, online (virtual) is fast catching up as a preferred secondary mode of interaction. Even before COVID-19, online was preferred by customers in Japan, Australia and New Zealand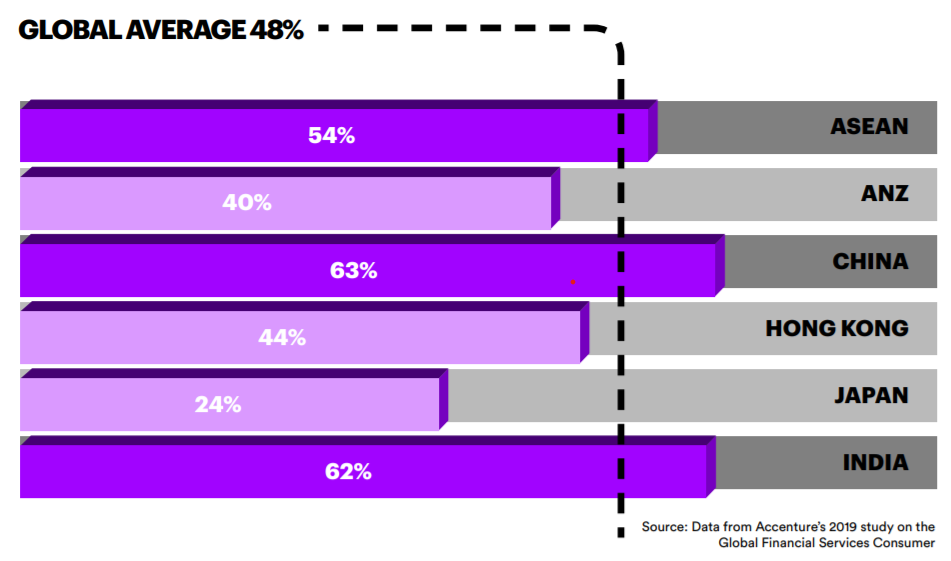 Source: Accenture Insurance APAC
The State of AI in Insurance
Read the full report.
The Insurance Monthly Roundup
A quick roundup of the month's insurance and insurtech news.
(India)
India's General Insurance industry will see slow return to growth by FY22. The motor insurance segment has traditionally been the biggest segment for the GI industry, but its share has gradually declined from 46% in FY16 to 37% in FY21 

The Indian government plans to infuse equity in ECGS over five years to strengthen export insurance cover by ₹88,000 crore.

Insurance companies settle over 15.39 lakh COVID-19 health claims as of June 2021, Insurance companies have settled 80 per cent of health claims amounting to ₹