Table of Contents
01   Behind Complex Insurance Consumer Behaviours
02   The Insurance Monthly Roundup
03   Digital Transformation Strategies for APAC Insurers
04   Insuring Cattle using muzzle prints for Identification
05   Chatbot Trends in Insurance
Behind Complex Insurance Consumer Behaviours
Insurance is quickly becoming more relevant to consumers' daily lives. The abrupt and monumental shift in consumer behaviour resulting from the COVID-19 pandemic has also accelerated the pace of going digital for insurance companies. 
According to a recent Accenture report, 
Most consumers in major Asian markets expect insurers to use their data to anticipate what they need, and to offer relevant products and services: globally, about half do so; in China and India, it is closer to

two-thirds

.

Around

80%

of APAC consumers are willing to exchange their data for benefits such as receiving more competitive pricing, getting personalised advice or enjoying an improved service.

Consumers in APAC are far more willing to pay for integrated propositions (73%) than their global peers (60%). 

Accessibility is vital — Customers expect to access their insurer at a time that suits them, with one in four prepared to switch providers if that basic expectation is not met.

One in five

customers will leave their insurer if they have difficulty accessing digital services.

Although face-to-face is the dominant channel in most APAC countries, online (virtual) is fast catching up as a preferred secondary mode of interaction. Even before COVID-19, online was preferred by customers in Japan, Australia and New Zealand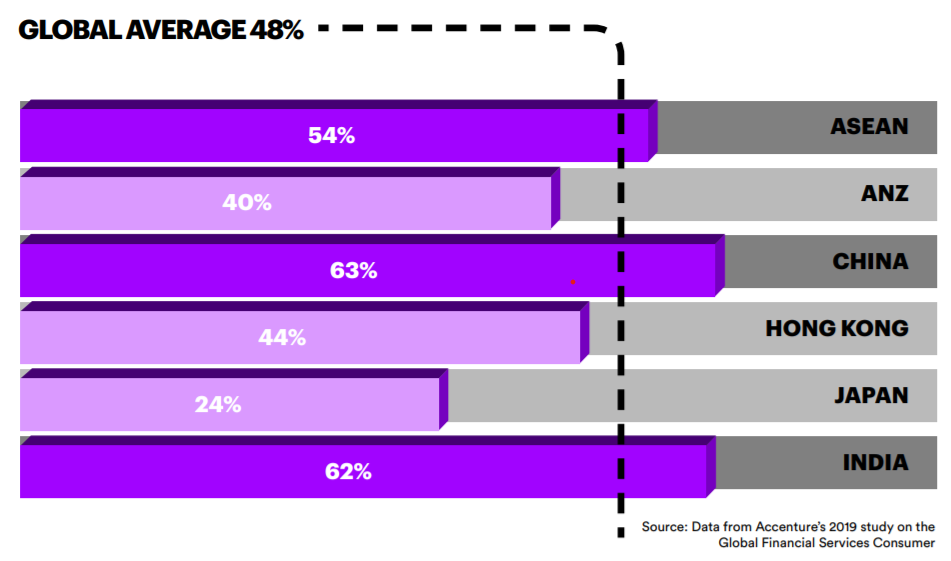 Source: Accenture Insurance APAC
The State of AI in Insurance
Read the full report.
The Insurance Monthly Roundup
A quick roundup of the month's insurance and insurtech news.
(India)
India's General Insurance industry will see slow return to growth by FY22. The motor insurance segment has traditionally been the biggest segment for the GI industry, but its share has gradually declined from 46% in FY16 to 37% in FY21 

The Indian government plans to infuse equity in ECGS over five years to strengthen export insurance cover by ₹88,000 crore.

Insurance companies settle over 15.39 lakh COVID-19 health claims as of June 2021, Insurance companies have settled 80 per cent of health claims amounting to ₹15,000 crore.

Policybazaar.com forays into insurance brokerage, opens 15 retail stores — with this the company surrendered its web aggregator licence to the IRDAI.

Plum

, a Health Insurance company, raised $15.6 million in a Series A round led by Tiger Global. The VC giant's investments this year have helped Cred, Innovaccer, ShareChat and other companies become unicorns.
(Global)
Global premium income fell by only 2.1%, in 2020. In 2021, premiums are expected to rise by 5.1% globally.

According to Market Research Future, the Health Insurance market size will be worth $4 trillion by 2027, growing at 6% CAGR.

Investor funding in Insurtech totalled $5 billion for the first quarter of 2021 with 261 deals, according to Forrester's Insurtech funding roundup.

Insurance Europe endorses a single market for data — lending its support to the European Commission's call to create a single market for data that combines information from public bodies, businesses and citizens.

London-based insurtech

Hyperexponential

— helps insurers deploy pricing models faster, via a SaaS platform that is aimed at actuaries, data scientists and underwriters. — closed an $18 million funding round led by growth capital fund Highland Europe.
Delivering Superior Customer Experiences over Video.
Download Report, here.
Digital Transformation Strategies for APAC Insurers
Enterprise-wide digitalization is a core priority among business leaders in Asia Pacific today. Digital transformation (DX) is seen as essential to corporate Asia's recovery and renewal, with most governments across the region also pushing some form of a DX agenda in order to strengthen their economies for the post-pandemic era.
According to a Forrester report, 61% of insurance decision-makers view their core system modernization initiatives as the most critical component of their digital business strategies, 69% say their firms spend less than 10% of their IT business on these initiatives. System modernization will be highly critical for the long-term success of their business, such as transitioning to the cloud.
To overcome business and technical roadblocks, Insurers should embrace solutions that provide both agility and flexibility in their system modernization initiatives such as leveraging cloud computing, widening their range of deployment options and adopting low-code capabilities for changes and updates.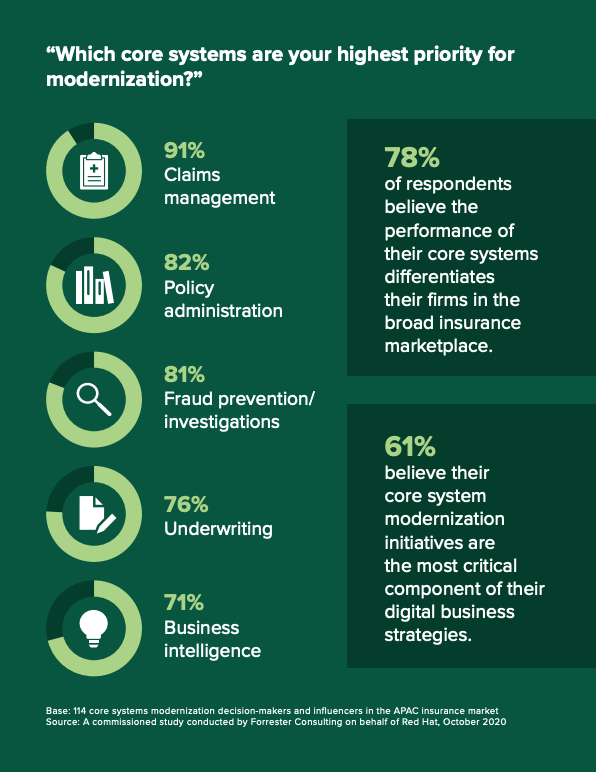 Source: Forrester Consulting Report
With respect to the top technology challenges they've faced in their modernization initiatives, APAC insurers cited data migration (71%), integration with up/downstream systems (61%) and cloud migration (57%). These results are unsurprising given the complex construct of insurance legacy systems and infrastructure which creates migration and integration challenges.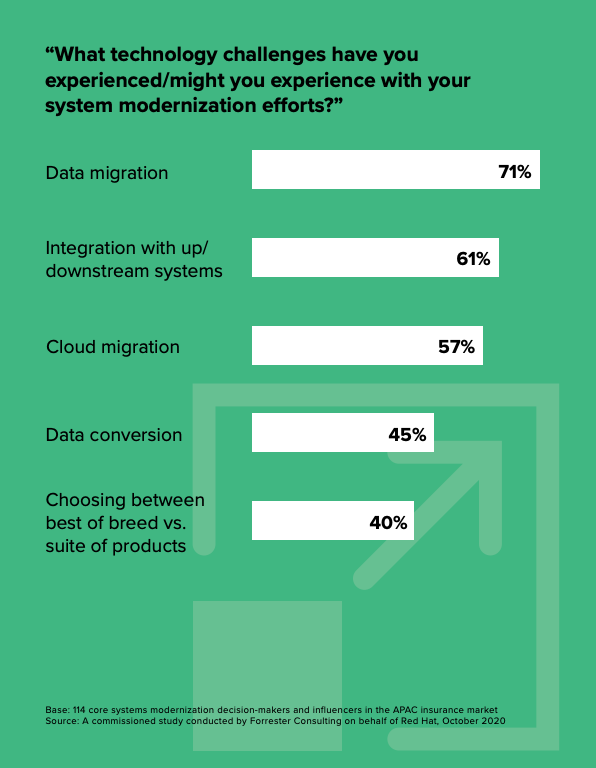 Source: Forrester Consulting Report
Can Augmented Reality be a game-changer for Insurance?
Read our Latest Blog here.
Insuring Cattle Using Muzzle Prints for Identification
India has the largest cattle population of 300 million, of which only 4% of these cattle, while 6-8% are funded by lending institutions. Iffco-Tokio General Insurance is digitizing its cattle insurance by deploying an AI-powered tag, based on biometric technology. 
The AI-driven mobile solution captures muzzle images with a phone camera, compares the cattle's unique digital identity stored in a cloud server, and then retrieves the result in under 60 seconds.
Muzzle printing is a unique identifier just like human fingerprints. The grooves, valleys and bead structures offer a unique characteristic for each muzzle print. Muzzle print images are then used for feature extraction and matching. Identification plays an influential role in cattle traceability from birth to slaughter, understanding disease trajectories and large-scale cattle ownership management. Potentially, the market for insuring cattle could potentially double with the aid of new solutions.
Unlike human biometrics, cattle biometrics have attracted less research attention for two main reasons—the lack of standard benchmarking databases and the lack of common features such as minutiae and singular points found in human fingerprints
Conventional methods like RFID tags and polyurethane ear tags are prone to tampering, duplication and fraud. The AI-powered solution enables reliable cattle identification and results in a lower loss-ratio for cattle insurers. 
CX Trends 2021: How Businesses are Winning Customer Experience Moments
Read our latest blog, here.
The chatbot market was valued at USD 17.17 billion in 2020 and is projected to reach USD 102.29 billion by 2026, which, in other words, it is a 34.75% rise in CAGR over the forecast period (2021-2026). 
By utilizing AI and machine learning, chatbots can interact with customers seamlessly, lowering operational costs and improving efficiency in support operations for insurance enterprises. By 2025 95% of all customer interactions will be powered by chatbots.
Here are the top 6 chatbot trends for 2021:
Customer Intelligence


Integrating advanced behavioural analytics to chatbots is now common practice for companies either as standalone software or as a built-in feature, resulting in a

better customer experience

.

Faster claims handling


Insurance chatbots are a swift way of arriving at a resolution especially when the query requires minimal support from a human, case in point, pulling up relevant data, answering a question and also, filing a claim. 

Conversational AI


For Care Health Insurance, Mantra Labs built Hitee, an emotionally intelligent chatbot, who works as an entry-level customer support specialist aiding Care Health Insurance with customer queries around insurance. 

Video Call Support


Video call support enables remote business conversations through secure video and multilingual chats. This allows agents and customer support teams to assist policyholders across any stage of their journey from onboarding to claims, or renewals.

Emotional Awareness


Chatbots with high emotional intelligence that captures human sentiment, emotional states and elicits positive responses during a conversation. For example, Wysa — a leading mental health chatbot, provides conversational support for users and suggests tips, exercises and medical advice for most mental health issues.

Local Languages and Dialects


KPMG predicts that chat applications cater to 170 million Indian language internet users. This is expected to grow to 400 million by 2021 at a CAGR of 19%.
A Tech-Enabled World for Future Pandemic Phases
Read our latest blog here.
Business cognizance for the new-age digital insurers