Table of Contents
01 Conversational CX is at the top in 'tactical investment strategies' for HCPs
02 The Health Tech Monthly Roundup
03 Increasing demand for telemedicine & AI in MENA region: EMERGE GHI Report
04 Global Trends in Digital Health, Q1-2022: Key Insights
05 Messaging platforms-most preferred platform for healthcare consumers.
Conversational CX is at the top in 'tactical investment strategies' for HCPs
Reliable EHR Data/Systems and Agile Cloud Computing are the main resilience-focused transformations. Conversational CX touches all parts of the patient's healthcare journey. It extends across the entire value chain, not just the upfront admission & onboarding process. Over the next 12 months, more Conversational AI systems will be deployed to fill in operational gaps by providing faster triage and health guidance for patients. 
HCPs can also utilize conversational commerce as part of a broader omnichannel strategy to promote specialties and service lines, improve patient engagement, minimize referral leakage, and influence revenue cycles. This will propel healthcare providers to increase new acquisitions and boost channel confidence.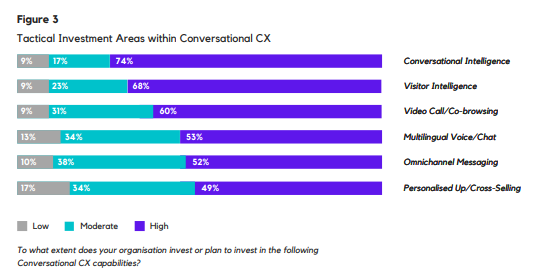 Source: Mantra Labs Whitepaper
Only 33% of healthcare executives actively prioritize retaining customers as more important than new business. Research shows customer retention is at least four times as cost-efficient as pursuing new business. Patient acquisition expenses have been rising and are set to further go up between 35%-44% by 2024. Instead of pursuing an omnichannel approach for retention, many HCPs continue to engage their patients primarily by call and traditional mail. The latter is relatively expensive and makes seamless integration difficult, requiring several steps to digitize, analyze, and integrate communications. 
Providers who prioritized CX before the pandemic have already gained an early advantage. Mature CX organizations are more than six times as likely to exceed their customer retention goals. Investments in digital front-office transformation would better align HCPs with their patient's engagement needs and improve overall cost efficiencies.
Elevating Conversational CX In Healthcare
Read the full report.
The Health Tech Monthly Roundup
A quick roundup of the month's latest health tech activity, both in India and globally.
Pristyn Care acquired Lybrate to improve comprehensive healthcare delivery in India. With this acquisition, the company plans to expand its online medical consultation services, improve the quality of primary treatment care, and fulfill patient expectations.

Orange Health has raised $25 million. With this fresh funding, the company will expand to new markets, improve technology across systems, and user experience, invest in product development, and build world-class laboratories.

EzeRex raised an undisclosed amount in a recent funding round. The fresh infusion will be utilized to expand the company's operations and marketing, increase R&D activities and sales across Asia and seek worldwide certifications.

CarePoint has secured $10 million in a bridge round to boost its growth across Africa and make healthcare more accessible to the general masses.
What does the Digital & Connected Patient Experience of Tomorrow look like?
Read now
Increasing demand for telemedicine & AI in MENA region: EMERGE GHI report
According to a recent report published by Dealroom and EMERGE GHI, the health-tech startup ecosystem in the MENA region is now worth over $1.5B, a 22x increase since 2016. As of now, $930 million has been raised by domestic and international investors in order to push the health tech market.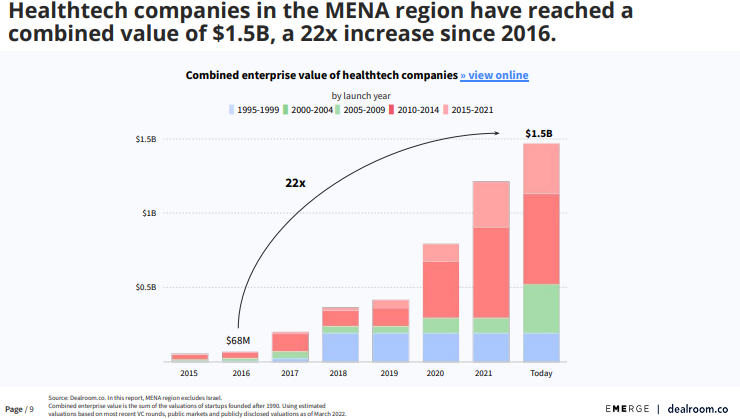 Numerous startups have ventured into the industry to focus majorly on improving the patient experience, filling the operational gaps and boosting innovation in healthcare. There has been a significant growth in demand for telemedicine and remote monitoring solutions to boost healthcare penetration in the region and cover the untapped potential areas. Apart from telemedicine, patient centric initiatives like AI adoption is gaining traction from local and foreign investors.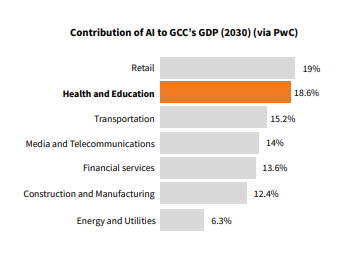 According to PwC, AI's overall contribution to the public sector in the Gulf region would be $59 billion by 2030, including health and education. This means AI is expected to account for 18.6% of the region's GDP.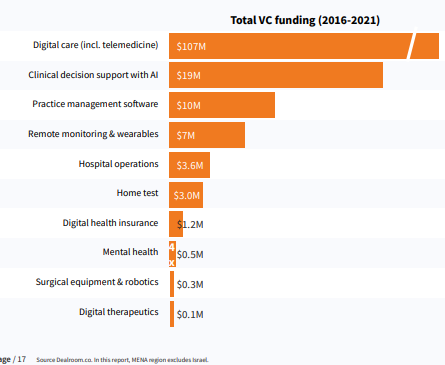 Source: EMERGE GHI 
With the current funding trend, the healthcare market in the gulf region is expected to grow further.
What does the Digital & Connected Patient Experience of Tomorrow look like?
Read the blog here.
Global Trends in Digital Health, Q1-2022: Key Insights
Here are the key findings from CB Insights' latest Q1 2022, State of Digital Health report:
Global digital health funding touched $10.4B in Q1'22, a 36% decline compared to the last quarter of 2021. Digital health startups witnessed a sharp funding drop-off in Q1'22 than the fintech (18%) and retail tech (11%) sectors QoQ basis.

Investors

funded

fewer $100 million+ transactions to digital health startups in Q1'22, leading to more than half a reduction in the mega-round investment. Total mega-round investment accounted for just 42% of all digital health dollars spent in Q1'22, down from 57% in Q4'21, which explains the 36% drop in overall funding.

Mental health tech secured $792 million across 76 deals in 2022 YTD, a 60% drop compared to Q4'21 and the lowest funding level since Q4'20. The industry accounted for just 8% of total digital health funding in Q1'22 compared to 12% in the last quarter of 2021. US-based firms topped, accounting for 84% of overall mental health tech spending in Q1'22.

Funding to the telehealth sector declined 32% QoQ basis, even though the number of deals increased by nearly 12%. Telehealth startups, on average, are raising smaller deals in 2022 compared to the previous year. 

Europe acquired $946 million across 120 deals in Q1'22 YTD, witnessing a 19% decline in quarterly funding.

Funding in Asia reached $1.3 billion across 154 deals in Q1'22 with a 55% fall on QoQ basis. 
6G and the Future Customer Experience
Read the full blog, here.
Messaging platforms-most preferred platform for healthcare consumers.
93% of Gen Z and 71% of Millennial customers say they would prefer to use conversational chatbots that offer 'convenient experiences' as their primary mode of interacting with a healthcare brand. During the last twelve months, 63% of consumers have used a private messaging channel – such as Facebook Messenger, Twitter DM, WhatsApp, iMessage, and SMS – to engage with a healthcare brand. Enterprises with best-in-class CX results are at least 1.5 times more likely to use messaging as the primary means of engaging customers, according to a ZenDesk report. The volume of messages exchanged through social messenger apps has seen a 50% spike, in the last twelve months. Clearly, messaging is the medium of choice for customers, but Insurance organizations have made slow progress to facilitate customer communication through these platforms. On the other hand, Providers that do embrace digital messaging channels, have missed out on the conversational value of these platforms. In turn, 89% of customers who have bad experiences with virtual agents, are more than likely to stop engaging with that brand. Providers will need to embrace conversational design in order to raise their competitive bar, and recapture lost opportunities.
Elevating Conversational CX in Healthcare
Read the Whitepaper here.
Business cognizance for the new-age digital insurers