Table of Contents
01   Report: State of AI in Insurance 2021
02   The Insurance Monthly Roundup
03   Top Insurance Trends in 2021
04   Telehealth is the best bet for AI chatbots
05   Health & Wellness Journeys
---
Report: State of AI in Insurance 2021
Mantra Labs has published the State of AI in Insurance Point of View for 2021. The forward-looking document outlines the transformational changes that AI will bring and the business value it will create for the After-COVID World. 
By 2024, AI will bring $2.3 billion in cost savings across the entire Insurance ecosystem, up from $340 million in 2020.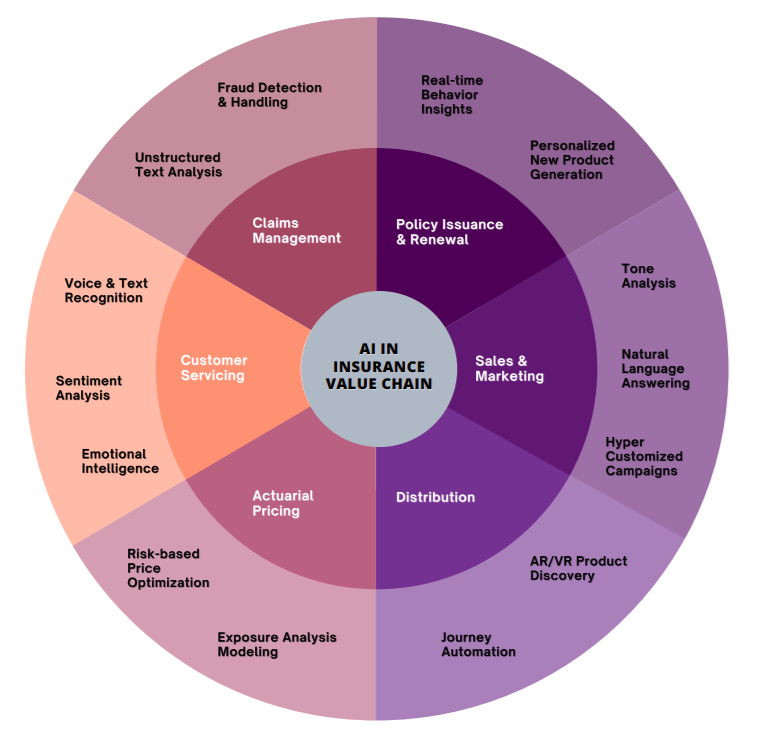 AI across the Insurer Value Chain
Greater customer expectations, followed by cost optimization, is the main driver behind the insurer evolution process. In order to meet these critical changes in both business and consumer-facing needs, Insurers are turning to AI to drive the interactions of Tomorrow. 
In a Post-Digital World, brought on by the COVID-19 Pandemic, relationships, interactions and experiences need to be humanized. Technology has become personal, which is why 'digital' is no longer the difference maker and new roadmaps need to be created. 
State of AI in Insurance, 2021
Read the full report.
---
The Insurance Monthly Roundup
A quick roundup of the month's insurance and insurtech news.
(India)
Health premiums

take up at 30% of total non-life premiums for the Apr-Sep period growing at 16% y-o-y. Motor and crop insurance follow with 29% and 19% respectively of total non-life premiums.

Since COVID-19 began Premiums paid on individual health policies grew by 34% compared to 16% among group policies for the same period.

Profitability from the health insurance segment is much lower compared to other segments—for the last five years, companies paid an average of

₹96 as claims for ₹100 earned from premiums.

The majority of India still has no insurance coverage in 2020—85.9% among rural, and 80.9% among urban populations. 

Insurance Platform, Turtlemint raised $30 million in new financing to bring total-to date funding raised to $55 million. The startup is working with 100,00 insurance advisors and hopes to equip them with digital tools to offer more relevant recommendations to consumers.
(Global)
Swiss Re

estimates global insurance premiums to have contracted by 1.4% in 2020 and is expected to recover by 3.4% with China leading the fray, in 2021.

Main drivers behind the insurance market's growth in China: risk awareness post-COVID-19 and growing interest in mortality & health insurance, especially through digital channels.

Insurtech startup, Simplesurance is an e-commerce provider for product insurances. They offer online sellers the tools to offer customers a quick and convenient way to buy product insurance. Backed by Rakuten and Allianz, the company has raised $18 million to expand its digital broker solutions.

German Insurtech, Getsafe which provides a digital insurance platform that "helps customers cover themselves and their universe" has raised $30 million in a Series B round. With this latest round, the startup which has around 150,000 customers is looking to expand its presence to the UK markets.
Delivering Superior Customer Experiences over Video.
Download Report, here.
---
Top Insurance Trends in 2021
While the effects of COVID-19 on consumer behaviours are still rapidly evolving, the shift to digital will most certainly remain. In fact, the Online Insurance market in India is estimated to be worth at least $3 billion in 2020. Among several technological innovations and widespread adoption of specific applications, here are the top five trends set to transform Insurance in 2021.
Touchless UI will become the new normal among digital interfaces, of which voice will be the most dominant. Nearly 55% of google search in America and

30% in India

are voice-driven, indicating voice assistance will further progress linguistic democratization.

There will be more data shared with the larger ecosystem. According to Cisco, 500 billion sensory devices with 4-5 signals each will be connected to the Internet of Things by 2030. This roughly translates to about 250 sensory data points per person on average.

25% of the Fortune 500 will add AI building blocks (text analytics, machine learning) redirecting AI investment to more tactical IPA projects with crystal-clear efficiency gains.

Tailored, usage-based products will be seen as fair value by the rising middle class, who are mostly between 20-30 years of age. Adding flexible micro products will evolve the consumer mindset about using insurance on a day-to-day basis.

Consumers will come to expect more conversations driven by AI to handle the most customer service and support activities. These interactions are behind the intelligent experiences future of insurance where AI is used to ensure more natural engagement and smoother journeys.
Can Augmented Reality be a game-changer for Insurance?
Read our Latest Blog here.
---
Telemedicine is the best bet for AI-enabled chatbots
The telemedicine market in India is expected to be worth US$ 5.4 billion by 2025 growing at a CAGR of 31%. The COVID-19 Pandemic has increased dependencies on technology for even the most routine health consultations. Consumers are signing up on telemedicine platforms such as Practo, Ask Apollo and iCliniq for online consultation with doctors. As per IRDAI guidelines, here are the implications for Insurers.
OPD Cover

: telemedicine expenses will be treated equivalent to OPD coverage. 

Video KYC

: eKYC for customers allowed over video conferencing software with specific compliances.

Claims

: the norms of sub-limits, monthly or annual limits, which are specific to a policy will apply to telemedicine claims as well.

Out-of-pocket expenses

: the cost of pharmacy and consumables, implants & medical devices, and diagnostics as a part of associated medical expenses, which come under proportionate deductions will not be considered.
Telemedicine has undertaken a new way for doctor consultations. Apart from remote consultations, Telemedicine will also provide good-quality healthcare data in a ready-to-use format. In the future, this will help Insurers in identifying the state of policyholders' medical condition and steer the move from financial protection plans to health-centred designs.
Reimagining Medical Diagnosis with Chatbots.
Read our latest blog, here
---
Health & Wellness Journeys
Insurance customers aren't generally disgruntled about one particular phone call or individual service interaction. It is their cumulative experience across multiple touchpoints and channels over time that reveals if the process as a whole is broken or not. Insurers are developing an unintended blindspot — focusing solely on touchpoints. A siloed focus on individual touchpoints misses the bigger, and more important picture: the customer's end-to-end experience.

Insurers tend to look at each customer touchpoint, from visiting the website to calling an agent, as a separate event. But customers see these events as steps in a single journey of fulfilling an important need, such as protecting themselves and their families or recovering from an accident.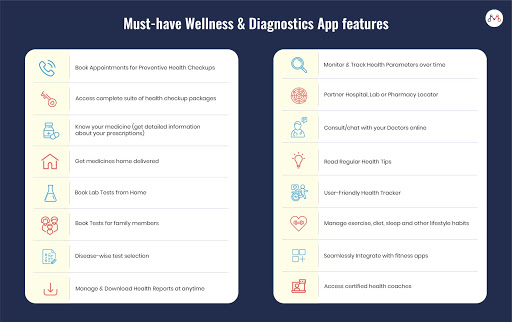 There's a compelling business case for improving customer journeys – since they are more strongly correlated with business outcomes than touchpoints. A recent McKinsey survey found that customer satisfaction with health insurance is 73 per cent more likely when journeys work well than when only touchpoints do.  
Product features, processes, and company departments and functions must follow the customer—not the other way around. This means following and anticipating the customer journey across devices, segments, products, and channels.

A seamless, digitized customer journey uncovers many benefits for insurers. In particular, it boosts customer satisfaction levels significantly and can yield cost savings of 15% to 25%. It also increases organizational speed and agility, reducing the number of process loops required to complete a customer journey by up to 40%.

Read our latest blog about 'Transforming Patient Experiences' with Wellness apps, here
Business cognizance for the new-age digital insurers