Table of Contents
01   Report: State of AI in Insurance 2021
02   The Insurance Monthly Roundup
03   Top Insurance Trends in 2021
04   Telehealth is the best bet for AI chatbots
05   Health & Wellness Journeys
---
Report: State of AI in Insurance 2021
Mantra Labs has published the State of AI in Insurance Point of View for 2021. The forward-looking document outlines the transformational changes that AI will bring and the business value it will create for the After-COVID World. 
By 2024, AI will bring $2.3 billion in cost savings across the entire Insurance ecosystem, up from $340 million in 2020.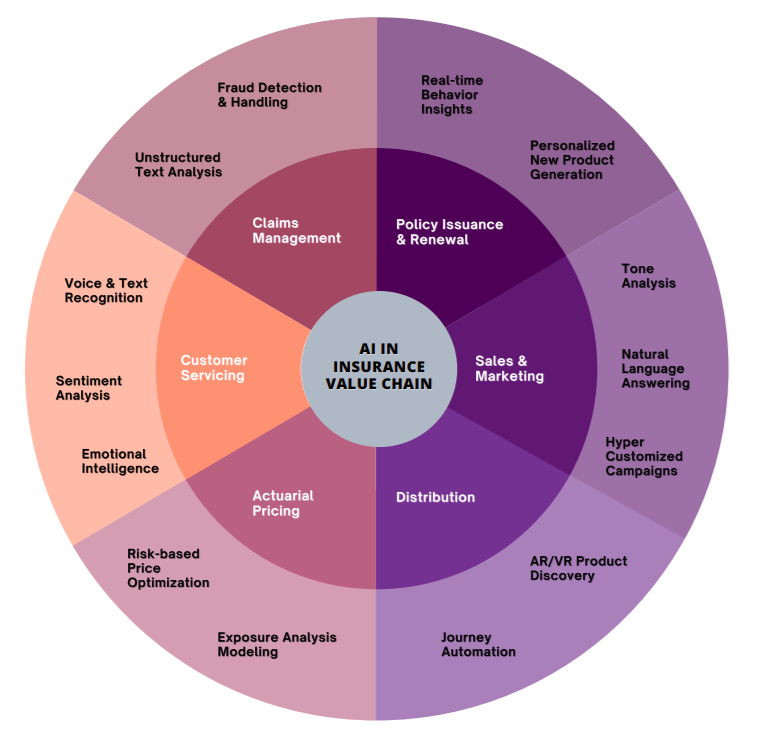 AI across the Insurer Value Chain
Greater customer expectations, followed by cost optimization, is the main driver behind the insurer evolution process. In order to meet these critical changes in both business and consumer-facing needs, Insurers are turning to AI to drive the interactions of Tomorrow. 
In a Post-Digital World, brought on by the COVID-19 Pandemic, relationships, interactions and experiences need to be humanized. Technology has become personal, which is why 'digital' is no longer the difference maker and new roadmaps need to be created. 
State of AI in Insurance, 2021
Read the full report.
---
The Insurance Monthly Roundup
A quick roundup of the month's insurance and insurtech news.
(India)
Health premiums

take up at 30% of total non-life premiums for the Apr-Sep period growing at 16% y-o-y. Motor and crop insurance follow with 29% and 19% respectively of total non-life premiums.

Since COVID-19 began Premiums paid on individual health policies grew by 34% compared to 16% among group policies for the same period.

Profitability from the health insurance segment is much lower compared to other segments—for the last five years, companies paid an average of

₹96 as claims for ₹100 earned from premiums.

The majority of India still has no insurance coverage in 2020—85.9% among rural, and 80.9% among urban populations. 

Insurance Platform, Turtlemint raised $30 million in new financing to bring total-to date funding raised to $55 million. The startup is working with 100,00 insurance advisors and hopes to equip them with digital tools to offer more relevant recommendations to consumers.
(Global)
Swiss Re

estimates global insurance premiums to have contracted by 1.4% in 2020 and is expected to recover by 3.4% with China leading the fray, in 2021.

Main drivers behind the insurance market's growth in China: risk awarene