Table of Contents
01    Elevating Conversational CX In Insurance Report
02   The Insurance Monthly Roundup
03   How Customer Preferences are Evolving in 2021
04   India & Cyber Liability Insurance
05   New Age 'Prevention' Products
Elevating Conversational CX In Insurance
Most insurers today accept the central role of CX in selling products and maintaining the loyalty of both policyholders and agents. However, Insurers typically struggle to elevate their CX due to its low-touch engagement nature, channel complexity, and price sensitivity. Adopting CX technologies allows Insurance enterprises to enable scale & speed, engineer new experiences, and analyze behavioral data. Within this rubric is the convergence of CX-specific tools that help understand how customer groups think & behave, and the experience of individuals
Our latest research uncovers key insights for the Future of Conversational CX in Insurance, with a detailed guide towards being a Conversational CX-driven Insurance Enterprise. This report also highlights how CX tools & solutions form a critical starting point for transforming simple touchpoints into connected experiences.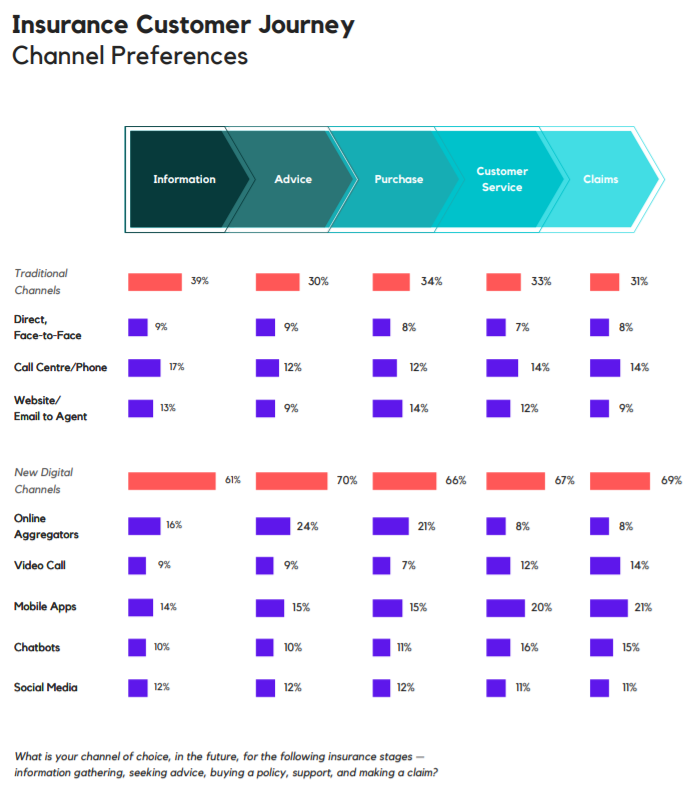 Source: Mantra Labs Report
40% of Carriers view private messaging channels as the biggest disrupter in the next 12 months. During the past year, 69% of consumers have used a private messaging channel – such as Facebook Messenger, Twitter DM, WhatsApp, iMessage, SMS, etc. – to engage with an insurance brand. 84% of Gen Z, and 76% of Millennial customers say they would prefer to use conversational chatbots that offer 'simple and convenient experiences' as their primary mode of interacting with an insurance brand. 
 Elevating Conversational CX In Insurance
 Read the full report.
The Insurance Monthly Roundup
A quick roundup of the month's insurance and insurtech news.
(India)
The market for insurance products in India is estimated to be

₹

7.6 lakh crore ($102 billion) in total premium in FY20 across life and non-life insurance and is expected to grow to

₹

39 lakh crore ($520 billion) by FY30 at a CAGR of 17.8%.

In FY20, only 1.0 percent of the total premium was sold through online channels in India, which was much lower compared to 13.3 percent in the USA and 5.5 percent in China.

PhonePe

, with 300 million users, receives Insurance broking license from IRDAI, and in-principle approval from RBI to operate as an account aggregator.

SBI General

teams up with Manipal Business Solutions-led 'Sahipay' platform for distributing rural insurance solutions to customers.
(Global)
The Global Insurtech Market is expected to Garner $158.9 Bn by 2030 growing at 32.7% CAGR, according to Allied Market Research.

Global InsurTech funding balloons to $4.8 billion in Q2 2021, with 162 deals, marking a 210% increase over Q2 2020.

At-Bay Inc.

, an insurance startup focused on cyber coverage, raised $185 million in a funding round that valued the company at $1.35 billion.

Flock

, a connected car Insurance startup, raised $17 million in a Series A funding led by Social Capital, that uses telematics to trigger insurance when the vehicle is actually moving, to disrupt the $160 billion commercial motor insurance market.
Delivering Superior Customer Experiences over Video.
Download Report, here.
How Customer Preferences Are Evolving in 2021
Customers are spending more and more time on digital platforms such as Amazon, Google, Netflix and Facebook, and getting accustomed to a highly personalized and seamless experience. They now expect similar personalized experiences across insurance products, pricing, claims and servicing. In addition, newer needs are emerging due to changes in lifestyle, such as increased leisure travel, adopting pets, etc. 
These changes are making customers more open to trying new product constructs such as bite-sized insurance, do-it-yourself products, and bundled offerings. A recent BCG survey found that more than 60% of Indian customers were interested in short tenure, low-ticket and do-it-yourself products

Source: BCG Insurtech Landscape & Trends
Agents also quickly adapted to the new ways of doing business, with 63% engaging in some form of virtual customer outreach (via video calls) and 58% managing renewals virtually. As many as 67% of agents felt that customers' willingness to use digital had increased post the outbreak resulting in a higher push for the channel.
Source: BCG Insurtech Landscape & Trends
Conversational Intelligence: The Next Big Thing In Customer Experience
Read our Latest Blog here.
India & Cyber Liability Insurance
2020 saw some of the worst cyberattacks across the globe that has impacted millions of lives. SMEs face a greater degree of cyber risk given the typically lower investments and support to implementing effective risk mitigation for data breaches. 
To combat the growing pace of cyber threats, cyber insurance applications are now focusing on risk mitigation events like data back-ups, dual-factor authentication, and strong security practices by third-party vendors. In India especially, a laissez-faire attitude towards cyber risk can create economic turmoil for millions of lives. While cyber insurance is in its infancy, cyber security threats are not. 
In fact, they are no longer targeted against the big giant corporations, but instead the smaller enterprises that have low levels of protection against cyber attacks making them easier targets. These attacks are designed to steal personal details of employees, intellectual property, and other sensitive information such as financial data, or even cripple the organization's network and connected assets through the release of ransomware.
Cyber liability insurance protects organisations from the business disruptions and aftermath of a cyberattack or a hacking threat. In fact, the IRDAI had recently decided against the standardisation of a cyber liability product in India because it would impede innovation and the development of new products suitable for Indian businesses, rather than focus on a strict price-based competition.

Source: Data Security Council of India
By 2025, cyber crime losses will grow to $10.5 trillion, a 15% increase from 2020, according to a recent report. In 2020, the global cyber insurance marketplace touched $7.8 billion in overall premiums written, where 577 carriers wrote some form of cyber insurance. Meanwhile in India, there have been only 350 policies sold till 2018. India was also ranked among the top five countries to be affected by cyber crime. India witnessed a 500% surge in the number of security breaches and four times the number of phishing attacks since lockdowns began last year. If the recent spawn of cyber attacks have been any indicator to India Inc., the demand to neutralize these threats will also start to blossom.
A Tech-Enabled World for Future Pandemic Phases
Read our latest blog here.
New Age 'Prevention' Products
With the growing importance of holistic offerings, multiple players are adding a risk-prevention element to their offerings. This has benefits for both customers and insurers. Insurers are pursuing two key levers in product innovation to facilitate this shift: 
Offerings which enable customers to reduce risks 
Insurtechs provide holistic solutions to customers that help monitor and drive behavior towards lower risk. These include gym memberships, monitoring devices and many such offerings. Beyond monitoring, these offerings also enable timely interventions that can impact the wellness of customers. 

Oscar Health is one such player that provides virtual care and prescription, in addition to health monitoring support for its customers. In the first year of launch, 17% of its customers used its telemedicine offering, which grew to 25% in the subsequent year. It also helps customers find doctors and other medical support in their locality, thus moving its offering towards enabling holistic wellness. 

Similarly, in India, BeatO offers a comprehensive wellness offering for diabetes patients with connected glucometers, strips, and unlimited doctor consults in addition to the insurance cover.

Clover Health is taking such offerings a step further by providing genomic testing for medication management. It also has programs that focus on reducing hospital readmissions among the plan's most vulnerable members through a team of primary care physicians, nurses, social workers, medical assistants and care coordinators.
Incentivization of low-risk behavior 
Insurers are also using reward and incentive mechanisms to drive customers towards lower-risk behavior. Such behavior-based incentives are established through  

Third-party services or devices such as fitness bands and telematics. Oscar Insurance offers Amazon rewards for reaching daily health goals, which are tracked using the Oscar App. Vitality is another player that has completely gamified daily activities to drive low-risk behavior. 

In India, PayTM is building an ecosystem for its customers. In addition to payments, they have a host of additional offerings such as e-commerce, mutual funds, insurance and other such services. Access to all services on one platform helps drive customer stickiness. Further, such ecosystems facilitate the capture of rich data regarding customer behavior and transactions, enabling personalized campaigns and targeted offerings.
CX Trends 2021: How Businesses are Winning Customer Experience Moments
Read our latest blog, here.
Business cognizance for the new-age digital insurers