Table of Contents
01   Future of Connected Insurance Ecosystems
02   The Insurance Monthly Roundup
03   Resilience-focused Transformation Strategies for APAC Insurers
04   The State of European Insurtechs
05   Cyber Liability Insurance Make Inroads in India
Future of Connected Insurance Ecosystems
COVID-19, which has massively pushed consumers to use purely digital services (contracting financial or insurance products through platforms, telephone and video calls; an increase in purchases of goods in e-commerce and digital retailer platforms). This has only served to strengthen alliances between different players in the ecosystem: millions of digitized customers, who can be impacted with offers of products and services in channels previously unimagined. Carriers must be where their customers are and create Tech Giant-type experiences.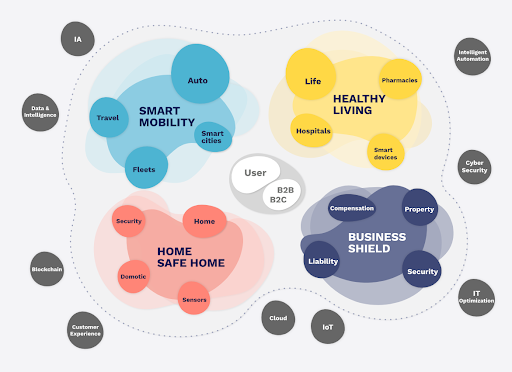 Key Insights:
Smart Mobility Ecosystem


With regard to insurance mobility, by promoting Usage-Based Insurance (UBI). Telematics will continue to grow its potential helping insurers to improve on their customer interactions, providing hyper-personalization through real-time data platforms and pay-per-use pricing models.





35 companies belong to the Smart mobility ecosystem (which represents 16% of the total), and of these, only 30 received investment during 2020. The total investment figure in 2020 in the ecosystem was 369 million dollars, which represents 6.1% of total investments in 2020.




Ex: Clearcover, Buckle, The Zebra
Healthy Living


Of 793 insurtechs, 221 correspond to the Healthy Living ecosystem; and of these, only 68 received investment in 2020. This investment amounted to almost 2 billion dollars, and it was the ecosystem that received the most funds in the past year (32% of the total). The majority of companies that received most funding are predominantly based in the United States, China and Europe.




Ex: Bright Health, Waterdrop, Oscar Health
Home Ecosystem


78 companies belong to the Home ecosystem (which represents 9.62% of the total figure), and of these, only 23 received investment during 2020.




The total investment figure in 2020 in the ecosystem was 910 million dollars, which represents 15.04% of the total investments in 2020.




Ex: Hippo Insurance, Luko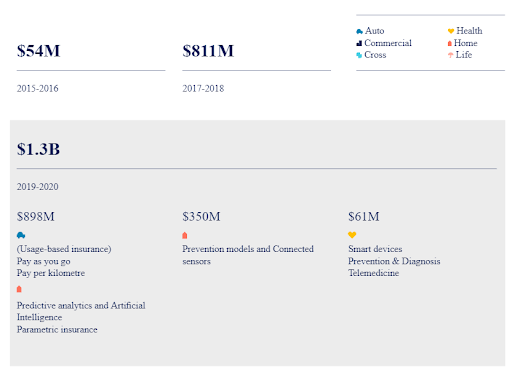 The State of AI in Insurance
Read the full report.
The Insurance Monthly Roundup
A quick roundup of the month's insurance and insurtech news.
(India)
India's Parliament passed the General Insurance Business (Nationalisation) Amendment Bill, 2021, which allows the government to privatize state-run general insurance companies. 

Insurance companies settle over 15.39 lakh COVID-19 health claims as of June 2021, Insurance companies have settled 80 per cent of health claims amounting to ₹15,000 crore.

SoftBank-backed Indian insurance startup Policybazaar files for Rs 6,018 crore ($809.36 million) IPO

Digit Insurance, valued at $3.5 billion, raised $200 million, the highest for any non-life company in India. The fundraising follows a 44% growth in premium to Rs 3,243.
(Global)
The Health Insurance market size will be worth $4 trillion by 2027, growing at 6% CAGR, according to Market Research Future

Investor funding in Insurtech totalled $5 billion for the first quarter of 2021 with 261 deals, according to Forrester's Insurtech funding roundup.

Spot

raises $17.5M to tackle insurance gaps with accidental injuries with a digital, on-demand injury insurance product that can be as-is or as a complement to traditional health insurance.

SoftBank Group has invested $100 million in

Ethos

, valuing the insurtech start-up at $2.7 billion. In all, the San Francisco start-up has raised $400 million.
Delivering Superior Customer Experiences over Video.
Download Report, here.
Resilience-focused Transformation Strategies for APAC Insurers
Conversational CX leads the pack among 'tactical investment strategies' for Insurers, according to a latest Mantra Labs research report.  Cyber/Data Security and Agile Cloud Computing are the other resilience-focused transformations.
Conversational Commerce enabled by conversational devices allow customers to leverage them for purposes like retail and banking. The conversational commerce ecosystem is driven by Chatbots, Smart Speakers/Digital Voice Assistants, Social Messengers and RCS Messaging platforms (an upgraded form of traditional SMS with rich multimedia capabilities & features).
With an addressable user base of nearly 2.3 billion in 2021, chatbot commerce is the fastest growing segment, according to Juniper research. The ability to offer conversational commerce as part of an omnichannel strategy will propel insurance organizations to expand their reach and boost channel confidence.
The new omni-channel reality, urged on by the Pandemic, must include dynamic transaction, data sharing, communication and workflow management capabilities. 82% of Carriers feel self-service tools can bring in the most value to the front-line against future disruptions.
Investment in self-service CX tools to broaden channels & offer hybrid experiences will rapidly rise, from 1.1% of GWP in 2018 to 1.5% of GWP in 2022, an increase of 36%, according to an IBM report.
Carriers will need to harness CX strategies for enabling omnichannel shift via chatbot, web and email; enhanced customer view through behavioural data to drive efficiency; and decisioning platforms that enable real-time, automated analysis and action.
These outcomes can boost customer satisfaction and Net Promoter Scores – across existing and new business.
Conversational Intelligence: The Next Big Thing In Customer Experience
Read our Latest Blog here.
The State of European Insurtechs
European Insurtech startups are now attracting record levels of investment and are worth a combined €23B, according to a recent Insurtech Report.
Key Insights
Insurance is a global $6 trillion industry that is increasingly seeing the entrance of tech-enabled insurtech challenging or augmenting incumbents.

Insurtech remains underinvested compared to other sectors but is now growing much faster (4.1x globally from 2016 to 2020, compared to 1.8x for all VC investment).

European Insurtech startups now have a combined enterprise value of €23B, a more than 5x increase from €4B in 2016.

Insurtech investment in Europe is growing faster than anywhere else in the world, and has already reached €1.8B in the first five months of 2021, a 13x increase vs. 2016.

Insurance is evolving from pure risk transfer to service-led models and ecosystems, including risk prevention and ancillary services.

Less than 65% of the paid premium goes back to the customers as paid claims. The rest is consumed by insurers' overhead expenses. Distribution costs are enormous, accounting for almost 50% of the total cost.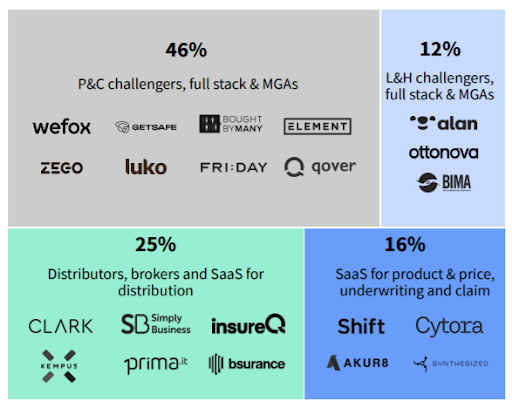 Combined enterprise value of European insurtech startups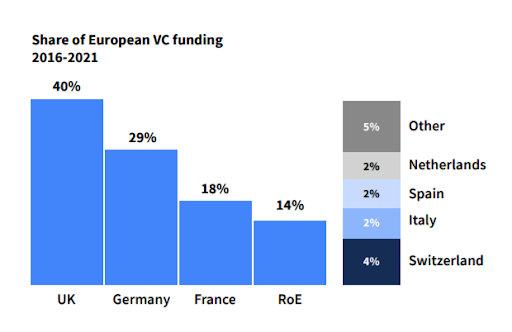 Share of European VC Funding 2021
CX Trends 2021: How Businesses are Winning Customer Experience Moments
Read our latest blog, here.
Can Cyber Liability Insurance Make Inroads in India
2020 saw some of the worst cyberattacks across the globe that has impacted millions of lives. SMEs face a greater degree of cyber risk given the typically lower investments and support to implementing effective risk mitigation for data breaches. 
To combat the growing pace of cyber threats, cyber insurance applications are now focusing on risk mitigation events like data back-ups, dual-factor authentication, and strong security practices by third-party vendors. In India especially, a laissez-faire attitude towards cyber risk can create economic turmoil for millions of lives. While cyber insurance is in its infancy, cyber security threats are not. 
In fact, they are no longer targeted against the big giant corporations, but instead the smaller enterprises that have low levels of protection against cyber attacks making them easier targets. These attacks are designed to steal personal details of employees, intellectual property, and other sensitive information such as financial data, or even cripple the organization's network and connected assets through the release of ransomware.
Cyber liability insurance protects organisations from the business disruptions and aftermath of a cyberattack or a hacking threat. In fact, the IRDAI had recently decided against the standardisation of a cyber liability product in India because it would impede innovation and the development of new products suitable for Indian businesses, rather than focus on a strict price-based competition.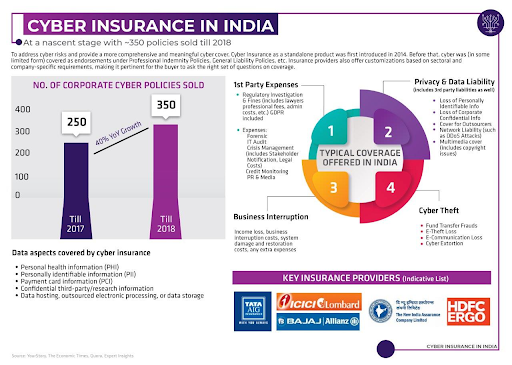 Source: Data Security Council of India
By 2025, cyber crime losses will grow to $10.5 trillion, a 15% increase from 2020, according to a recent report. In 2020, the global cyber insurance marketplace touched $7.8 billion in overall premiums written, where 577 carriers wrote some form of cyber insurance. Meanwhile in India, there have been only 350 policies sold till 2018. India was also ranked among the top five countries to be affected by cyber crime. India witnessed a 500% surge in the number of security breaches and four times the number of phishing attacks since lockdowns began last year. If the recent spawn of cyber attacks have been any indicator to India Inc., the demand to neutralize these threats will also start to blossom.
A Tech-Enabled World for Future Pandemic Phases
Read our latest blog here.
Business cognizance for the new-age digital insurers