Table of Contents
01   The State of AI In Insurance 2020 Report
02   Webinar: AI for Data-driven Insurers
03   SBI General Insurance App Launch
04   Behavioral Psychology behind Modern Insurance Claims
05   AI is forging new consumer-centric business models
---
Insights
STATE OF AI IN INSURANCE, 2020 REPORT
Mantra Labs has published a report and brief outlook on the State of AI in Insurance for 2020. According to the findings of the survey, predictive analytics has risen to the top of insurer priorities for the coming decade. As investments in Artificial Intelligence continues to rise, Insurance analytics has the potential to improve several functions of the value chain including underwriting, risk appraisal, claims, pricing and marketing.
Omni-Channel Fulfilment with AI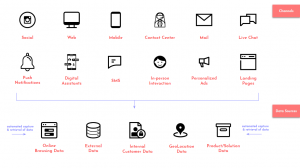 Read the report here.
---
Latest
WEBINAR: AI for Data-driven Insurers, on Feb 19th with Parag Sharma
According to a recent IDC study, almost 50% of all AI pilot projects in insurance have failed to take off, and most C-level executives are recognizing that AI isn't mature enough within their organization. To help address these challenges, Mantra Labs will be hosting an exclusive Webinar for Insurance Business Leaders on Feb 19th, 2020 on the way forward with AI for Insurers. 
The Webinar will cover:
Real-world challenges in AI implementation
Creating competitive advantage through Enterprise AI Integration
Enhancing Customer Experience with AI-driven Claims
A fireside chat with Parag Sharma (CEO, Mantra Labs)
Register now to save your spot.
---
Latest
SBI GENERAL INSURANCE LAUNCHES NEW MOBILE APP
SBI General Insurance recently launched a new insurance app for their mobile-centric policyholders across India. Through the new app, SBI is extending its digital-ready products and user-first services to the new-age consumer. The app is designed & built with the user's experience at the fore. Using interaction design principles and customer experience design, the new app has helped achieve significant business objectives for the national insurer.