Table of Contents
01   AI-enabled Touchless Processes in Insurance
02   The Insurance Monthly Roundup
03   Insights: Term Insurance Price Index
04   APAC & The 'Open Insurance' Future
05   Video KYC: A Better Choice for Insurers?
---
AI-enabled Touchless Processes in Insurance
COVID-19 has pushed all claims organizations alike into the touchless necessity of today. The success of voice and text-based interactions have been the key drivers behind this rapid shift. Insurance organizations draw on solutions like voice assistants and robo-advisors, that are being deployed across multiple channels from websites to phygital customer support. Among Insurers surveyed, 84 per cent agreed that contactless customer experiences from onboarding to renewal, can tilt insurers towards being 'digital-only' organizations
Main Drivers Fueling Touchless Experiences
Greater customer expectations, followed by cost optimization, is the main driver behind the insurer evolution process. In order to meet these critical changes in both business and consumer-facing needs, Insurers are turning to AI to drive the interactions of Tomorrow.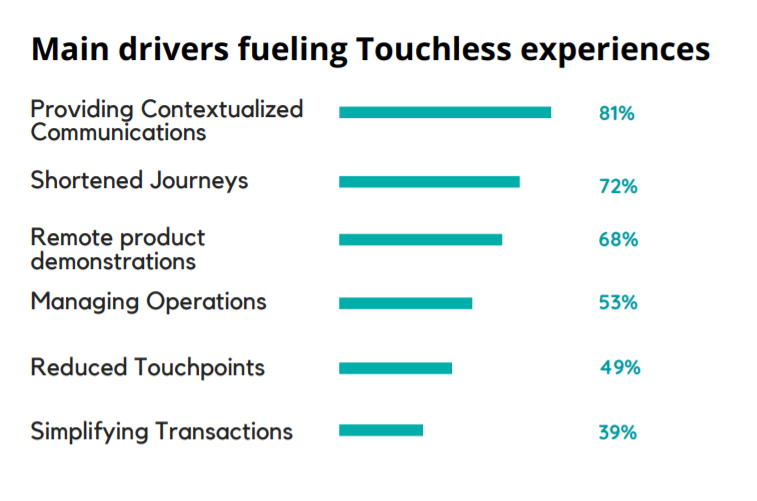 Mantra Labs State of AI in Insurance, 2021 PoV
By 2024, AI will bring $2.3 billion in cost savings across the entire Insurance ecosystem, up from $340 million in 2020.
Mantra Labs has published the State of AI in Insurance Point of View for 2021. The forward-looking document outlines the transformational changes that AI will bring and the business value it will create for the After-COVID World. 
State of AI in Insurance, 2021
Read the full report.
---
The Insurance Monthly Roundup
A quick roundup of the month's insurance and insurtech news.
(India)
On a year-on-year basis, overall hiring in India witnessed a decline of 10% in December 2020, the lowest decline in the post-COVID months—while hiring in the insurance sector grew by over 45% in December, as against November, as most people felt the need to secure their health and businesses in the post-COVID era. 

Health insurance penetration by 2025 insurance is expected to grow to 5% penetration with 10% CAGR and is set to expand significantly over the coming 12-24 months due to rising

health concerns.

Over the course of the Pandemic, treatment for COVID-19 amounts to approximately Rs 2 lakhs – Rs 4 lakhs for 14-day hospitalisation.

As crop insurance continues to lose traction among private insurers in India, a second study from IIM-Ahmedabad concluded, among others, that farmers would prefer remote sensing or rainfall indices to CCE to decide crop loss and would be willing to pay an even higher premium if compensation is paid on time.  

Whatsapp will roll out sachet-sized health insurance to provide users greater access to financial solutions such as digital payments, commerce, pensions & savings. 
(Global)
A record number of climate change induced disasters like hurricanes, wildfires and floods cost the world $210 billion in damages for 2020.

Overall disaster losses in Asia totaled $67 billion, of which only $3 billion was insured.

The Hartford region in Connecticut—considered to be the insurance capital of the World— serves as headquarters for globally leading insurers including Aetna, ConnectiCare, The Hartford, HSB, Nassau and major operational centers for Prudential, Travelers and UnitedHealthcare. The region employs 70,396 people in the insurance landscape and generates more than $16 billion in output.

The global InsurTech market was at $7 billion in 2020, and it is expected to target a robust growth rate through 2025 on the backs of new business models encouraging digital self-service and personalised premiums.
Delivering Superior Customer Experiences over Video.
Download Report, here.
---
Insights: Term Insurance Price Index
PolicyX recently launched India's first insurance price index which tracks prices of health and term insurance from leading Indian Insurers. The price index is updated on a quarterly basis using data analytics to provide trends and insights. Their first report reveals that the prices have remained stable in the last quarter for both health and term insurance.
The average term insurance premium increases exponentially with age.

Average premiums for a 55-year-old is 85% more than a 45-year-old.

Premiums for a 45-year-old is 70% higher than a 35-year-old.

Premiums for a 35-year-old is 45% more than for a 25-year-old. 

Insurance companies perceive the male insured risk to be higher than females. The average cost of male insured is 21 per cent higher than for female insured for a term plan.

Smoking plays a very critical part of the risk premium. The data shows that there is a huge difference in risk associated with a smoker vs a non-smoker. On average, a smoker pays 55% extra compared to a non-smoker. This might very well highlight the importance of habits on the perceived risk of mortality.

Term insurance prices have decreased substantially over the last few years in India but have started increasing since 2020 due to the ongoing Pandemic.
Can Augmented Reality be a game-changer for Insurance?
Read our Latest Blog here.
---
APAC & The 'Open Insurance' Future
Open Insurance is a new way of doing business that requires carriers to open their data resources to other organizations and to share and consume data and services from many sources and across lots of industries. This allows insurers to create new value propositions, generate fresh revenue streams and deepen their relationships with customers. For a Post-COVID World, data has proven to be the key differentiator for Insurers to better understand consumer demands. In order to fully realise hyper-personalised delivery of services, 'Open Insurance' will pave the way for greater revenue generation and increased market share through innovation.
Accenture research reveals that 75% of carriers expect ecosystems to deliver at least half of their revenues within five years. The rise of Open Banking is also encouraging Insurers to reap the benefits of the 'network effect' it creates. This is made possible through the effective use of Open APIs.
For instance, China's Ping An has opened parts of its information technology infrastructure and systems to monetizing its data resources. In doing so, Ping An is building open platforms, underpinned by new technologies that are accessible to their partners across financial services, automotive repairs, healthcare and real estate.
New data regulations in Europe for open banking, namely PSD2, has led to data being made more available and has shown that this can offer better capabilities and more options for consumers.
This is the calling card that Insurers need to build out their own digital ecosystems and offer Insurance-as-a-service, where carriers and customers can purchase pre-built elements based on their needs—paving the way for a flexible insurance subscription model.
Here's another win-win example. AIA's partnership with WeDoctor has allowed the insurer to tap into WeDoctor's 2,700 top-tier hospitals, 220,000 doctors, and over 15,000 pharmacies in 30 provinces across China; in turn, WeDoctor's over 110 million registered users have access to AIA's protection solutions—For customers, they get the personalization they're looking for at the price and convenience of their choosing.
The three Vs of today's chatbots: Voice, Vernacular and Video.
Read our latest blog, here.
---
VIDEO KYC: A BETTER CHOICE FOR INSURERS?
On April 23, 2020, IRDAI allowed insurers to avail Aadhar-based authentication to fulfil the KYC norms of policyholders. Video KYC or e-KYC can facilitate immediate verification and can make the insurance buying process contactless, simpler and time-saving.
The banking sector is already using Video KYC. Most banks expect that at least 70% of their sales will be contactless by December 2020 and Video KYC will play an integral role in facilitating this strategy.
The key benefits of Video KYC for Insurers:
Faster customer onboarding


In-person verification requires customer's availability which often delays the onboarding process.

Physical documentation
Collecting physical documents and uploading them to a data server is an overhead process and carries chances of error during manual data entry. Video KYC automates this process with a higher level of accuracy.

On-spot document verification




Face-match and real-time document verification with registered databases become a one-stage process.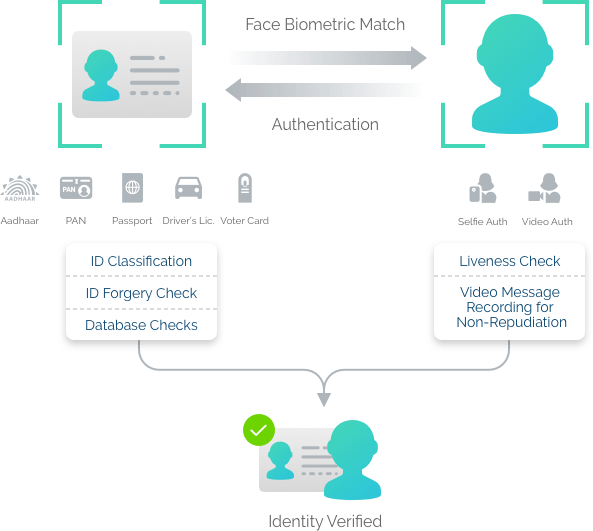 Video KYC Authentication Process
Digital Everything UseCases for the Post-COVID World.
Read our latest Use Cases here.
Business cognizance for the new-age digital insurers