Table of Contents
01   Key Highlights: World Insurance Report 2021
02   The Insurance Monthly Roundup
03   Asian Insurtechs Are Winning Large Funding Deals
04   Insurers Are Adapting To 'Digital As A Permanent Shift'. Here's Why
05   Tech-enabled Remote World For Future Pandemic Phases
Key Highlights: World Insurance Report 2021
"The global impact of all-at-once digital adoption has changed the way insurers need to operate to satisfy their customers. Digital investment in connected channels is a critical ingredient for insurers of the future to be successful," said John Berry, CEO of Efma.
"Insurers have an opportunity to convert digital traffic to sales by focusing on a hyper-personalized virtual experience," said Anirban Bose, CEO of Capgemini's Financial Services and Group Executive Board Member. 
"Today's customers expect interacting with their insurers to be easy, and providers need to ensure their channels enable a convenient and seamless customer experience. By investing in the right technologies, insurers can win and retain customers while empowering their agents and brokers to deepen relationships."
Here are the key highlights from the report:
Convenience, Advice & Reach.


These attributes are at the heart of designing and evaluating the effectiveness of their channels. While 87% of insurers say they will invest in digital enhancements, only 32% say digital channels are effective in securing sales because they lack personalized advice capabilities.

Digital Channels Need Depth.


Seventy-seven percent of insurance executives say that agents and brokers are their most prominent distribution channel. More than 50% of SMBs rated their experience of interacting with agents and brokers as convenient, while more than 60% rated digital channels convenient.

Technology Enables Channel Effectiveness.


Agents and brokers want to ramp up their digital engagement capabilities, and about 44% said they need support from their insurers. More than half of the agents and brokers surveyed said that to assist customers effectively, they need digital collaboration and engagement tools such as screen-sharing platforms and digital document-signing tools. 

Digi-Intermediation.


A process in which agents are digitally empowered, and virtual channels are humanized – will eliminate distribution gaps, enhance CX, and optimize delivered value. Customer convenience improves when digital illustrations and single-screen product comparison tools are offered. However, less than two-thirds of insurers said they provide agents and brokers with these sought-after digital tools to enhance customer experience.

More Knowledge Enables Personalized Advice.


Agents and brokers said they need to know more about policyholders and potential customers in order to more effectively convert leads into sales. APIs and AI-based analytics can help agents and brokers understand customer preferences, answer questions, and offer appropriate products around policyholders' special life events. 
The Final Word: The most successful insurers will win and retain customers by reinventing their operating ecosystem to support a 'phygital' model based on a mix of physical presence and digital engagement.
The State of AI in Insurance
Read the full report.
The Insurance Monthly Roundup
A quick roundup of the month's insurance and insurtech news.
(India)
(Global)
According to the Allianz Global Insurance

Report

, global premium income fell by only 2.1%, in 2020 — indicating that the insurance industry got off relatively lightly during the Corona crisis. In 2021, premiums are expected to rise by 5.1% globally.

Life insurance is the problem child of the European insurance industry. Over the past decade, growth here has been a meager 0.6% per year. Meanwhile, European households have accumulated additional savings amounting to almost €500 billion — presenting a large opportunity during the Post-COVID phase for Insurers.  

Shift Technology

, a Boston-based insurtech, raised $220M at a $1B+ valuation to tackle insurance fraud with AI. The market for

insurance fraud detection

technology globally was estimated to be worth $2.5 billion in 2019 and is projected to be worth $8 billion by 2024.

Wefox

, a Berlin-based insurance platform that serves brokers, secured $650 million in a Series C funding round bringing its valuation to $3 billion. Their goal is to build a product that uses artificial intelligence to help customers anticipate and possibly even prevent 20-30% of all future risks, ranging from skiing accidents to Alzheimer's disease. 
Delivering Superior Customer Experiences over Video.
Download Report, here.
Asian Insurtechs Are Winning With Global Investors
The APAC region is home to at least 335 private insurtech firms. Within this region, India, with 66 firms, is the second largest insurance technology market, making up 35% of the $3.6 billion venture capital coming into the sector in the region, according to S&P Global Market Intelligence data.
China and India are collectively home to nearly half of private insurtech companies in the APAC region and attract about 78% of this region's investments. These two markets corner the lion's share of investor interest on account of their large and fast-growing insurance markets.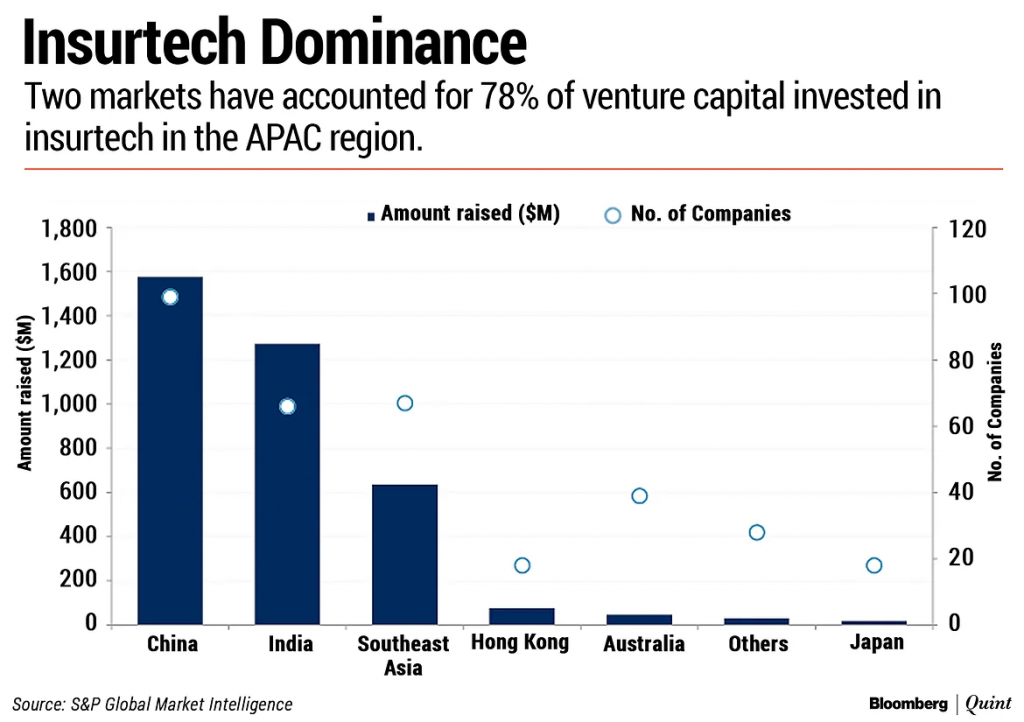 Source: S&P Global Market Intelligence
The APAC region, with most of its insurtechs complementing existing carriers, presents a contrast to the U.S., where private capital is skewed toward full-stack companies looking to disrupt the incumbents
In India, FDI Provisions in the recent budget and the new IRDAI regulations have paved the way for foreign financing into small insurtech startups. This allows them to increase capital flow, bring more innovation to products, settle claims effectively, and improve overall insurance density in the country.
At a global level, VC investment rose from $98.2 billion across 7,329 deals in Q4'20 to $1.27 billion across 6,508 deals in Q1'21.
The Asia Pacific region saw $31 billion in investment across 1,615 deals in Q1'21 – a robust amount compared to recent years despite a drop from $34.5 billion across 1,840 deals in Q4'20.
The Americas saw a record $74.4 billion in investment across 3,310 deals in Q1'21 – up from $47.6 billion across 3,399 deals in Q4'20. The US accounted for $69 billion of this total (3,042 deals) – up from $45 billion in Q4'20.
VC investment in Europe reached a new record of $21 billion across 1,430 deals in Q1'21, up from the previous high of $15.8 billion across 1,937 deals in Q4'20.
Can Augmented Reality be a game-changer for Insurance?
Read our Latest Blog here.
Insurers Are Adapting to 'Digital As A Permanent Shift'. Here's Why
The abrupt and monumental shift in consumer behaviour resulting from the COVID-19 pandemic has accelerated the pace of going digital for insurance companies.
To reduce the intense pressure on telephone and branch services during the crisis, providers have been more actively encouraging the use of digital and mobile channels. This shift has forced many customers who may have been reluctant to interact with providers via these channels in the past to now use them as their main point of contact, and to do so during a time of considerable upheaval for both providers and customers.
Percentage of Sales Coming from Mobile & Digital Channels

Source: FSI Digital Trends Report 2021
Insurance companies are operating at a 25% lower cost owing to savings from rent, office space, business travel, advertising, etc. For the first time in the last twenty years, the industry is working at a lower opex of about 25 per cent. Insurers believe a part of these savings could go a long way in strengthening the digital infrastructure and service customers in a better manner.
The Next Digital Initiatives for Insurance Firms
Modernizing Core Systems

Enabling front-line staff with advanced engagement tools

Digital Document Management Systems

Platforms for automated advisory services/robo-advisors

Employee Experience Platforms

Virtual agents for FAQ handling/account management
CX Trends 2021: How Businesses are Winning Customer Experience Moments
Read our latest blog, here.
"The technology industry has weathered past crises and found novel ways to emerge stronger each time. In fact, tech companies have led the way on a variety of strategies other industries are now using to cope in this crisis — from remote working to a globally dispersed supply chain to managing through disruption. This crisis might well spark further creativity and innovation," says PwC in a report titled 'COVID-19 and the technology industry.'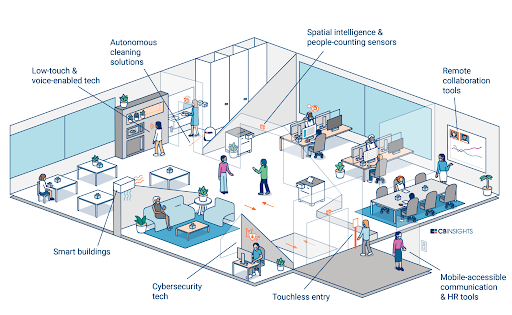 Source: CB Insights
As employees move about the office, here are some of the new considerations and technologies that could impact each part of the working day. CB Insights predicts five key changes to remote work in the Post-COVID world.
Touchless entry access points


To help keep employees safe as they move through the lobby, elevator, etc., and can be controlled via smartphone or by simply waving a hand.

Spatial Intelligence Tools


People-counting sensors can help management teams monitor social distancing practices and also understand how employees use the space to make thoughtful design decisions.
Voice-enabled self-service


The office kitchen is a particularly high-touch, high-traffic area. It can benefit from low-touch and voice-enabled tech that allows employees to safely control appliances, fill up on coffee, and more.
On-the-go HR tools


Emphasizing Wellness — including mental health apps — will be essential to keep workers engaged, from non-desk employees to those regularly working in the office.

Remote collaboration tools


To accommodate both remote work and altered in-office work setups by providing virtual shared workspaces, including digital whiteboards, VR conference rooms, etc.
A Tech-Enabled World for Future Pandemic Phases
Read our latest blog here.
Business cognizance for the new-age digital insurers