Table of Contents
01   Digital Health Whitepaper: Building Blocks for a COVID World
02   3rd Annual InsurTech100 List Announced
03   The Insurance Monthly Roundup
04   Touchless UI: The 'Next Normal' in Digital Interfaces
05   The Big Insurtech Opportunities in the Cloud
---
Digital Health Whitepaper: Building Blocks for a COVID World
The challenges of in-person care during a global health crisis has necessitated patients, care providers & regulators to also embrace virtual-based healthcare technology.
Healthcare tele-consultations has risen by 500%, of which over 80% were first-time users mostly from smaller cities, while the average time spent with a doctor online was eight minutes. In fact, more consumers today are getting their prescriptions and medical advice through virtual visits than ever before.
The digitally enabled healthcare consumer is informed, proactive and above all lives in an omni-connected world. In India, the telemedicine and remote care market alone is valued at $5.4 Bn for 2020.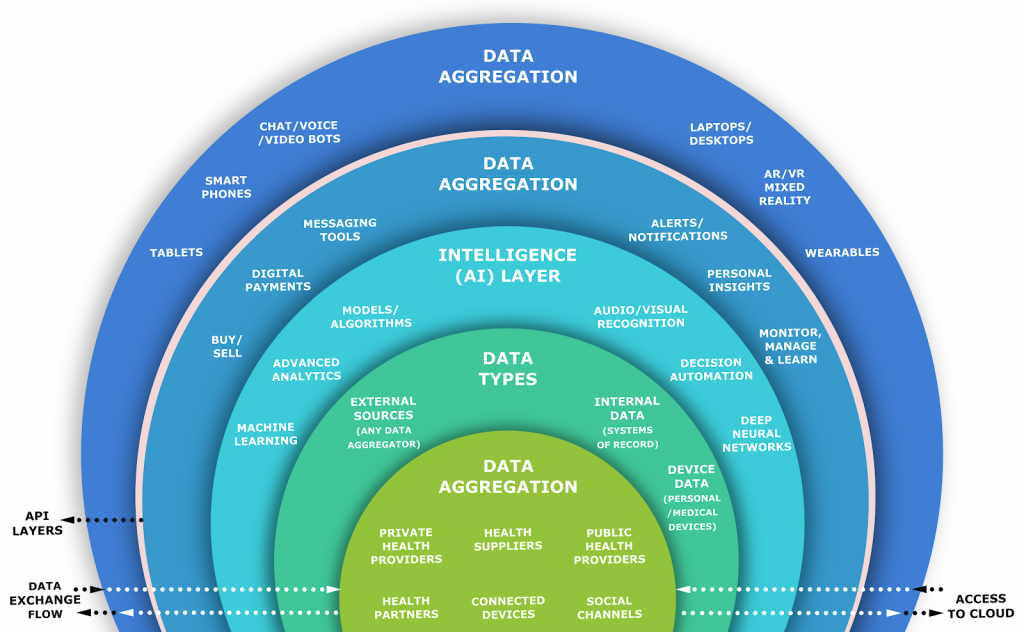 The Healthcare On-Demand Ecosystem
---
Can you bring the digital hospital to the consumer's home?
India's home healthcare industry is projected to touch $11 Bn by 2025, growing at 15% CAGR, as per a Redseer consulting report.
In 2020, there are around 100,000 patients being served by home healthcare providers. At-Home care solutions are also expected to be at least 40% less costly than compared to in-hospital visits.
According to a recent FICCI survey, 54% of people preferred laboratory tests, nursing care and delivery of medicines at home.
Digital Health: Building Blocks for a COVID World
Read the full report.
---
3rd Annual InsurTech 100 List Announced
FinTech Global, a globally recognized ​FinTech ​research firm, announced the winners of ​​INSURTECH100​ for ​​2020​ ​that every leader in the insurance industry needs to know​ ​about. 
In this year's Insurtech100 list, 
20% have focus on AI-based solutions

10% build solutions around customer engagement

7% specialize in Telematics solutions

3% develop insurance specific Chatbots
The Insurtech100 firms are spread across,
LoB: Auto (42%), Life/Health (38%), Home/P&C (34%)

Value Chain: Underwriting (58%), Operations (49%), Claims (36%)

Geography: US (39%), UK (20%), India (3%)

New Business Models: On-Demand (36%), P2P (9%)
View the Top ​100 InsurTech companies in the world.
We're thrilled to be featured in this year's prestigious list, by FinTech Global, among the most innovative InsurTech companies across the world two years in a row. 
The State of AI Chatbots in Insurance
Read the full report
---
The Insurance Monthly Roundup
A quick roundup of the month's insurance and insurtech news.
(India)
COVID-19 Claims

take up at least 40% of total health claims for General Insurers, up from its original 8% in May — rising claim costs could lead to higher health loss ratios for second half of fiscal 2021.

Standalone health insurers have registered 28.06% growth with premiums at ₹7,810.97 crore

While claim volume has gone up, the claim amount being paid for treatment has reduced sharply falling from an average of ₹1.82 Lakh in April to 1.2 lakh in September — partly due to hospital stays also reducing from 30 days to 15 days on average for the same period.

Gross Direct Premiums for the Non-life sector came down 4.4% in September —  due to pressure on Auto and crop LoB; lower enrollment of farmers due to relay in pay-outs.

Commercial LoB like property, engineering and fire have grown — owing to price rise and increase in premiums.

Micro insurance, while seeing some growth, continues to maintain a less than 2% market share for 2019-20 — partly owing to minimum capital investment of ₹100 Crore to set up an insurance firm 
(Global)
Life insurance applications in the US have soared during the Pandemic. The under-45 age group, most of which are first-time buyers, has seen more activity than the 45-59 age group of consumers — owing to changing financial needs and dependencies.

For Q3'20, insurtechs raised $2.5B across 104 deals — early-stage deals grew to 57%, a 15% increase from the previous quarter — returning to pre-COVID levels.. Interestingly, for the first time since Q4'17, startups based in India raised more funding rounds than those based in China.

Hong Kong Insurtech Coherent raised $14M in Series A funding. The Coherent platform, called Product Factory allows insurance providers to digitize backend operations by uploading excel pricing models — enabling no re-haul for code or infrastructure within Insurer IT departments.

India-based Insurtech Fedo raised $1M in pre-series A funding led by Unicorn ventures. Fedo enhances the computer vision capabilities for non-invasive identification of health risks for various use cases requiring health assessment and also co-creates personalised insurance products.
Delivering Superior Customer Experiences over Video.
Download Report, here.
---
Touchless UI: The 'Next Normal' In Digital Interfaces
While interfacing with machines via touch interfaces, we're not really using 70% of our natural communication skills — mainly voice and gestures. The coronavirus outbreak has made people skeptical about using touch-based interfaces especially in public places. Touchless UI will become the new normal among digital interfaces, of which voice will be the most dominant. Nearly 55% of google search in America (30% in India) are voice-driven, indicating voice assistance will further progress linguistic democratization.
Speech is the next UX.
Read our latest blog here.
---
The Big Insurtech Opportunities in the Cloud
According to a recent Accenture survey, only an estimated 10% of the overall insurance industry's workload is currently running on cloud platforms — which leaves most insurers without much desired cost and scalability benefits. In 2019, only 56% of insurance executives said they had developed and implemented a new IT operating model to support their company's transition to the cloud.
This reveals that the readiness of insurance carriers is still below benchmarking expectations, is seen as an 'aspirational' move, and also causes legacy technology to bring down the overall economics of the insurance industry.
Here are the top 3 growth acceleration benefits of a Cloud-led business model:
Reinvent New Offerings


The Pandemic fallout has caused declines in asset ownership, gig and contract work & usage, IoT instrumentation. Insurers will need to accelerate product design and market entry to address changing risks.
Ex: Liability coverage for autonomous vehicle manufacturers, Smart Contracts & climate sensors for crop & Inland Marine products.

Digital Journeys

Insurers that operate with local agents face an urgent need to deliver remote/digital sales and servicing as more customers explore digital interactions. By merging data and analytics with behavioral insights to understand the needs of customers and predict intentions based on interactive signals — the success of digital journeys is visible and self-sustaining, based on operational metrics such as percent of new business and renewals bound in remote/ digital model, percent reduction in service/ operations cost and percent of interactions deflected to digital channels.


AI-driven Claims

Claims constitutes nearly 75% of insurer's economics, and has traditionally been the slowest function to embrace innovation. However, with new demands of remote teams and claim adjudication methods, this is an opportune time to contextualize deep analytic insights from across industries like Automotive, Health & Life Sciences and utilize modern data platforms to transform claims.
Ex: Utilization of cloud-based services for validation of FNOL data, Automated processing for standard and low value claims, Claims prioritization based on social media listening.


INSURANCE CLOUD VALUE HEAT MAP
Tabular Data Extraction From Invoice Documents
Read our latest blog
here
.
Business cognizance for the new-age digital insurers