Table of Contents
01 Rise of CX-aided Super Agents
02 The Insurance Monthly Roundup
03 State of Data Maturity across Insurance Industry
04 6 Key Takeaways from InsuranceDekho Survey 2022
05 Achieving Data Mastery in Insurance is the need of the hour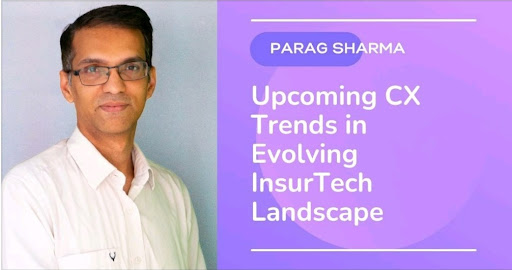 "Winning the new-age customer is all about speed and efficiency. The real challenge is intelligently creating an exceptional digital experience."
-Parag Sharma
CEO & Founder
Mantra Labs
Read the full article featured in India Fintech Forum.
Rise of CX-aided Super Agents
AI-aided Super Agents can 'engage to win' customers with 63% more success.
Though AI saw adoption rates jump 50% in 2020, usage rates remain low. This gap presents an opportunity for businesses to make AI a better partner to agents. 
Only 47% of agents believe they have tools to succeed in a post-pandemic world. AI remains an underutilized tool, despite the adoption boost, among larger carriers.
High-performing teams across other industries are 93% more likely to have agents working across multiple channels, and have three times more agents doing so. Agents empowered by AI can increase productivity and boost sales performance with contextual insights — like the customer's email, order history, or why they last reached out.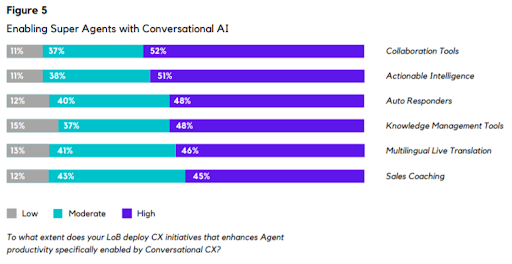 Source: Mantra Labs Whitepaper
Elevating Conversational CX In Insurance
Read the full report.
The Insurance Monthly Roundup
A quick roundup of the month's insurance and insurtech news.
(India)
India and China are leading the growth of the Asia-Pacific insurtech industry. Insurtechs located in India raised $1.33 billion in 2021, while those based in mainland China raised $673.7 million. According to S&P Global Market Intelligence analysis innovators in China and India show up best situated to move beyond a supporting job and challenge the region's industry incumbents.

Zopper reached

$

100 million in

annualized

insurance premiums due to a spike in demand for digital solutions. The company plans to boost insurance penetration in India by scaling to 50 million policies by 2027.

GKB Opticals has collaborated with Toffee Insurance to provide unique vision and eyewear-related insurance solutions to its customers, including eyewear theft and damage, as well as costs associated with eye-related injuries or vision power change.

UK-based

One Moto India

has teamed up with Reliance General Insurance to offer motor insurance to its customers.

The company has been on a roll to introduce three electric scooters within 3 months- Byka, Electa, and Commuta and aims to manufacture over 40,000 units in the initial phase of the plant launch.
(Global)
Valencia-based Wenalyze has secured €1.7 million in

funding

to strengthen the European insurtech framework. The fresh capital will be utilized to seize a €2-trillion opportunity by expanding its footprint in Spain, the U.K., and Germany through clients who are Tier 1 insurers and insurtech players. 

Berkshire Hathaway has struck an $11.6 billion deal to acquire Alleghany Corp. which will operate as an independent subsidiary of Berkshire Hathaway after the transaction settles. The acquisition will expand Berkshire's insurance holdings including brands like Geico auto insurance.

According to ResearchAndMarkets, the global pet insurance market size is predicted to reach $32.7 billion by 2030 expanding at a lucrative CAGR of 16.7% from 2022 to 2030. 

Brown & Brown Inc. has announced to acquire Global Risk Partners Limited (GRP) insurance operations. The deal is expected to close in the third quarter of 2022. With this acquisition, the company aims to expand its international footprint and broaden the scope of global capabilities.
Conversational Intelligence: The Next Big Thing In Customer Experience
Read our Latest Blog here.
State of Data Maturity across Insurance Industry
According to Capgemini's Data Powered Insurer: 2022 report, a data master insurance organization earned 175% higher 'revenue per employee' and was 63% more profitable than the average insurer. Data is changing the game. Here are some key insights from the report: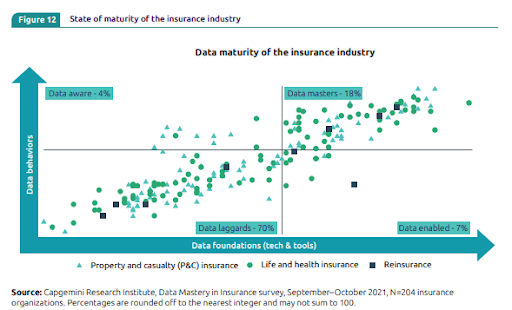 Data Masters

— insurers that have both the technical capabilities and culture and behaviours to support their data-driven programs— are the most mature category accounting for more than

18%

of the industry.

Data Laggards

— insurance firms that lack either the technical capabilities or the behavior needed to develop and support data journeys— accounted for

7 out of 10

organizations surveyed.

Data Aware/ Enablers

— insurers who are experts in one of the two domains. provide incumbents with software solutions — are the minority category and together account for

11%

of the insurance industry.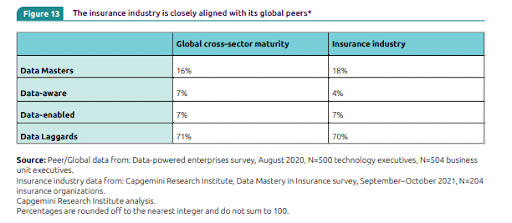 A Tech-Enabled World for Future Pandemic Phases
Read our blog here.
6 Key Takeaways from InsuranceDekho Survey 2022
The latest edition of InsuranceDekho survey 2022 has been released highlighting the low insurance penetration in India as compared to other countries, especially when it comes to women. The survey reveals the underlying trends in customer awareness levels and their impact on insurers.  Here are the 6 Key Takeaways from the survey:
67.2 % of those surveyed had bought a policy less than a month ago. 33.7% of respondents were from metro cities indicating

higher insurance penetration in the top metros

compared to other regions in the country.

The majority of the insurance mandate lies with the mid-age people followed by other age groups – 37.4% (age group 26-35 years) followed by 25.6% (age group up to 25 years), 16% (age group 46+ years), and 21% ( age group 36-45 years).

Salaried employees were the most common insurance buyers

at 41.2%, followed by the self-employed at 28.8%. Students were 15.6% of respondents, while 14.4% were retirees

Despite the increased digital penetration,

offline agents continue to be the dominant channel

for users to buy insurance with 39.6% of users buying insurance from them. 

Online insurance sellers (e.g. InsuranceDekho.com, PolicyBazaar.com) are the

second most preferred channel with a 32.6% share

.

Insurer's direct website came distant 3rd at 15.6% and direct insurance company agents came last at 12% share.

A

majority

of the insurance buyers were

male at 90.8%

which implies that women may influence the insurance buying decision but the male remains the final decision maker. 8.8% of respondents were female and the remaining 0.4% of respondents didn't identify with either gender.
CX Trends 2021: How Businesses are Winning Customer Experience Moments
Read our latest blog, here.
Achieving Data Mastery in Insurance is the need of the hour
Only 41% of the insurers ensure that their data executives align organizational data analytics with the overall business strategy, as per the latest report by Capgemini. Setting up strategic priority for achieving data mastery has become imperative for insurance organizations today.  Here are the four recommendations for insurers to achieve data mastery:  
Build the infrastructure to allow rapid implementation of data-derived insights: 


According to Capgemini's report,

lack of agility in IT infrastructure and legacy systems, and monolithic architecture

are the top 2 technical challenges faced by insurance organizations. In order to streamline and generate a 360-degree view of data through, insurers need to create a well-centralized repository of data-based solutions, accelerate cloud migration, and broaden the use of APIs for timely sharing and ingesting data from multiple stakeholders involved.

Establish an appropriate operating model to scale data-driven use cases:


According to Capgemini,

only one in ten organizations are able to scale any particular use case completely

. Insurance firms need to create a hub and spoke model along with setting up dedicated data roles to democratize use cases by setting up a central team, decentralize implementation of use cases at the business unit level, and establish central facilitator teams to standardize data-sets across the organizations. 

Foster a strong data culture across the organization:


In order to create a strong data culture across the organization, insurance firms should adopt agile ways of working, empower employees at all levels with self-service analytical tools and train them to enable data citizenship and ensure data ethics and security.

Orchestrate an Open Data System: 


According to the Capgemini survey, organizations could augment their revenue by 2-9% through participation in ecosystems.

Insurance firms need to participate in external ecosystems and collaborate with insurtechs to get a deeper view of what is happening around them and how can they benefit from new partnerships.
Data is a significant differentiator in the business world, particularly in the insurance market, where competition is increasing at a quick rate. For insurers, data empowerment has become the need of the hour to stay ahead of the game.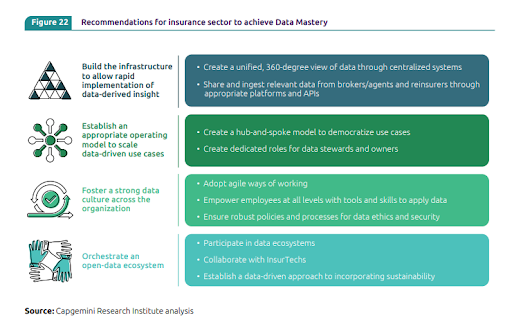 Delivering Superior Customer Experiences over Video.
Download Report, here.
Business cognizance for the new-age digital insurers