Table of Contents
01 The Insurance Monthly Roundup
02 State of Extended Reality in an Experience Economy, 2022
03 Mantra Labs has been awarded the ISO 27001:2013 certification!
04 Shortening the overlong customer journeys is a necessity now.
05 AI & Analytics can help insurers create value across customer Lifecycle
CEO Speak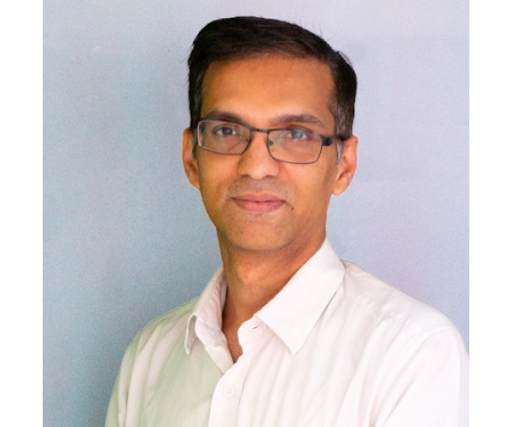 "Building an intelligent and frictionless experience for the Gen Z customers may require quite a bit of technology heavy lifting. Correct choices will set up the organization for long-term success."
                                                                          -Parag Sharma
                                                                                  CEO & Founder
                                                                           Mantra Labs
The Insurance Monthly Roundup
(India)
Healthysure has

collaborated

with ManipalCigna Health Insurance to introduce India's first flexi top-up insurance, allowing employees to personalize and upgrade their corporate health insurance plans. The plan is exclusively designed to deliver an enhanced safety net of coverage, keeping in mind the growing high medical inflation rate.

Aditya Birla Sun Life Insurance and Karza Technologies have partnered to offer insurance products to Indian customers on WhatsApp. This will enable customers to purchase insurance using WhatsApp within 5 minutes with secured KYC verification and an encrypted chat option provided by WhatsApp.
Hyundai Motor India in FY22 ventured into the "Insurance" segment through Hyundai India Insurance Broking Private Limited. The business will primarily serve auto insurance contracts and later diversify into other general insurance policies.
(Global)
Singapore-based Igloo, in collaboration with PVI Insurance, Vietnam Meteorological and Hydrological Administration (VNMHA), and SCOR, has unveiled the country's first blockchain-based weather index insurance product. The objective is to automate insurance claims of rice farmers through smart contracts and eliminate the need for manual claim verification, lower transaction costs, and enable quicker reimbursements to farmers.

Glow, an insurtech that automates the insurance process for SMEs has raised $22.5 million in Series A funding. The fresh capital will be used to extend its services across more states and develop its platform.
Cover Genius bagged $70m in the latest funding round. The company will inject this capital into diversifying its global insurance distribution platform and supporting new e-commerce, property, travel, mobility, auto, B2B, and financial services partners.
Open Finance: Reality or Hype?
Read the full blog, here.
State of Extended Reality in an Experience Economy, 2022
Today's customers are digitally savvy, demanding, and value-driven. They have witnessed a pandemic for more than 2 years now, and are clamoring for an enriched experience beyond the 2D outlay a laptop or mobile can provide. With this demand for improved CX and the rapidly evolving digital infrastructure, extended reality (XR) has gained tremendous interest from technology and business leaders in equal measures. 
According to a study conducted by Poplar, globally, 75% of consumers expect their retailers to now offer an AR experience. Further, the rise of Metaverse has been augmented by the rise in Web 3.0 applications like NFTs and Cryptocurrency.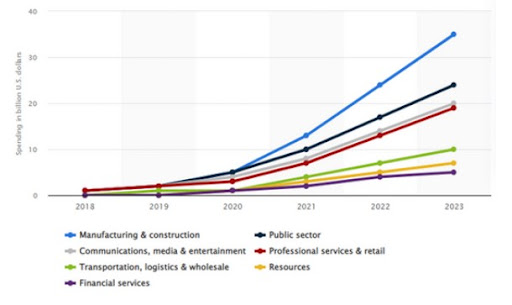 Source: Statista 2021, Market Spending on XR Technologies Worldwide from 2018-2023 
While the maturity rates are not the same in all industries, some show greater inclination than others in their quick adoption. Providing personalized assistance can go a long way in building long-lasting relationships with customers. Whether with guided product tutorials through a VR environment, previewing products through an AR app before purchase, or remote assistance through mixed reality. Such digital touchpoints can help improve customer satisfaction.
As per IBM's report, the Financial Services industry is expected to have the highest spending in XR for improved customer engagement. The market is estimated to grow at a CAGR of 133.9% in the next decade, with a keen interest in higher brand recall through XR. 
Industry leaders need to tap into the benefits and differentiation that having an AR experience can provide. A reluctance to do this would invite the risk of missing the bus to disrupt new entrants more attuned to consumer needs. With customer loyalty waning away faster than ever before, companies can no longer afford to be reactive in their offerings. 
The State of Extended Reality in an Experience Economy
Read the full report, here.
Mantra Labs has been awarded the ISO 27001:2013 certification!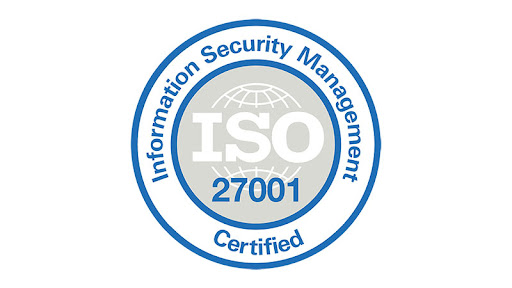 Mantra Labs is proud to announce that our Information Security Management System (ISMS) is certified to meet the requirements of the ISO 27001:2013 standard.

"Our company-wide approach to data protection ensures the highest standard of security for our customers. This certification is additional proof of our commitment to information security", said Mikhail Mitra, Co-founder, Mantra Labs. Mantra Labs Certification reflects the importance we place on protecting our clients' data. Our ISMS defines a set of policies and processes that ensure confidentiality, integrity, and availability for all of the data that we handle.

We remain committed to meeting the highest security and privacy standards while serving as a trusted, secure partner for your data.
12 Tips To Secure Your Mobile Application
Read the Blog here.
Shortening the overlong customer journeys is a necessity now.
Gen Z and older millennials are the biggest motivators pushing insurers to create smarter forms for these consumers. Why? Because of their shorter attention span. Yes. Gen Z typically has an attention span of merely 8 seconds. They are ready to pay more for a great experience and convenience. They want faster services and appealing visuals and designs.
Organizations are already using auto-filling (to fill out forms automatically with saved info, like addresses or payment info) and OCR scanners where customers can fill in the information asked in the forms by just scanning their id cards/ business cards. Data on the card gets auto-populated in the appropriate fields.
Artificial intelligence (AI) has been helping organizations assess risk, detect fraud and reduce human error in the application process. It can do so by 
Verifying the document in real-time

Giving Instant feedback

Improving Operational efficiency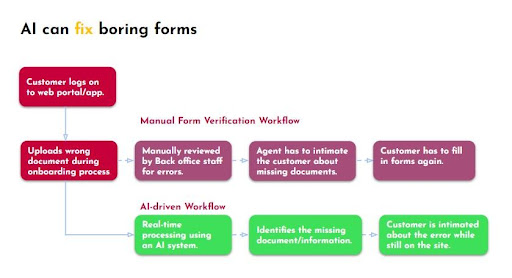 How to Win Customers through Smarter Form Filling?
Read the full blog here.
AI & Analytics can help insurers create value across customer Lifecycle
Insurtech 3.0 is all about the 'Experience Economy'. With evolving customer expectations, the real challenge for the insurance industry is getting a product faster. Digital customers today want to buy an experience rather than just a product or a service. Partnering with Insurtechs would give insurers much-needed tech capabilities for product innovation. Leveraging technologies such as AI, computer vision, predictive analytics, NLP, and OCR across the insurance life cycle to create a superior Gen Z experience.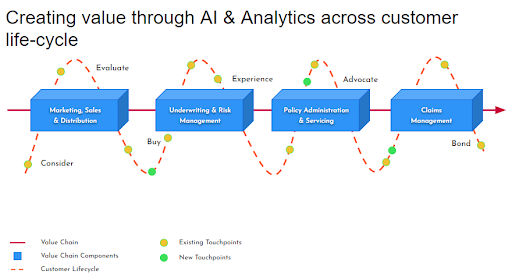 Stage 1: Consider and Evaluate 
Data plays a key role in risk evaluation, the decision-making process, and improving customer experience. Predictive behavioral analytics helps in identifying consumer patterns and the intent of those behaviors. Insurers need to forecast customer expectations based on historical patterns to improve satisfaction scores and boost revenue per customer.
The 'Digital Behavioral Intelligence Tool' by Formotiv helps insurers decipher user motivation and intent scores. They collect roughly 5,000-50,000 behavioral data points from 140+ different features on each individual application and provide personalized product recommendations
Stage 2: Buy and Experience
Speed is what the new customer segment wants. Insurers will need to leverage advanced AI and workflow management to improve the onboarding experience for the customers. 
Stage 3: Improving underwriting through AI-Based Dynamic and Smart decision-making in real-time.
Artivatic has introduced a next-gen smart underwriting cloud–AUSIS which helps to connect, and integrate existing or third-party applications and APIs for end-to-end processes.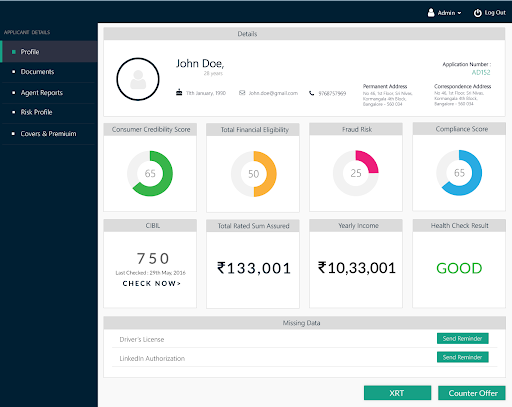 Source: Artivatic Insurtech & Healthtech platform
Stage 4: Payment & Claims Management
Fraud Detection with AI and ML models. 
Anadolu Sigorta recently tested a predictive fraud detection system. This detection engine uses automated business rules, self-learning models, predictive analytics, text mining, image screening, device identification, and network analysis that deliver immediate, actionable insights. A.S. attributed over $5.7 million in savings from the AI system.
AI and the Gen Z Experience
Read the full blog, here.
Business cognizance for the new-age digital insurers