Table of Contents
01 Top 2 sales-conversation enablers for Healthcare agents
02 The Health Tech Monthly Roundup
03 How predictive analytics can boost healthcare delivery?
04 Future Health Index Report 2022: Key Insights
05 What are the 4C's for creating a Better Patient Experience?
Top 2 sales-conversation enablers for Healthcare agents
Though AI saw adoption rates jump 51% in 2021, usage rates remain low. This gap presents an opportunity for businesses to make AI a better partner to agents. According to Mantra Labs whitepaper, 57% of agents rate collaboration tools with real-time video & audio capabilities as a critical sales-conversation enabler.
Conversational AI remains an underutilized tool, despite the adoption boost, among larger healthcare providers. Only 30% of contact center agents believe they have the tools to succeed in a post-pandemic world. High-performing teams across other industries are 93% more likely to have agents working across multiple channels, and have three times more agents doing so.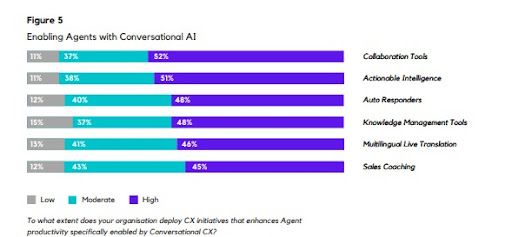 Source: Mantra Labs Whitepaper
Agents empowered by AI can increase productivity and boost sales performance with contextual insights — like the customer's email, appointment history, or why they last reached out.
Read the Whitepaper here.
The Health Tech Monthly Roundup
A quick roundup of the month's latest health tech activity, both in India and globally.
Redwing Labs has

started

an experimental study to provide superior healthcare services to rural and tribal populations utilizing drones in Seppa, Arunachal Pradesh. The network would allow local health centers to do diagnostics and provide urgent care.

$15 million was raised for Eka Care in the Series A investment round. The business intends to use the additional funding for hiring, product development, raising consumer awareness regarding the advantages of maintaining a health profile , and assisting physicians in converting to a digital practice.

Fitterfly has collected $12 million in the recent funding round, which it will use to expand the scope of its diabetes management digital therapies programme Diabefly and improve its technological stack and branding.

Europe-based

Cera Care

has garnered over €310 million. In order to supply each home with multiple healthcare services, the extra funds will be used to increase investment in nursing, telemedicine, and prescription delivery services, both domestically and abroad.

Estonian health tech venture, Antegenes has acquired €2.3 million to enhance personalized cancer prevention. The startup also plans to enter the German market.

St. Petersburg-based RxLive has secured a $5 million in Series A investment round. The fresh capital will be infused to double its workforce over the following year and strengthen its marketing and technology.
CX Trends for Healthcare in India, 2022
Read now
How predictive analytics can boost healthcare delivery?
Every health organization strives to provide the best possible care to the right patient at the right time. In the last two years, Covid-19 has pushed the deployment of technology in the healthcare industry. Predictive analytics has been used by healthcare professionals to boost operational effectiveness, enhance clinical decision-making, and improve patient experience. However, a recent study by Philips shows that healthcare leaders are still having trouble maximizing its value, regardless of their implementation status. The potential of predictive analytics to transform healthcare is far greater than how it is currently being used.
Source: Philips Future Healthcare Index 2022 Report
56% of the healthcare executives interviewed for the Future Healthcare Index research claimed that their hospital or healthcare facility has already utilized predictive analytics in some way or is in the process of doing so. Only 12% of first-to-innovate leaders use predictive analytics for remote patient monitoring, despite the fact that 21% of them believe it will have the greatest impact.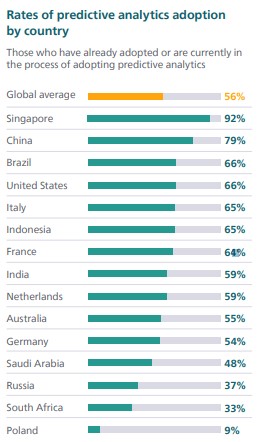 Healthcare leaders in Asia report the highest rates of adoption. At a global level, healthcare leaders in clinical positions have higher rates of adoption than their peers in operational roles, especially those working in radiology (31%), where predictive analytics is being deployed as one of the tools to help physicians examine and diagnose images faster.
The Barrier to Adoption: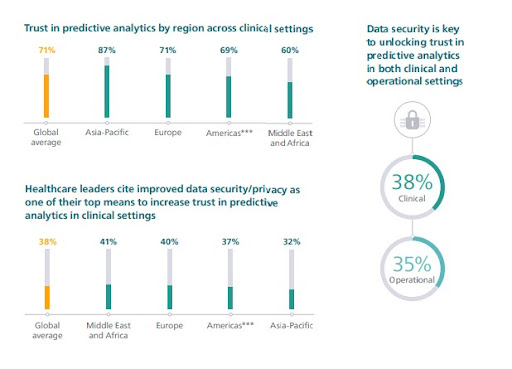 Data Security and privacy concerns are the two major barriers that create trust issues among the healthcare staff and patients when it comes to predictive analytics. There have been numerous cases of data breach worldwide. The future of healthcare data security will rely equally on leadership development programmes and vendors adhering to security-by-design principles. Security-by-design involves integrating security into all stages of product development, including testing and deployment, as well as strong policies and procedures for monitoring, updates, and incident response management.
The new normal is all about using a more intelligent method of care delivery. By making use of insights and the identification of trends in the data collected through predictive analytics, health care professionals are putting more emphasis on improving the patient experience. But now, in order to take full advantage of this technology, it is necessary to close the gap between how it is now being deployed and what it is capable of.
3 Trends shaping the Future of Healthcare in Middle East
Read the full blog.
Future Health Index Report 2022: Key Insights
Pandemic has accelerated the digital transformation worldwide especially in developing countries like India. But what is the current priority now for the healthcare professionals in the post covid world. Here are some key insights from Philips Future Health Index India 2022 Report on healthcare delivery: 
Online patient visits (32%) receive more investment than healthcare professional-to-healthcare professional virtual solutions (23%), according to the survey of Indian physicians, who stated that a shift to virtual care is one of their top priorities. Telehealth is currently a top investment area, according to 51% of the respondents.

Digital health record is listed as the top investment priority by half (49%) of Indian healthcare leaders, reflecting the government's attempts to make healthcare data-driven.

Indian healthcare experts predict that spending on telemedicine will fall by 12 percentage points over the next three years. However, they also predict that spending on artificial intelligence will double during that time, increasing by 28 percentage points.

The AI use cases that India's medical leaders find most appealing are those that integrate diagnostics (22% now, 32% in three years), optimize operational efficiency (18% now, 37% in three years), predict outcomes (18% now, 32% in three years), and support clinical decision making (16% now, 33% in three years).

Demand for extending care delivery is growing:

Last year, only 10% of Indian healthcare leaders viewed extended care delivery as a top priority which has now doubled (26%) and further, 32% expect it to remain a top priority in three years.

Currently, 19% of Indian healthcare officials view remote patient monitoring as a crucial investment, up from 8% in 2021; in the next three years, this number is expected to reach 29%.

Power of Data: 78% healthcare executives in India think their organization is capable of extracting useful insights from data, and 77% say they have the requisite technology to do so.

Infrastructure hurdles pose a challenge to efficient data use:
10% of Indian healthcare leaders in 2021 stated that infrastructure limitations act as a barrier to the adoption of digital health technologies. This number has almost tripled to 29% today. Other barriers include budgetary restrictions (22%), employee aversion to using more advanced technologies (23%), and data policy and regulations (22%).

Leaders in India also prioritize data security and transparency: 27% of leaders say that establishing and executing appropriate data security and privacy rules will enable better data usage, while 23% think that greater transparency regarding the use of data would improve data utilization.

62% of leaders agree that their hospital has some of the expertise required to fully utilize data. However, only 9% believe they have all the capabilities they need. This indicates that there is potential for improvement because 20% of leaders wish to see their employees trained in data utilization while 37% of leaders feel that more general internal staff experience is required and would support their facility in making more extensive use of their data.
How to Win Customers through Smarter Form Filling?
Read the full blog, here.
What are the 4C's for creating a Better Patient Experience?
From admission to discharge, and every touchpoint in between – Conversational AI enables the Intelligent Healthcare enterprise. A Superior Conversational support model can help HCP's win 3X more customers with 35% more cost-efficiency. Below are the four guiding principles that HCP's should know about to create an improved patient experience: 
Conversate 
Chatbots are perfect augments to human support and can bring 1:1 communications to scale. Customers hate being made to repeat themselves to multiple agents for the same issue. Instead, being able to engage in a humanlike back-and-forth exchange increases the likelihood of completing a purchase by as much as 45%. Combining NLP with self-learning models and large training sets can help imitate human interactions, recognize speech & text inputs, and translate meanings into any local vernacular.
Channelize 
A deeper omnichannel messaging approach should always bring responsive support first to the customer, i.e., finding the customer before they look for you. 60% of repetitive queries across all messaging platforms can be automated and reduce time to the response by 95%. Providers can optimize support staffing costs by front-lining their bots through intelligent self-service automation. 
Contextualize 
Providers handle at least 7X more data than they did five years before. To capture context from this data is crucial for transforming simple interactions into natural conversations that bring out winning outcomes. Customers, especially value being able to pick up with a Provider where they left off and appreciate when that Provider recognizes that it's dealt with them before.
Customize 
Conversational AI enables personalization through NLP processing speed, machine learning models, and data availability. AI brings the added ability to leverage predictive real-time, actionable insights for driving intelligent customer engagement. A proactive approach to tailoring the customer's journey means your teams spend less time channel planning and more in audience planning. 
Read the Whitepaper here.
Business cognizance for the new-age digital insurers