Table of Contents
01  5 key insights for the Future of Conversational CX in Healthcare
02  The Health Tech Monthly Roundup
03  3 Challenges to overcome in making India AI-centric
04  CX Trends to watch out for in Healthcare, 2022
05  AI-aided Super Agents can 'engage to win' customers
5 key insights for the Future of Conversational CX in Healthcare:
1 in 3 view Conversational Commerce as part of healthcare. Healthcare providers that successfully initiate conversations, advise, engage and then close over multiple channels can potentially retain up to

7X more customers

. 

Messaging platforms

are the

most preferred

communication medium for interacting with Healthcare brands. 

Conversational Intelligence empowers both front & back-office teams across the organization.

4X more cost-efficient

to focus on routine processes that support retention, like follow-ups/referrals. 

Conversations create convenience. And convenience leads to conversion.

90%

of Healthcare customers prefer personalized interactions to static responses.

3 in 4 customers

prefer to request information via intuitive conversational interfaces. It helps them search through knowledge bases faster and know about product features more easily.

79%

of Healthcare customers prefer being engaged by chat rather than call.
Elevating Conversational CX In Healthcare
Read the full report.
The Health Tech Monthly Roundup
A quick roundup of the month's latest health tech activity, both in India and globally.
Redcliffe Lifetech has raised $61 Million in a Series B funding round. This new funding will be used to grow the company's product offerings and geographic reach across India, with an emphasis on establishing low-cost and high-quality direct-to-consumer diagnostics in Tier 2, 3, and 4 cities.

Microsoft India has partnered with AIIMS Jodhpur to build a 'mixed reality center of excellence at AIIMS,' which will provide cutting-edge medical treatment, strengthen remote healthcare capabilities, and enhance staff and student learning opportunities. In Sirohi district, AIIMS Jodhpur will also pilot mixed reality-enabled remote healthcare services.

Ayushman Bharat Digital Mission (ABDM) has successfully integrated 40 digital health service applications and at least 13 digital health solutions were incorporated in the ABDM sandbox in the last three months.

In a recent investment round, Mylo, a platform for expecting and new mothers, received $17 million. This new capital will be invested in growing the company's brand, expanding its product and verticals, and launching digital health solutions for mothers.

Truemeds has garnered $22 million, which will be utilized to expand into untapped local markets. The company intends to triple its fulfillment centres in India within the next 6 months.

In order to deploy MammoScreen® 2D/3D USA, Therapixel has raised €15 million in a Series-B funding round. The company will expedite the commercial deployment of its AI reading solution for 2D/3D mammography with a major focus on the US market.

Turquoise Health has acquired $20 million in the recent funding round, which will be used to strengthen its capabilities and support the launch of its new direct contracting platform.

Iceland-based SideKick Health received $55 million for their digital-first initiative, which

helps

patients manage chronic diseases and ailments such as cancer, diabetes, and arthritis. This fresh infusion will be used to increase the company's footprint in the U.S.

According to a research and markets

report

, the global AI healthcare market is predicted to increase at a CAGR of 48% from $6.1 billion in 2021 to $64.11 billion in 2027.
Opportunity Matrix & High-Value Use Cases for Healthcare Providers
Read now.
3 Challenges to overcome in making India AI-centric 
Lack of a governing authority or panel of experts

to supervise and track the implementation of socio-economic AI initiatives on a national level is one of the significant challenges that the country is facing currently. As a result, the adoption and use of AI remains highly disjointed, with no defined blueprint or KPIs to assess performance.

Lack of data maturity creates another barrier

: Unavailability of region-focused datasets and poor data quality acts as a roadblock in developing India-specific AI initiatives.

A wide Gap in the Demand-supply

of AI skills. Getting a competent workforce to match the industry's needs has ramped up, but it's still not enough to keep up with the current growth trajectory. Because of the competitive advantage AI-driven techniques bring in, traditional businesses are turning to them as well. This has exacerbated the difficulty in locating high-quality talent to meet today's demand.
What does the Digital & Connected Patient Experience of Tomorrow look like?
Read the blog, here.
CX Trends to watch out for in Healthcare, 2022
The last two years have disrupted the healthcare landscape completely transforming not just the core business process and operations but healthcare providers' and seekers' mindsets as well pushing them to accept and adopt mobile and web-based applications for any activity. With people becoming more technology-reliant, the next step for healthcare providers is to focus majorly on improving the patient experience across the entire value chain. In order to be able to do so, technology would help in boosting the customer experience level in healthcare. Let's look at CX trends that will dominate in healthcare in 2022: 
NDHM The National Digital Health Mission with the help of the United Health Records system aims to address the lack of coordination between healthcare providers, payers, and patients. NDHM will help patients and healthcare professionals by improving longitudinal health record management and making it easier to store and share health records. Patients will be able to browse nearby healthcare providers while on the road. The NDHM framework's features will go a long way toward ensuring that the Indian healthcare industry has a consistent experience. Recently, Teleradiology Solutions (TRS) has decided to set up a hub in the Andhra Med Tech Zone (AMTZ). AMTZ and TRS will use this hub to connect with government hospitals across India and state-level rural health facilities, including those funded by the National Health Mission (NHM). Expert radiologists will give innovative AI and teleradiology services at the centre.
Metaverse Virtual Reality, Augmented Reality, Mixed Reality, AI, and digital currencies are all part of the Metaverse. It's a web-based collection of interconnected locations. The metaverse is the result of the convergence of three major technological trends: telepresence (which allows people to be together virtually even if they are physically separated), digital twinning, and blockchain (which allows us to create a distributed internet), all of which have the potential to impact healthcare. Together, they have the ability to open up new channels for delivering treatment, lowering costs, and significantly improving patient outcomes.
Artificial Intelligence Artificial intelligence (AI) is one of the major trends driving healthcare's digital transformation. Computer Vision technology integrated within Conversational AI bots and virtual assistants helps medical professionals to diagnose certain diseases via remote counseling. Many experts are researching how to make the most out of Computer Vision in the field of cancer detection, surgery, and dermatology.
IoT and Wearables Wearable technology has become increasingly popular amongst urban populations for health and wellness tracking. Patient monitoring for chronic illness as well as post-op care has become easier for healthcare professionals through IoT devices and wearables. Some IoT solutions use artificial intelligence (AI) to offer clinicians early warnings based on a patient's vital signs. Many healthcare startups such as Health Care At Home India Pvt. Ltd (HCAH) are working towards setting up home ICU units and other treatment infrastructure that can monitor patients' vital parameters thus enabling a proactive approach to treatment review and modification.
Read the full blog, here.
AI-aided super agents can 'Engage to Win' customers 
Though AI saw adoption rates jump 51% in 2021, usage rates remain low. This gap presents an opportunity for businesses to make AI a better partner to agents. 
Conversational AI remains an underutilized tool, despite the adoption boost, among larger healthcare providers. Only 30% of contact center agents believe they have the tools to succeed in a post-pandemic world. High-performing teams across other industries are 93% more likely to have agents working across multiple channels, and have three times more agents doing so.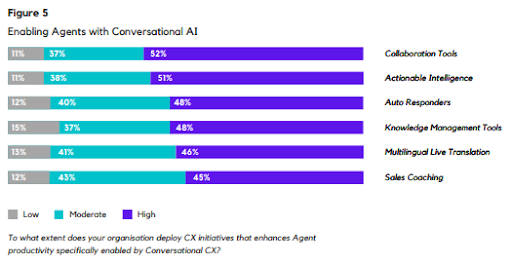 Source: Mantra Labs Whitepaper
Agents empowered by AI can increase productivity and boost sales performance with contextual insights — like the customer's email, appointment history, or why they last reached out.
Read the Whitepaper here.
Business cognizance for the new-age digital insurers