Table of Contents

01  The Insurance Monthly Roundup
02  Customer Experience takes its next big leap with XR
03  Mantra Labs is now GDPR certified!
04  Retention playbook for Insurers in the backdrop of financial crises
05  Fin-Techs in the Metaverse-based ecosystem
CEO Speak
"Creating the future customer experience on the foundations of data will need conviction and patience. However, continuous analysis and review of user behavior will result in long-term success and victory."
-Parag Sharma
                                                                                  CEO & Founder
                                                                           Mantra Labs
The Insurance Monthly Roundup
(India)
Zyla Health has

collaborated

with Zopper to launch a special integrated offering that will give people access to Zyla's personalized wellness platform when they purchase an insurance product through Zopper's embedded ecosystem.

TurtleFin has engaged with YES BANK to develop a comprehensive technology platform-EasyNsure. Turtlefin's unique API will enable the platform to provide a variety of holistic insurance solutions on a single platform.
(Global)
Singapore-based Igloo has bagged $27 million which will be used to expand its workforce across various domains like engineering, product, design, and analytics and support the ongoing search for merger and acquisition opportunities.

Turtlefin has

tied

up with The Continental Group in the UAE to enable the Group's distribution teams to access relevant information and personalize bids for their clients. This strategic alliance will improve major operational efficiencies through the automation of proposal processes, management reporting, and dashboards, which will be accessible from a single source.

Bolttech has teamed with Max Solutions Service to deliver insurance via the card's Max Me application, giving Max Card consumers a quick and easy option to buy insurance from a broad range of products such as vehicle, travel, accident insurance, etc.
Open Finance: Reality or Hype?
Read the full blog, here.
Customer Experience takes its next big leap with XR
Customers have witnessed a pandemic for more than 2 years now, and are clamoring for an enriched experience beyond the 2D outlay a laptop or mobile can provide. They want immersive experiences as they move towards a digital future. With this demand for improved CX and the rapidly evolving digital infrastructure, extended reality (XR) has gained tremendous interest from technology and business leaders in equal measures. 
According to a study conducted by Poplar, globally, 75% of consumers expect their retailers to now offer an AR experience. Further, the rise of Metaverse has been augmented by the rise in Web 3.0 applications like NFTs and Cryptocurrency.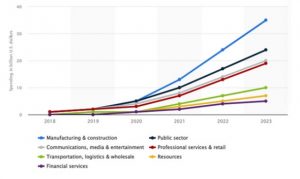 Source: Statista 2021, Market Spending on XR Technologies Worldwide from 2018-2023 
While the maturity rates are not the same in all industries, some show greater inclination than others in their quick adoption. Providing personalized assistance can go a long way in building long-lasting relationships with customers. Whether with guided product tutorials through a VR environment, previewing products through an AR app before purchase, or remote assistance through mixed reality. Such digital touchpoints can help improve customer satisfaction.
As per IBM's report, the Financial Services industry is expected to have the highest spending in XR for improved customer engagement. The market is estimated to grow at a CAGR of 133.9% in the next decade, with a keen interest in higher brand recall through XR. 
Industry leaders need to tap into the benefits and differentiation that having an AR experience can provide. A reluctance to do this would invite the risk of missing the bus to disrupt new entrants more attuned to consumer needs. With customer loyalty waning away faster than ever before, companies can no longer afford to be reactive in their offerings. 
The State of Extended Reality in an Experience Economy
Read the full report, here.
Mantra Labs is now GDPR-certified!
Mantra Labs is thrilled to announce that it is now a GDPR-certified company.
Our organization successfully meets the requirements of the RIR-GDPR (General Data Protection Regulation) Management Standard for the following Scope:
Customer Experience Strategy Consulting, 

Mantra AI: AI Strategy and Implementation,

Application Development, Robotic Process Automation,

Testing and Business Continuity
"Being an organization that works with enterprises around the world, we want to ensure that we are compliant with global industry norms when it comes to data security of our clients" said Kumar Sambhav, Chief Technology Officer – Mantra Labs. "Building the right customer experience in the right way has always been our top priority. This accomplishment reinforces our deep commitment to privacy and continuous effort to build trust with our clients. " he adds further.

GDPR compliance together with ISO 27001:2013 certification is a critical step in future-proofing our organization from security risks and vulnerabilities and ensuring that Mantra Labs can tap into new geographies and accounts where GDPR is a mandatory requirement for onboarding new partners.
12 Tips To Secure Your Mobile Application
Read the Blog here.
Retention playbook for Insurers in the backdrop of financial crises
Technology has fundamentally changed what it means to be an insurer. The cumulative effects of the pandemic coupled with a weak global economic output have impacted the industry in ways both good and bad. In particular, technologies such as AI, AR, and VR are being deployed extensively to retain customers amidst this technological and economic upheaval.
Double down on digital
For insurance firms, IT budgets were almost exclusively dedicated to maintaining legacy systems, but with the rise of InsurTech, it is imperative that firms start dedicating more of their budgets towards developing advanced capabilities such as predictive analytics, AI-driven offerings, etc. 
Using AI to curate a bespoke customer experience
Insurance has always been a low-margin affair and success in the business is primarily a function of selling the right products to the right people and reducing churn as much as possible.
Crafting immersive products through AR/VR
Globally, companies are flocking to implement AR/VR into their customer engagement strategies as it allows them to better several aspects of the customer journey in one fell swoop. Relationship building, product visualization, and highly personalized products are some of the benefits that AR/VR confers to its wielders.  
The Insurance industry is undergoing a shift of tectonic proportions as an older generation makes way for a new and younger one that has little to no perceptions about the industry. By investing in next-generation technologies such as AR/VR, firms can build new products to capture this new market and catapult themselves to leadership positions simply by way of keeping up with the times.
We have already seen how AR is a potential game-changer for the insurance industry. It is only a matter of time before it becomes commonplace.
Read the full blog here.
Fin-Techs in the Metaverse-based ecosystem
Global metaverse market size will touch $678.8 billion by 2030, witnessing a CAGR of 39.4%, reveals research and markets. CB Insights' research predicts that the metaverse could represent a $1T market by 2030. Industries are working to create a reality in which the physical and digital worlds blend seamlessly. 
European bank ABN Amro was the first to open a virtual branch in Second Life created in 2003. Earliest ventures into the metaverse were primarily motivated by branding and visibility which is now shifting to the mainstream. Metaverse application has moved beyond gamification to virtual training and life-like experiences. We're moving towards a future where digital lives are becoming more important.
Razorfish and Vice Media Group's new study shows that Gen Z spends more time in metaverse space than older demographics. They develop more meaningful connections to their online identities and want realistic experiences in their virtual life. For organizations, it becomes highly imperative to understand how these customers connect, interact and interface in this virtual space.
The financial sector is facing intense competition in the virtual space. Digital assets and digital currency are becoming increasingly prevalent in the metaverse. Leveraging the meta-world will help financial organizations create a continuum of experience for the users and provide more personalized and engaging interactions in the time ahead.
Read the full blog, here.
Business cognizance for the new-age digital insurers