Table of Contents
01 Understanding the Agent Perspective
02 The Insurance Monthly Roundup
03 Climate Change -A major concern for Insurers and Policyholders?
04 India Insurtech Landscape and Trends: Key Insights
05 Future Insurance Trends that will drive the Age of Experience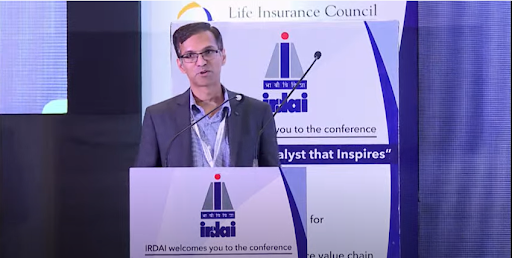 Parag Sharma, CEO and Founder of Mantra Labs shared some key insights on 'AI and Future Insurance Customer Experience' at an event hosted by IRDA and supported by India Insurtech Association: 
CX Maturity rises 3x compared to other industries. The insurance industry understands the need for investing and improving CX capabilities. And shows the appetite to invest in the same. 

Gen Z places importance on customer experience in various decision-making areas and their willingness to pay a premium for a better experience. Insurance will have to leverage AI technologies such as computer vision, predictive analytics, NLP, OCR to sync in tune with this audience.

Insurers need to be a part of upcoming ecosystems such as NDHM and connected devices in order to create intelligent experiences for Gen Z's. 
Understanding the Agent Perspective
Agents are exposed to volatile changes in consumer needs due to which they are finding it difficult to understand their exact requirements.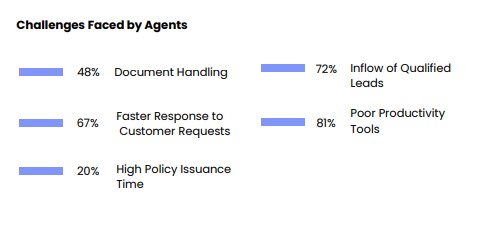 According to Mantra Labs' latest report, poor productivity tools (81%) and inflow of qualified leads (72%) are the top two challenges that agents face while service delivery leading to lower conversion rates and performance.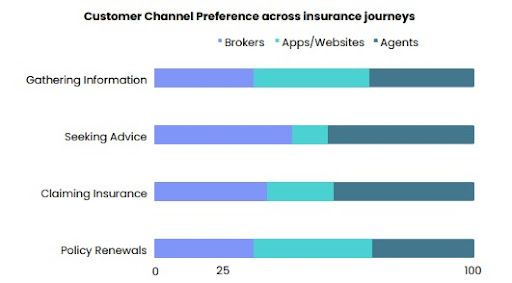 According to Mantra Research 2022, Customers prefer to interact with an insurance agent over other channels like brokers and chatbots when it comes to seeking advice (46%) and claiming insurance (44%) reveals the latest research by Mantra Labs. Insurers need to create a better experience for agents by providing them with regular company updates, customer insights, and marketing collaterals that'll help them drive sales. Even though investments in AI and automation have been witnessing a sharper rise, empowering agents with digital tools and capabilities will help in improving customer engagement and retention for insurers.
State of CX In Insurance
Read the full report.
The Insurance Monthly Roundup
A quick roundup of the month's insurance and insurtech news.
(India)
According to

GlobalData

, the general insurance market in India is likely to increase at a CAGR of 9.9% from $29.39 billion in 2021 to $41.78 billion in 2026, in terms of gross written premiums (GWP).

IRDAI has permitted general insurance providers to launch products without first obtaining regulatory clearance. The new rule will cover all health plans and also fire, engineering, and motor plans offered by general insurance companies.
Insurejoy becomes the fastest-growing insurtech and is expected to cross an Annual Recurring Revenue (ARR) of Rs300 crore in 2022.
The company has grown 5X with over 100 products provided by 30+ insurance partners.
Riskcovry partnered with Taskmo, a B2B gig marketplace, to provide per-day insurance to their blue-collar employees, covering them for the duration of their shift.
Onsurity and Jupiter Money have collaborated to provide instant and affordable health & wellness benefits and dedicated claims support to Jupiter Money's SMB customers.
(Global)
According to an S&P Global Market Intelligence

report

, the global insurance sector reported $1.3 billion in collective losses and reserve charges in the first quarter of 2022 due to the Russia-Ukraine conflict. Europe's insurers and reinsurers have been the most impacted.

Qoala is the fastest-growing startup in Southeast Asia and the first insurtech with licenses and a presence in Indonesia, Malaysia, and Thailand. The firm has raised $65 million in a Series B fundraising round, which it intends to use in expanding its team and building an engineering and product management hub in Gurugram.
Akur8 and MS&AD Insurance Group have announced their strategic partnership to foster further innovation. With this deal, Akur8 plans to continue its expansion plan in Asia and beyond, hand-in-hand with a leading global insurer.
Top 10 Innovative Insurtechs of 2022
Read our Latest Blog here.
Climate Change -A major concern for Insurers and Policyholders?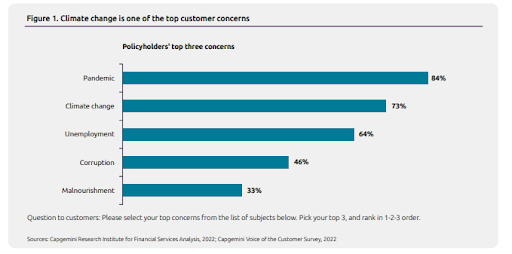 Climate change has been one of the most widely discussed topics in recent years. Wildfires, sudden temperature changes, and extreme rains have caused widespread devastation throughout the planet. Recently, northern India's temperature touched close to 50 degrees in the last month impacting common man and businesses worldwide. And the insurance industry is no different. According to Capgemini's report, natural catastrophes have led to a 3.6 times increase in insured losses and a 2 times increase in uninsured losses over the last 30 years. In fact, the report says that climate change was the second-highest concern of policyholders after the pandemic. As a result, coverage dynamics have changed and customers are looking out for protection. This presents a unique opportunity for insurers to establish a sense of connection and loyalty with their consumers while also increasing profits. However, there are 3 pressing issues related to climate change that insurers are dealing with: 
Insurability:

Shifting risk decreases the potential market in various regions.

Profitability:

Massive losses aggravate the loss ratio and undermine the capital position of insurers.

Regulation:

As regulators throughout the world examine the industry's exposure to climate risk and prescribe scenario analysis, there is a growing need for accountability.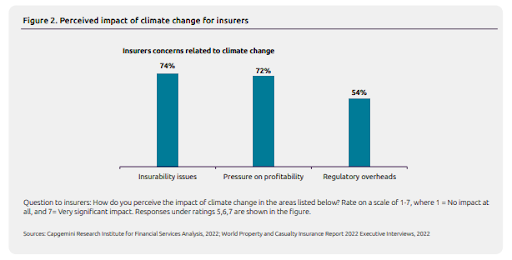 Climate change is a harsh reality that consumers and insurers are facing today. What is required now is a strategic move by the insurance executives to prevent the loss, invest in technologies to measure risk accurately, and create a diverse ecosystem. 
State of Metaverse-based Ecosystems in FinTechs
Read our blog here.
India Insurtech Landscape and Trends: Key Insights
Over the past two years, customer experience has become the core focus for insurance providers and insurance seekers. BCG's report reveals that insurers with a better CX tend to have higher growth and profitability.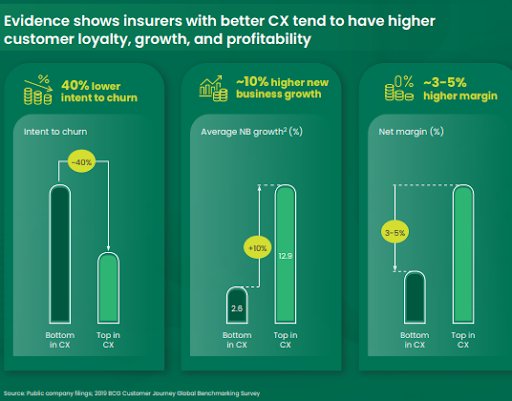 The main driver of a better customer experience demand is growing consumer affluence, which has increased in rural and distant areas, resulting in a new set of customer categories, including women and Tier 2 customers.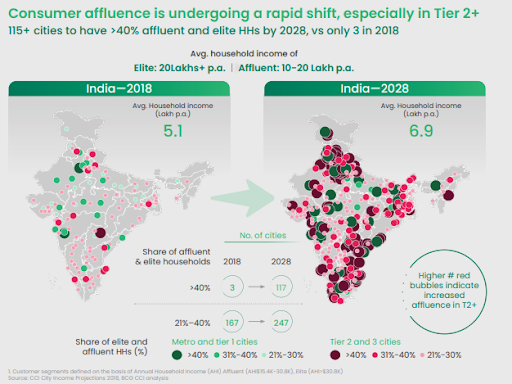 The newer customer segment has different preferences compared to the ones in the past. There has been a drastic shift in the behavioral pattern and  'intent to buy' of today's consumers who spends on 'experience and convenience'. According to BCG's India Insurtech Landscape and Trends report, the following are the consumer behavioral patterns: 
Asset Creation vs Experiences:

37% of today's customers prefer to spend on 'experiences and memories' and they live in the moment compared to the ones in the past who focussed more on saving for the future. This means that willingness to spend has increased now leading to demand newer products and services. 

Healthy Living:

57% of today's customers prefer to choose healthy food, services, and products. Smartwatches, gym-based mobile apps, and healthy food ordering services have become a part of current consumers compared to past consumers who relied on healthy food and exercising methods to stay fit.

Personalization:

56% of today's customers want personalization and are willing to pay an added amount for getting a customized product and service compared to the earlier set of consumers who used mass product offerings.

Global vs Indian Brands:

50% of today's customers consciously buy Indian brands whereas consumers in the past were attracted to international brands. This clearly shows the amount of trust that Indian companies have created today by offering relevant products and services to their customers.

Convenience is the key:

Today's customers want convenience first. 57% of them spend on time-saving products and services.

Changing Decision-makers:

54% of the final say of women in the buying decision, especially in the male-dominated areas compared to the buyers in the past where males were the key decision-makers.

Renting vs Owing:

37% of the current consumers prefer to rent rather than buy a product whereas, in the past, consumers believed in owning possessions. 

Attitude to Shopping:

The consumers in the past shopped for utility and need whereas customers today shop to maintain their lifestyles. 62% of them buy to stay relevant and trendy with their peers. 

Value from Purchase:

Past consumers considered the best price as the value for money whereas the current customers consider exclusivity as the value for money.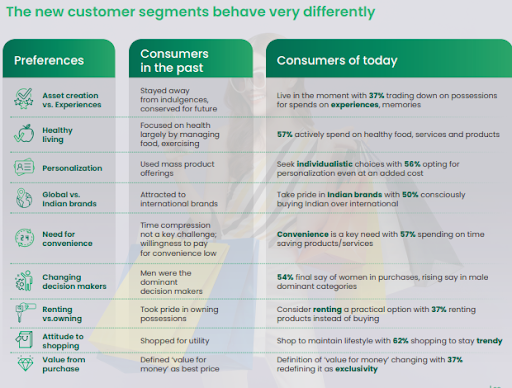 Source: India Insurtech Landscape And Trends by BCG
For insurance providers, it has become highly imperative to closely understand the above behavioral shift, what the current market trend is, how the new consumer behaves, and then align their offerings to reap higher benefits. 
5 Things to Consider while Designing an App for Gen Z's
Read the full blog, here.
Future Insurance Trends that will drive the Age of Experience
In the past couple of years, omnichannel platforms and tailored solutions have been on the rise in the insurance industry. Because of the rise in new customer segments and expectations, the businesses in the post-covid world are more focused on innovation and customer experience. Here are the future trends that will drive the age of experience:
 Insurance as an API will become more relevant:
The world is moving in a digitally-driven future. Worldwide ecosystems are being built every now and then by the new generation of consumers. They are using multiple services in their own personalized ecosystems. Insurers need to create a seamless continuum of experience for them by taking part in the customer's ecosystems so that they can avail insurance solutions within their own ecosystems.
The rise of Web 3.0
Future consumers, known as Generation Z, are the most active users of web 3.0 and the most receptive to newer digital worlds like Metaverse, Augmented reality (AR), Virtual reality (VR), and Mixed Reality (MR). For insurers, investing in web 3.0 has become an absolute necessity to establish their presence in the new internet world and capture the mind space of Gen Z customers.
 Leveraging Third-Party Data and Services
In this ecosystem culture, data-backed experience has been helping businesses to provide a better customer journey to the users. And the insurance industry is no different. A vast amount of customer data is already being utilized by insurance organizations for underwriting, claims, fraud detection, and marketing. Third-party entities such as banks, credit rating agencies, social networks, and even mobile networks have more customized data of customers. Insurance firms need to leverage these data sets to discover new insights that were previously unknown to them. Third-party data will enable insurers to delve deeper into customers' ecosystems, understand their motivation, and analyze social trends and their life events in order to construct an exclusively tailored customer journey.
Designing for Web 3.0
Read our blog here.
Business cognizance for the new-age digital insurers