Table of Contents
01   State of AI Chatbots in Insurance 2020
02   Remarkable APAC Insurers response to COVID-19
03   Vernacular is a way through for Insurers in India
04   Recently launched COVID-19 Insurance Products in India
05   Telemedicine is the fastest growing use case for chatbots
---
State of AI Chatbots in Insurance 2020
Personal protection and health have emerged as fast growing concerns for consumers, who are now actively looking towards securing premium digital customer experiences and superior service levels but at reduced costs.
To combat disengagement, conversational experiences will be the key to providing proactive and friendly risk advice for consumers navigating the long recovery phase ahead. AI in Insurance will value at $36B by 2026. Chatbots will occupy 40% of overall deployment, predominantly within customer service roles.
Advanced AI chatbots are primarily used in claims settlement within APAC, while in more developed markets it is evenly split between pre-and post-purchase transactions.
Delivering Superior Customer Experiences over Video.
Download Report, here.
---
Remarkable APAC Insurers response to COVID-19
The current pandemic has shattered the business especially in the low-income APAC nations, where the market relies mainly on motor insurance. Insurance regulatory authorities and Governments are responding to protect policyholders' interests and minimize the impact on the insurance industry. Here are some noteworthy initiatives: 
Country
Response to COVID-19

China

Simplification of the claim process and claim proceedings online. 

Adjusted actuary rules for healthcare, accident and life insurance as well as annuity insurance, which will help lower premiums for such insurance by 3% to 5%. 

The Hainan Government subsidized the premium for businesses by 70%. The six-month plan will cover companies for up to

$28.6 million

in losses.

Hong Kong

In February, the Hong Kong Government decided to transfer

HK$10,000 ($1,270)

to all residents financially affected by the virus outbreak.

Expanded medical coverage and relaxed hospital restrictions.

Simplified and expedited claim procedures.

Indonesia

Bank Mandiri has offered insurance protection, totalling up to

Rp1 trillion

, for health workers. This insurance is provided through its subsidiary, AXA Mandiri Financial Services.

Japan

Extension of a grace period for premium payments.

Setting up an FSA (Financial Services Agency) hotline to provide advice on financial services for consumers.

Philippines

Philippine Health Insurance Corporation (

Philhealth

) to cover COVID testing costs, the expenses for quarantine, and isolation costs of patients. 

Singapore

Mandated integrated shield plans (Ips) and IP riders to cover the hospitalization expenses for coronavirus. 

India

Introduced Standard indemnity-based policy –

Corona Kavach

and benefit-based policy

Corona Rakshak

to benefit low and medium income groups who don't have insurance policies.

Insurance companies to allow travel insurance policyholders to extend the start/end dates of policies valid between March 22, 2020, and April 30, 2020.
---
Vernacular is a way through for Insurers in India
In India, internet users in rural areas (227 million) have surpassed the urban populace (205 million). Indian language internet users are expected to grow at a CAGR of 18% to reach 536 million by 2021, while English users are expected to grow at only 3% reaching 199 million within the same period.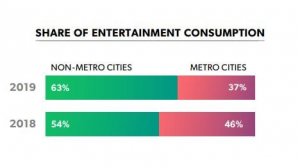 The COVID-19 outbreak has accelerated the adoption of digital and people have started to use their mobile phones beyond entertainment purposes. However, the preference for native language dominates the internet market.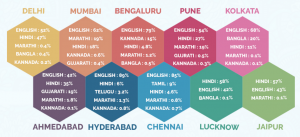 (Source: Times Internet Data)
Regional language digital device users are not just confined to rural areas. Vernacular is becoming a nationwide trend. With NLP-powered conversational tools like chatbots, it is becoming easier to deliver digital experiences to consumers in the language of their preferences. 
To gain a competitive advantage, Insurance organizations have begun to leverage vernacular in their strategies to reach out to rural India. For example, IRDAI has launched three volumes of the Comic book series in 12 Indian regional languages to create awareness about insurance. General insurers offering crop insurance have been asked to provide the option of accessing the information in the regional/state language apart from Hindi and English.
To make consumers understand the policy documents, Insurers like Reliance Nippon Life Insurance, ICICI Prudential, Bajaj Finserv have provided an option to request for local language. 
The three Vs of today's chatbots: Voice, Vernacular and Video.
Read our latest blog, here.
---
Recently launched COVID-19 Insurance Products in India
Covid-19 has accelerated the adoption of digital as well as increased affinity towards buying insurance. According to a survey conducted by Swiss Re, Indian consumers are seeking insurance driven by financial and mental health concerns.
Customer Action
Mainland China
India
Japan
Other markets' average*

Searched for new policies

73%

62%

13%

28%

Bought a new policy

56%

28%

7%

15%

Made a claim

(those who hold a policy)

23%

25%

5%

11%
*Singapore, Hong Kong, Australia
All Indian Health Insurers to issue standard Covid policies "

Corona Kavach

: indemnity-based" and "

Corona Rakshak

: benefit-based" as mandated by IRDAI.

Reliance

has launched a group-based fixed benefit plan covering quarantine cost, loss of pay due to quarantine & treatment, and loss of a job. It can be bought by people to supplement their existing health insurance policy and a lump-sum would be paid in case of a diagnosis of COVID. 

GoDigit

has launched group-based indemnity insurance plans which can be bought by companies for their employees.  In the case of hospitalization due to COVID, employees can utilize this policy instead of the base group plan.

PhonePe

in collaboration with

Bajaj Allianz General Insurance

has announced the "Corona Care" policy for Covid-19 treatment at ₹156. The policy, applicable for people under 55 years of age, will provide an insurance cover of ₹50,000 including one month's expenses on pre-hospitalization and post-care medical treatment.

PayTM

and

Reliance General Insurance

together have launched the Covid-19 insurance plan to cover loss of pay, quarantine expenses, and treatment costs.

Airtel Payments Bank

and

Bharti AXA General Insurance

have introduced a fixed-cover Covid-19 insurance policy offering 100% sum insured as a lump sum if the policyholder is tested positive or gets quarantined in a government hospital or military establishment.
Corona Kavach: Implications & Opportunities for Insurers in India.
Read our latest blog, here.
---
Telemedicine is the fastest growing use case for chatbots 
In 2016, the telemedicine market in India was valued at US$ 15 million and was expected to rise at a CAGR of 20 per cent during FY16-20, reaching US$ 32 million by 2020.
The rising Covid-19 cases have increased dependencies on technology for health consultations. People are resorting to telemedicine platforms such as Practo, Ask Apollo and iCliniq for online consultation with doctors. As per IRDAI guidelines, here are the implications for Insurers.
OPD Cover:

telemedicine expenses will be treated equivalent to OPD coverage. 

Video KYC:

KYC for customers allowed over video conferencing software with specific compliances.

Claims:

the norms of sub-limits, monthly or annual limits, which are specific to a policy will apply to telemedicine claims as well.

Out-of-pocket expenses

: the cost of pharmacy and consumables, implants & medical devices, and diagnostics as a part of associated medical expenses, which come under proportionate deductions will not be considered.
Telemedicine has undertaken a new way for doctor consultations. Apart from remote consultations, Telemedicine will also provide good-quality healthcare data in a ready-to-use format. In the future, this will help Insurers in identifying the state of policyholders' medical condition and steer the move from financial protection plans to health-centred designs.
Reimagining Medical Diagnosis with Chatbots.
Read our latest blog, here.
Business cognizance for the new-age digital insurers