Table of Contents
01  New Launch: Multilingual AI Chatbot With Video Conferencing
02  InsurTalks Podcast: Mr. K V Dipu, President – Operations, BAGIC
03  Contactless Solutions In Insurance
04  The Rise Of Telemedicine
05  Video KYC: A Better Choice For Onboarding Customers
---
Latest
New Launch: Multilingual Ai Chatbot With Video Conferencing
Aiming to make contactless, global customer-support a new reality and with a vision to foster "Vocal for Local" among digital users, Mantra Labs latest AI chatbot – Hitee,  allows remote business conversations through secure video and multilingual chats. It supports integrations on Facebook messenger & WhatsApp which allows businesses to reach out to their customers on their preferred platforms. 
Hitee is available on a subscription model at zero installation and training costs. Businesses can chat with customers, capture and nurture leads, start video sessions, converse with customers in their native language, create workflows for automated response and FAQs.
Hitee's Key Features:
24×7 AI-powered customer support: human-like conversations for faster self-service.
Vernacular: natural conversations & automated support in any regional language.
Video calling: remote conversations using immersive video & voice experiences.
Route leads: handoff to agents with complete context to close deals faster.
Integrations: Whatsapp, Facebook and CRMs
Learn more about Hitee's capabilities
Website: hitee.chat
Try our Demos, for any business use case.
Experience Hitee here.
---
Latest
Insurtalks Podcast: Mr. K V Dipu, President – Operations, Bagic
Mr. K V Dipu, a stalwart of the Indian Insurance Industry, talked with Mantra Labs about the state of insurance and digital transformation amidst the backdrop of the COVID-19 pandemic. 
"The new normal is when people learn how to do contactless selling. Covid-19 has brought a change in universal behavior..everybody realizes the need for social distancing, the need to go digital and this is where people are more amenable to being sold to digital. Insurers who accomplish contactless sales today are the ones who will be able to make a difference going forward."
We Build Contactless Operational Continuity Solutions for the New Normal.
Learn more, here.
---
Insights
Contactless Solutions In Insurance
COVID-19 has accelerated the adoption of digital adhering to the need for social distancing and contactless services. Consumers expect personalization, convenience and greater levels of customer service satisfaction regardless of insurers, assets, and geography. In the near future, we may resume socializing, but there sure will be a change in the way we interact. Customers will still prefer contactless interaction while making a purchase.
Contactless Claims Investigation:

Going by the traditional physical inspection approach, even a simple motor claim may take 5-7 working days. Self-service claims portals can help customers register, inspect and settle their motor insurance claims. Using

Machine Vision

to analyze damaged parts and the severity of damage through the photographs submitted by the customers.Bajaj Allianz, Trillium Mutual Insurance are already using contactless claims solutions for their policyholders.

Contactless Sales:

Pre and post-sales queries can be handled by multilingual/

vernacular chatbots

that eliminates the need for agents/RMs to meet clients and prospects physically. Chatbots equipped with language processing capability could replace human interaction with customers in areas such as First Notice of Loss (FNOL) and customer support.

Contactless Payments:

Digital wallets like PayTM and PhonePe (in India) have updated their interface to allow essential payments to the fore including insurance premiums. The API-based business model for Insurance is gaining momentum.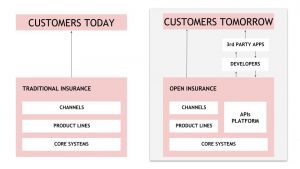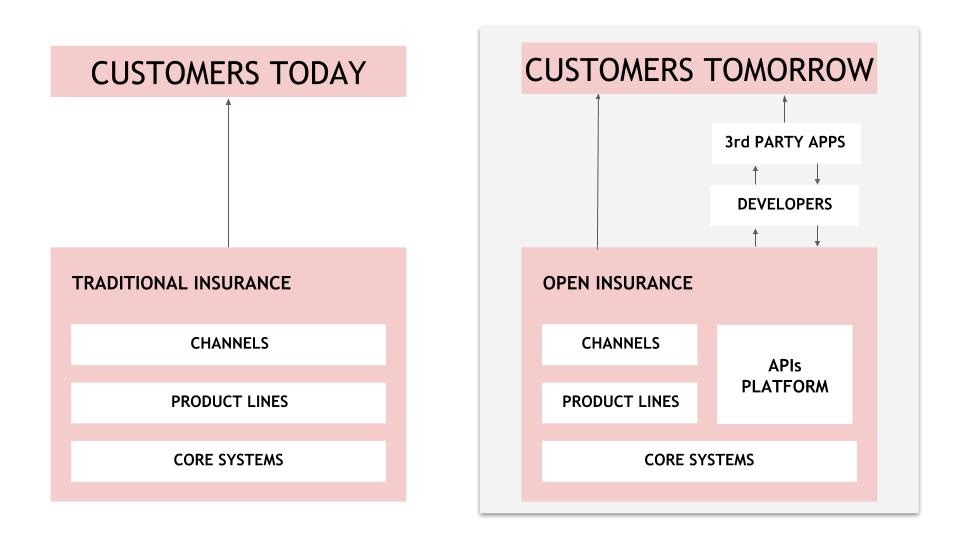 Coming soon: Drones
Drones carry the ability to extract accurate field information, which can fuel real-time analytics using artificial intelligence and machine learning. MarketsandMarkets estimates the Indian drone software market to reach $12.33 billion by 2022. Drones can fulfill two strategic objectives for Insurers:
Risk management: through efficient field data collection, analysis, and actionable insights 

Operational costs management: through effective claims adjudication, claims processing, and customer experience.
Five Insurance Front Office Operations Improved With AI
Read our latest blog here.
---
Opinion
The Rise of Telemedicine
The spread of the COVID-19 Pandemic has unequivocally altered the model for healthcare delivery in the new normal. As healthcare organizations take on more risk for patients beyond their walls in value-based reimbursement models, the ability to monitor patients remotely to identify problems before they escalate is becoming critical. With increased pressure worldwide on improving the efficiency of care delivery and reducing costs, remote delivery of healthcare services may be able to bridge the healthcare gaps for the rural populace. 
According to a recent Data Labs (Inc 42) study, Telemedecine grabs the highest market share within the Indian Health Tech market and is expected to cross $5.5B by 2025 at 31% CAGR.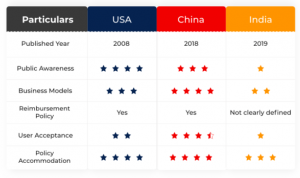 Source: Data Labs by Inc42
While the US leads with the most public awareness on telemedicine services, China dominates in terms of user acceptance. Although the market in India is still fairly nascent, public awareness can only grow from here, as regulations bring more clarity and momentum into the space.
Telemedecine has two key underlying benefits in the current scenario:
It extends medical care to people with varying health conditions without the need to visit clinics and hospitals, mitigating the risk of infection.

It helps suspected COVID-19 patients seek medical advice about self-quarantine practices.
HItee comes with video conferencing for hospitals & clinics
Learn more, here.
---
Opinion
What makes Video KYC a Better Choice for Insurers
On April 23, 2020, IRDAI allowed insurers to avail Aadhar-based authentication to fulfill the KYC norms of policyholders. Video KYC or e-KYC can facilitate immediate verification and can make the insurance buying process contactless, simpler and time-saving.
The banking sector is already using Video KYC. Most banks expect that at least 70% of their sales will be contactless by December 2020 and Video KYC will play an integral role in facilitating this strategy.
The key benefits of Video KYC for Insurers:
Faster customer onboarding: In-person verification requires customer's availability which often delays the onboarding process.
Physical documentation: Collecting physical documents and uploading them to a data server is an overhead process and carries chances of error during manual data entry. Video KYC automates this process with a higher level of accuracy.
On-spot document verification: Face-match and real-time document verification with registered databases become a one-stage process.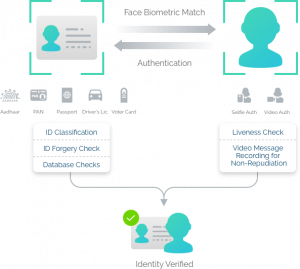 Digital Everything UseCases for the New Normal.
Read our latest Use Cases here.
---
Business cognizance for the new-age digital insurers