Table of Contents
01   Mantra Labs In The Exclusive Insurtech100
02   State Of AI In Insurance 2020 Survey
03   Emerging Technologies For Insurance
04   Insights Into Millennial Insured Customers
05  The 2019 World Insurtech Report Findings
06   Is Belgium Insurance Flatlining?
---
Recent Update
MANTRA LABS FEATURED IN THE EXCLUSIVE INSURTECH100
Mantra Labs Joins Fintech Global's InsurTech100 2019 List. The special honor comes in recognition of being a pioneer in transforming global insurance industry through innovative products and solutions that solves real-world challenges.

FinTech Global is a specialist research firm that curates this annual roster, selected by a panel of analysts and industry experts from an exhaustive list of over 1,000 companies. The standout businesses are recognized for their innovative use of technology across the insurance value chain. 
"Mantra Labs is leading InsurTech innovations through its deep advisory and consulting approach to understand 'actual' user and consumer problems," says Mikhail Mitra, Co-founder & Chief Product Officer, Mantra Labs. "We're proud to be recognised as a pioneer in transforming the global insurance industry."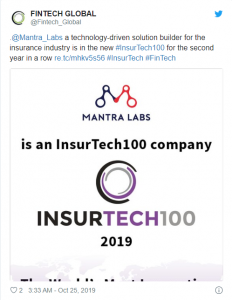 Six Indian InsurTechs Entered the Top 100: View the entire list for 2019 here.

---
Quick Survey
THE STATE OF AI IN INSURANCE 2020 — TAKE THE SURVEY
We want to know how YOU feel about THE IMPACT OF AI IN INSURANCE today.

The results of this anonymous survey will be published in our next Newsletter Edition.
In advance, Thank you for your participation!

Take our Quick 1 Minute Survey.
---
Insights
NEW & EMERGING TE