Table of Contents
01   Mantra Labs In The Exclusive Insurtech100
02   State Of AI In Insurance 2020 Survey
03   Emerging Technologies For Insurance
04   Insights Into Millennial Insured Customers
05  The 2019 World Insurtech Report Findings
06   Is Belgium Insurance Flatlining?
---
Recent Update
MANTRA LABS FEATURED IN THE EXCLUSIVE INSURTECH100
Mantra Labs Joins Fintech Global's InsurTech100 2019 List. The special honor comes in recognition of being a pioneer in transforming global insurance industry through innovative products and solutions that solves real-world challenges.

FinTech Global is a specialist research firm that curates this annual roster, selected by a panel of analysts and industry experts from an exhaustive list of over 1,000 companies. The standout businesses are recognized for their innovative use of technology across the insurance value chain. 
"Mantra Labs is leading InsurTech innovations through its deep advisory and consulting approach to understand 'actual' user and consumer problems," says Mikhail Mitra, Co-founder & Chief Product Officer, Mantra Labs. "We're proud to be recognised as a pioneer in transforming the global insurance industry."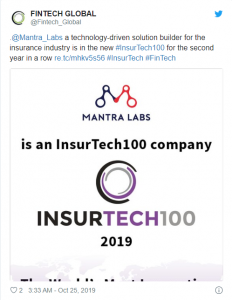 Six Indian InsurTechs Entered the Top 100: View the entire list for 2019 here.

---
Quick Survey
THE STATE OF AI IN INSURANCE 2020 — TAKE THE SURVEY
We want to know how YOU feel about THE IMPACT OF AI IN INSURANCE today.

The results of this anonymous survey will be published in our next Newsletter Edition.
In advance, Thank you for your participation!

Take our Quick 1 Minute Survey.
---
Insights
NEW & EMERGING TECHNOLOGIES FOR INSURANCE
The Insurance industry is seeing an accelerated digitalization momentum on the backs of 4G, Augmented Reality, and Artificial Intelligence-based technologies Machine Learning & NLP.
For 2020 and beyond, newer technologies are emerging along with older but more progressively maturing ones creating a wider stream of opportunities for businesses.
A recently published Gartner Hype Cycle highlights 29 new and emerging technologies that are bound for greater business impact, that will ultimately dissolve into the fabric of Insurance. Here we profile five of the most disruptive technologies and some relevant use cases.
Emerging Tech
Predicted Use Cases
Emotion AI
Emotion Artificial Intelligence (AI) is purported to detect insurance fraud based on the audio analysis of the caller.

This means an AI system can decisively measure, understand, simulate, and react to human emotions in a natural way.

Insurance can benefit from sentiment and tone analysis from chatbots equipped with emotional intelligence to capture the buying propensity of an individual while also understanding the reasons influencing that decision.

Augmented Intelligence
Widely touted as the 'future of decision-making', this tech involves a combination of data, analytics and AI working in parallel with human judgement.

Augmented Intelligence manifests today for most insurance carriers as automated back-office tasks, but over the next few years, this application will be found in almost all internal and customer facing operations.

For instance, Online Identity Verification is an example of a real-time application that not only enhances human's decision making ability, but also requires human intervention in only highly critical cases. The Global value from Augmented AI Tools will touch $4 Trillion by 2022.

AR Cloud

The AR Cloud is simply put a real-time 3D map of an environment, overlayed onto the real World. Through this, experiences and information can be shared without being tied down to a specific location. 

For insurers, there is a wide range of opportunities to entice shopping customers on an AR-Cloud based platform by presenting personalised insurance products relevant to the items they are considering buying. 

This allows modern insurance products to co-exist seamlessly along the buying journey, creating better reach and penetration.

Personification

Personification is a technology that is wholly dependent on speech and interaction. Through this, people can anthropomorphize themselves, creating avatars that can form complex relationships. The Virtual Reality-based concept will be the next way of communicating and forming new interactions. 

Brands have already begun working their way into this space, because as they see it — if younger generations are going to invariably use this technology for longer portions of their day for work, productivity, research, entertainment, even role-playing games, they will shop and buy this way too.

Flying Autonomous Vehicles & Light Cargo Drones

Although this technology is only a decade away from being commercially realized, the non-flying form is about to make its greatest impact since its original conception. Regulations are the biggest obstacle to the technology taking off, while its functionality continues to improve. 

The Transportation & Logistics ecosystem is on the brink of a complete makeover, which will create a demand for a wide array of insurance related products and services that covers autonomous vehicles and cargo delivery using light drones.
Read Gartner's Hype Cycle here.
---
Opinion
WHAT CAN WE LEARN FROM MILLENNIAL INSURED CUSTOMERS
A recent combined report from New Liberty Mutual and Safeco Insurance sheds some new light into the buying characteristics of millennial insurance customers. Listed below are some key excerpts from their findings.
Millennials are more likely than older generations to buy insurance online, but half of millennials bought insurance through an exclusive or independent agent.

80% of millennials

interviewed wanted an agent to help them understand insurance — because they  have not had as much experience with insurance as older generations and therefore have less knowledge.

Millennials

are not more price-focused

than Gen-Xers. They both share similar priorities when buying insurance — looking for the most comprehensive coverage. Price isn't the primary selling point!

Millennials are

more likely to connect with agents

through digital channels such as online reviews and social media, but they still value the input of an expert advisor.

Expert advice

and

plan comparisons

are few of the reasons millennials chose to buy through an Independent Agent.

Millennials are more concerned than older generations about

'what-if' scenarios

. For them having insurance agents walk them through different policy options, and stories shared by agents of how insurance coverage has saved their other clients from losses is

extremely important

.

Millennials put more stock in

online reviews, social media engagement, the agent's website

and

online chat capabilities

, than all the other age-groups. 
The Broker of the Future is turning Deeply Digital, as well.
Read our latest blog here.
---
Breakdown
KEY INSIGHTS FROM THE 2019 WORLD INSURTECH REPORT
The current edition of the World InsurTech (WITR) report emphasizes the developing synergies between Insurers and InsurTechs for the future success of the Insurance marketplace. 
Greater Intention to Collaborate Insurers (70%), InsurTechs (90%):

They are most likely to develop holistic risk solutions and advanced data management capabilities together.

Marketplace success is contingent on Carrier capacity to transform into an "

Inventive Insurer

" — being Intelligent, Open, Insightful and Agile.

More than 50% of InsurTechs and Insurers believe challenges to collaboration include —

Lack of Organizational Readiness, Data Security, and Loss of Control of Shared Data.

Main benefits from Insurers & InsurTechs collaborating include —

ImprovedGrowth, Business Processes, and Customer Experience

.

Customers are showing approval of newer insurance models. To meet the coverage gaps, offer convenience and personalization, Insurers will adopt four new business models —

Usage-based, On-demand, Parametric, andMicroinsurance

.

Building an Integrated Ecosystem: Digital integration

with aggregators & third parties can broaden the Insurer distribution channel. Partnering with OEMs can help them with real-time customer data. Further,

APIs

,

cloud-based storage

, and

blockchain

can foster the insurance ecosystem with data security & transparency.

Tailored Products:

Traditional policies don't measure up against the appetite for unique coverage needs. The report found more than

75% of B2B customers

and

85% of retail policyholders

believe that they're

not covered against emerging risks

.

Customer Education:

New channels to educate the customer requires immediate attention.

Gamification

,

video-chat sessions

, and

social media

are promising channels for engaging with customers and educating them about potential risks and their need for coverage.

Digital Agility:

The agile digital infrastructure demands real-time data gathering, analytics and automation of complex processes.

Insurers (70%)

and

InsurTechs (85%)

believe a lack of technological readiness is a critical concern.

Automation:

Automation has proven itself in several insurance front & back functions. It brings

greater speed

and

accuracy

to the organization, while also freeing up employees to perform more intensive/creative tasks.
5 Insurance Front-office Processes Improved with AI
Read our latest blog here.
---
Country Profile
IS BELGIUM INSURANCE FLATLINING?
This edition, we take a look at the Insurance Landscape in the Kingdom of Belgium, where according to industry experts — disruption is yet to arrive here.
Market Changes
The market has stayed flat in terms of growth, market shares and distribution channels. The market shares of the top 5 players remains unchanged (~60%) over the past few years.
Brokerage is still the dominant distribution channel in P&C, while Bancassurance is the largest distribution channel for Life insurance products and the smallest one for Non-Life insurance products.
Despite being stable, the market is currently in a consolidation phase. Product simplification and full digital adoption are the key areas where banking and insurance still trail behind other robust industries. 
The European and Belgian regulatory environment is undergoing several changes, driven by climate change considerations, technology disruptions or political forces acting in and around Europe. For insurers, compliance will continue to be a critical part of their evolving journey.
Regulation
Europe's latest regulation is the 'Payment Service Directive 2' (PSD2), which enforces the customers' right to share their own financial information with third parties. Europe and its member nations, will continue its resolve on keeping customers central in terms of ownership of their own data.
The step is expected to create a broader societal shift towards an 'open data economy'. More recently this has also been adopted by insurers called Open Insurance. This allows companies to expand beyond a vertically-integrated value chain to an external ecosystem. 
There are few other factors at play in the Belgian Insurance Economy — 
Society

:  Mobility, Shared economy, Climate change, and an Ageing society

Competition

: Platforms, Embedded Insurance and Aggregators

Technology

: Blockchain, Automation, IoT, Analytics and AI

New Customer Expectations

:  Digital & Mobile adoption, Information/price transparency
A few strategies are emerging for Insurers in this market — 
Exchange-toExchange

(E2E)

experiences

are becoming the new normal, which requires all processes and products to be fully digitized.

Open Architectures

&

Integrated Value Chains

are equally potent for insurance distribution, and insurers will have to choose between them to succeed.

Exponential Insurance

,

is the idea of moving beyond the value chain to conquer new markets by leveraging new partnerships or becoming part of a collaborative ecosystem.
AI Applications used by Belgian Insurers

Source:  Deloitte's Survey, Artificial Intelligence, 2019
Customers in this region have come to expect superior experience, not just positive ones. How will Insurtechs and Insurers leverage new and emerging technologies to deliver useful insights to match these expectations and derive sustainable profit growth? Automation and 24/7 availability of digital platforms will bridge the short gaps for now, while the industry altogether catches up with Big Tech players vying for the most ripe market entry opportunities.
Will newer challenges surface for Insurtech beyond 2020?
Read the full blog here.
Business cognizance for the new-age digital insurers