Table of Contents
01   The Insurance Monthly Roundup
02   Change in Consumer Behavior Towards Digital Health
03   5 Trends Shaping India's Virtual Health Future
04   The Age of Digital Insurance Ecosystems
05   Machine Vision is Revolutionizing Motor Insurance
---
The Insurance Monthly Roundup
A quick roundup of the month's insurance and insurtech news.
(India)
COVID-19 Claims

have crossed

$4.5B

in India – General Insurers have received nearly 2.07 lakh claims of which around 1.3 lakh claims have been settled as of September 2020. There were 9.86 lakh active COVID-19 cases in India up till that point.

During July-August, the recently instated Corona Rakshak & Corona Kavach policies had provided cover to over 15 lakh people.

The average claim size in semi-urban or rural areas is between $680-$1000, whereas for patients with serious conditions, who have been admitted to the ICU, the average claim size is $8200-$11000 (₹6 lakh-₹8 lakh).

Premiums for standalone health insurers during the current financial year till August has seen an 8.5% growth amounting to ₹6,268 crore compared to ₹4,981 crore for the same period last year.

Health Insurance has a 31% market share of total non-life premiums.
(Global)
Insurtech funding

has regained its uptick for Q3 2020

doubling

from the previous quarter, with a total of 69 rounds being held during the period – of which 23 rounds were over $10M.

The global

market

for

Digital Insurance Platforms

is estimated at

$94B

in 2020 and is projected to reach $213B by 2027, growing at 12.3% CAGR. The 'Services' segment accounts for 77% share of the global digital insurance platform market. The 'Digital Tools' segment is projected to grow at 11.6% CAGR to reach $46.8B, while the US accounts for over 28.8% global market share.

'

CogniSure

', an insurTech startup has recently launched an AI Platform for Commercial Loss Run Automation with 9 Pilot Customers. The startup provides actionable insights from unstructured insurance documents such as policies, loss runs, quotes, and submission emails.
Delivering Superior Customer Experiences over Video.
Download Report, here.
---
Change in Consumer Behavior Towards Digital Health
Since the Pandemic began, traditional insurance protection and cover products have evolved to meet new customer demands. According to recent WHO and EY reports, Consumers now prioritize 'protecting their health' above all other personal needs. 
Among offline channels, during lockdowns, only 40% of people sought medical advice for an ailment compared to 90% before the Pandemic. 

In that time, physician behavior has also changed, since there has been over a 50% reduction in face-to-face consultations during this time. 
Healthcare providers are relying heavily on digital tools to keep pace with evolving consumer needs. These behavioral changes have transformed insurance products as well.
Key features observed in recently launched insurance products:
Insurance products with a dynamic premium component, payable only in case of pandemics or global emergencies 

Simple insurance products, pre-underwritten and with fixed prices, that can be sold and serviced directly through remote channels

Policies for gig workers that are neither covered by their employers nor by their existing plans 

New insurance policies to meet the needs of small and medium enterprises, offering a basic level of financial support 

Remote assessment and real-time settlement for auto, property, and accident claims
Impact of COVID-19 on e-Pharma & Digital Health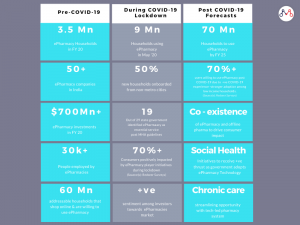 Source: FICCI
The Digital Health Imperative for Healthcare Enterprises:
Artificial intelligence & ML-based algorithms

enable the extraction of actionable insights from sets of patient data sourced from patient claims, clinical data collected from electronic health records, pharmaceutical, research & development data, and patient-generated data.

Virtual health includes tools such as wearables, home-based monitors, virtual reality tools and health portals that collectively enable continuous monitoring, recording and sharing of clinical data. It makes use of usable clinical data to deliver on-demand healthcare, including telemedicine, remote patient management, virtual visits, virtual assistants and self-care.
Delivering a dashboard-style, consolidated patient record on any connected device from any qualified source using Clinical data tools to capture, analyze and transmit data from all points of the healthcare compass.
The State of AI Chatbots in Insurance
Read the full report
---
5 Trends Shaping India's Virtual Health Future
The success of virtual care relies on how well the digital experience is designed for the patient. "By 2025, as many as 95 percent of all customer interactions will be through channels supported by artificial intelligence (AI) technology" – Microsoft. The use of algorithms and AI for personalizing these experiences will be the key. 
Development in digital infrastructure such as virtual health stations where doctors can provide consultations globally, mobile ICUs, MRIs, X-rays, ultrasound equipment, the establishment of rural virtual care units reaching the remote areas of the country are some of the trends which will gain momentum.
The top five trends shaping India's virtual health momentum for 2021:
E-Triage Tools

mHealth Applications

Remote Patient Monitoring

Synchronous and Asynchronous Telehealth

Digital Therapeutics
Investments in Virtual Health Applications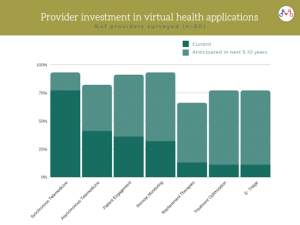 Source: McKinsey Survey
Virtual Health can be segmented across three main categories: Care navigation, Digital Therapeutics and Telehealth. Among at-home consumers in India (in the last three months) — at least 1 in 3 have used a fitness app; at least 1 in 4 have used a telehealth service; and at least 1 in 5 have consulted with a virtual doctor. 
Other trend forces:
Tracking health conditions and using that data to make decisions. 

Accessing, using medical record data and wanting ownership of it. 

Engaging in healthy behavior/prevention. 

Hyper-localisation of healthcare.
Are Wellness & Diagnostic Apps Transforming 'Patient Experiences'?
Read our blog, here.
---
The Age of Digital Insurance Ecosystems 
Insurance is already being largely influenced by platforms and ecosystems. Seven of the 10 largest companies in the world by market cap operate within ecosystems, including Apple, Amazon, Alibaba, Microsoft and Facebook. According to Mckinsey, by 2025, 12 distinctive ecosystems will emerge, accounting for $60 trillion in revenues, or close to 30% of all global revenues. The benefits of participating in an ecosystem are that no single enterprise needs to own or operate all the component parts of an insurance solution.
Mckinsey identifies three key values for ecosystem players:
Ecosystem players can be gateways that reduce friction for customers wishing to switch between related services.

Ecosystem partners can integrate data across several different services, providing better and more personalised solutions to customers.

Enterprises can also mutually harness the benefits of network effects.
A recent Accenture survey of Insurance industry professionals highlights the growing importance for C-level execs to add ecosystems to their overall digital strategy. 54% of insurers are actively seeking to join an ecosystem model because of the potential to open new revenue streams.
Traditional Industries Replaced By New Ecosystems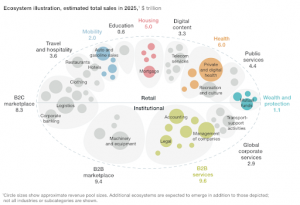 Source: IHS, McKinsey
Reimagining Medical Diagnosis with Chatbots.
Read our latest blog, here.
---
Machine Vision is Revolutionizing Motor Insurance
Many insurance enterprises, even at the global scale, are running layers of outdated technology with too many highly skilled back-office teams mired in "just keeping the lights on". This often results in more frequent system downtime and a lack of interoperability that makes other inefficiencies almost unavoidable.
The motor insurance market in India is about ₹70,000 crore in terms of Gross Written Premiums. While motor insurance has grown by 16% over the last year, the new digital insurers in the marketplace have seen their premiums increase by 4X-6X.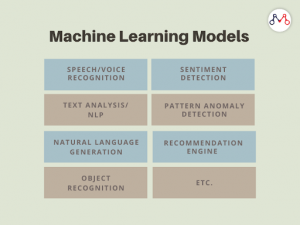 Source: Deloitte Report – AI in Insurance
This underlines a shift in the way customers choose to buy motor insurance – from the convenience of their smartphone or computer, instantly. There is no reason to think that they would not want to settle an insurance claim in the same convenient manner. Fortunately, machine vision technology solves claims settlement challenges to a great extent.
Claims Settlement Process with FlowMagic™
Source: Flowmagic.io
Using machine vision, insurers can process the car image and identify not only the damaged parts but also the severity of damage to those parts and whether it requires repair or a replacement. Using repair cost data and images from tens of thousands of accident cases, an Artificial Intelligence Costing Model can be built that estimates the cost of repairing any part. All this means that the insurer doesn't need the surveyor and other manual checks in most cases and the customer can submit a claim from the convenience of a smartphone and get an approval decision within minutes.
HealthTech 101: How are Healthcare Technologies Reinventing Patient Care
Read our latest blog here.
---
Business cognizance for the new-age digital insurers