Opinion
NEW INSURANCE PRODUCT CATEGORIES ARE MAKING INROADS
A majority of digital insurance consumers are on the lookout for convenient fixes via newer product categories in the market like Flight Delay, Pet, Mobile Insurance etc.
Classical insurance products are going unnoticed by millennial, Gen Y and Gen Z generations. They are more inclined towards 'Need-based', 'User-based' or 'Bite-sized' insurance products. These products are being designed during underwriting depending upon the quantum of usage, nature of usage and the policyholder's behaviour.
Innovating on product features has put insurers on the path for strong growth — driven by technology such as 'Self Inspection' in Motor for filing claims, complete digitization of customer and partner journeys, and presence across distribution channels. These products require less documentation for underwriting.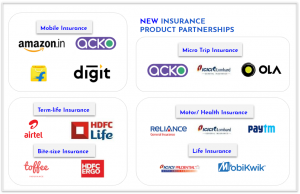 Here are a few divergent approaches taken by these neo-insurers:
Acko focuses on high frequency low premium policies – notable is its partnership with Ola Cabs to offer trip micro-insurance policies to passengers; nearly 20 million policies are sold per month.

Digit+ has rolled out low frequency high premium policies in motor and home insurance, (for eg: they offer a holiday home cover for ₹200 with ₹2 lakh cover).

COCO (Connected Coverage) by DHFL provides two-wheeler insurance along with 12 add-on covers, for as low as ₹586.

Reliance Health Insurance launched a new product called MORE — which allows customers to pay for what they use along with no sub-limits coverage.
Read our blog about 'Top 10 Innovative Products in Insurance', here.
---
Case Study
HEALTH & WELLNESS APP JOURNEYS
Insurance customers aren't generally disgruntled about one particular phone call or individual service interaction. It is their cumulative experience across multiple touch points and channels over time that reveal is a process as a whole is broken or not. Insurers are developing an unintended blindspot — focusing solely on touchpoints. A siloed focus on individual touchpoints misses the bigger, and more important picture: the customer's end-to-end experience.
Insurers tend to look at each customer touchpoint, from visiting the website to calling an agent, as a separate event. But customers see these events as steps in a single journey of fulfilling an important need, such as protecting themselves and their families or recovering from an accident.