Across the Insurance ecosystem, a special fraction within the industry is noteworthy for its adoption of new technologies ahead of others. However slow but sure, uberization of insurance has conventionally demonstrated a greater inclination towards digitization. Insurers now more than ever, need big data-driven insights to assess risk, reduce claims, and create value for their customers.

92% of the C-Level Executives are increasing their pace of investment in big data and AI.

–NewVantage Partners Executive Survey 2019
Artificial Intelligence has brought about revolutionary benefits in the Insurance industry.
AI enriched solutions can remove the ceiling caps on collaboration, removes manual dependencies and report errors.
However, organizations today are facing a lot of challenges in reaping the actual benefits of AI.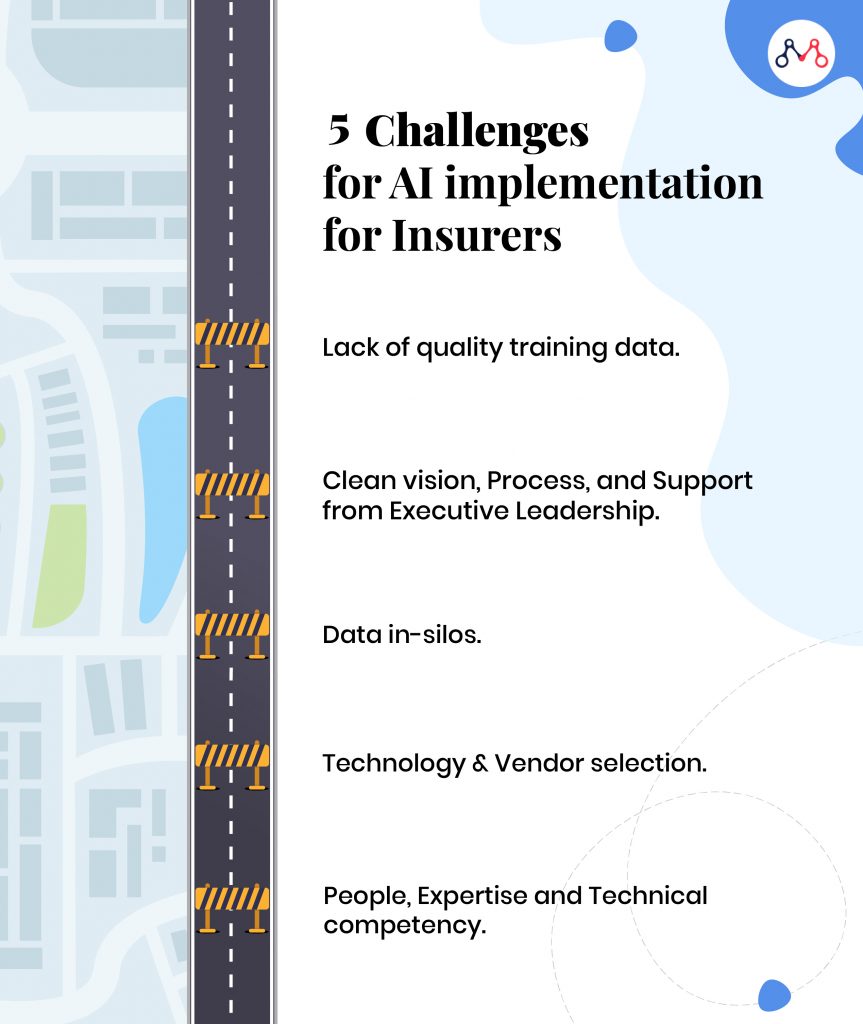 5 AI Implementation Challenges in Insurance
Lack of Quality training data
AI can improve productivity and help in decision making through training datasets. According to the survey of the Dataconomy, nearly 81% of 225 data scientists found the process of AI training more difficult than expected even with the data they had. Around 76% were struggling to label and interpret the training data.
Clean vision, Process, and Support from Executive Leadership
AI is not a one time process. Maximum benefits can be reaped out of AI through clear vision, dedicated time, patience and guided leadership from industry experts and AI thought leaders.
Data in-silos
Organizational silos are ill-advised and are proven constrictive barriers to operational productivity & efficiency. Most businesses that have data kept in silos face challenges in collaboration, execution, and measurement of their bigger picture goals.
Technology & Vendor selection
AI has grown sharp enough to penetrate through the organizations. As AI success stories are becoming numerous investment in AI is also getting higher. However big the hype is, does AI implementation suits your business process or not – is the biggest question. The insurtech industries have continued its growth trajectory in 2019; reaching a funding of $6B. With the help of these insurtech service firms, Insurance organizations have made progress, tackling the age-old insurance ills with AI-powered innovations.
People, Expertise and Technical competency
'Skills and talent' in the field of AI is the main barrier for AI transformation in their business.
Still playing catch-up to the US, China, and Japan — India has doubled its AI workforce over the past few years to nearly 72,000 skilled professionals in 2019.

Are you facing challenges with your Insurance process but have no idea where the disconnect is? Is your Insurance business process ripe for AI in the year 2020?
What is the right approach?
Join our Webinar — AI for Data-driven Insurers: Challenges, Opportunities & the Way Forward hosted by our CEO, Parag Sharma as he addresses Insurance business leaders on the 13th of February, 2020.
Register for the live webinar by Parag Sharma (AI Thought Leader & CEO Mantra Labs).

Knowledge thats worth delivered in your inbox