What is it that comes to your mind when you think of a "Chatbot"? For me, it always reminds me of Siri, Alexa who can chat with us just like real humans. So, a chatbot is an automated system that is designed to interact with humans to the extent that they do not even realize that they are talking to a computer program. Most of the industry verticals have adopted chatbots for automating their processes and Insurance sector is one of them.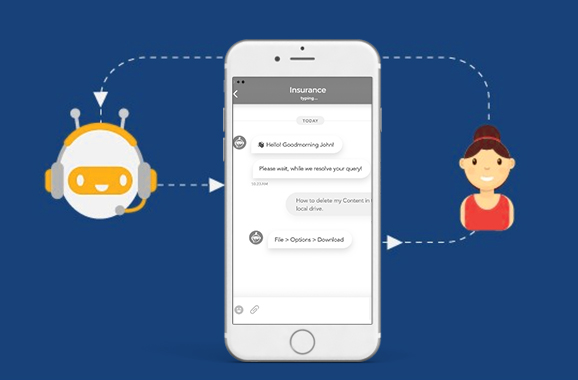 The insurance sector has always been a laggard when it comes to adapting to new technologies, but AI backed technology and RPA for insurance is nothing less than a boon for this sector. Insurance industry primarily revolves around in-depth analysis and information processing which makes it ripe for AI intervention.
The rise of the Automated Insurance Agent and RPA:
Is chatbot a winner for the insurance sector or it is still struggling to find its place? As per the TCS survey report, the Insurance sector has invested an average of $124million on AI and related processes, and this value is projected to rise exponentially as more investment on diverse applications is on the immediate horizon. The automation of several processes like broking, low-level claims processing, standardized underwriting is already implemented, and more automation is expected to follow.
RPA for insurance has also helped to mechanize the repetitive tasks that once needed a dedicated workforce.
A change in the customer's perspective:
Another factor that is playing a catalyst in pushing Insurance companies to digitize their operations is the customer. Customers are not shying away from the automated insurance agents rather they are embracing it full-heartedly. With the advent of extreme digitalization verbal communication has been replaced by written communication and people are accustomed to typing and texting. 77% of insurance customers are entirely okay with chatbots if it means alleviating the wait times that they often face with real-time customer representatives. Also, one out of every four insurance customers is comfortable with interacting with a chatbot which further implicates that automated insurance agents do not have a grim future and they are here to stay.
Machine learning applications for data:
The next step in the insurance industry involves leveraging the benefits of AI to analyze and collate the available data from various channels like the social media, emails, and online postings and provide customers with more specific and sophisticated insurance products. Such systems can help insurance companies to grow, improve sales, reduce costs and make well-informed decisions. It also helps to improve customer experience as they no more have to wait for getting their queries processed or obtaining information about their claims.
Implementing machine learning tools for making accurate predictions based on available data patterns is also a crucial part of the insurance industry. For instance, if one has available data for online insurance purchases, then it can help to narrow down the customer preferences based on the demographics which in return help with more lead conversion. The claims department can also analyze the data patterns for inconsistency and detect any fraudulent activities.
Jobs Creation:
The rise in the automated insurance agent may replace the conventional agent workforce, but there is a growing possibility of new job positions. As more and more companies will start deploying new technologies for their operations the need of digital analysts, online marketers and developers will subsequently rise. The companies will need technically proficient individuals with knowledge in machine learning, analytics and automation programs to manage their web-based sales.
Insurance companies are already feeling the pressure and the importance of automation. The rapid technological advancement and a paradigm shift in the consumer's buying behaviour are requiring companies to adopt new technologies. Tech pundits have predicted that there is a wealth of information to explore when it comes to Artificial Intelligence for Insurance.   
Knowledge thats worth delivered in your inbox