What is Robotic Process Automation(RPA)
RPA is an automation technology for making smart software by applying intelligence to do high volume, repeatable and time-consuming tasks. RPA is automating the tasks of a wide variety of industries, hence reducing time and costs while increasing efficiency. It is a rule-based engine configured to replicate processes across various systems by using multiple data sources, and by applying complex policies and time-based rules. Therefore, Robotic Process Automation can improve the way organizations manage their IT investment portfolio, at least.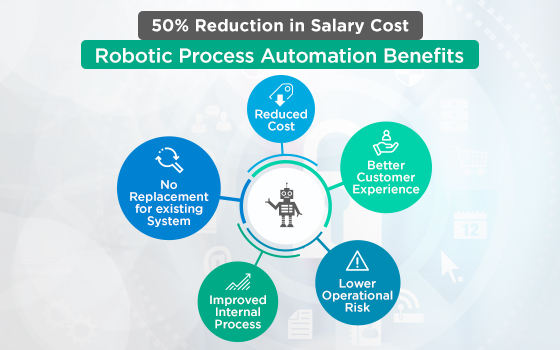 Here are some of the top Robotic Process Automation benefits for the businesses:
Reduced costs:
By automating tasks, cost savings of nearly 50% is a possible scenario, from productivity increase. Also, software robots cost less than a full-time employee.
Better Customer Experience:
Deploying RPA will free up your high-value resources, so you can focus more on customer success. Employees will have more time to invest their talents in more engaging and interesting work.
Lower Operational Risk:
By reducing or eliminating the human component, you will reduce errors due to lack of knowledge or tiredness, as a result RPA ensures a lower level of operational risk.
Improved Internal Processes:
In order to leverage Robotic Process Automation, companies are forced to define clear governance procedures. This leads to faster internal reporting, on-boarding and other similar activities.
No Replace for existing system:
RPA doesn't replace your existing IT systems. One of the biggest advantages of using RPA is that it can be adapted to leverage your existing systems.
It acts as an assistant to any human as it triggers responses and communicates with other systems in the same way as humans do. In addition to that, chances of making mistakes is almost none and it's quick. RPA is the thing which one should harvest quickly to gain a more competitive edge in the business.
Thank you Mihai Corbuleac, Senior IT Consultant at ComputerSupport.com for contributing.
Knowledge thats worth delivered in your inbox