Businesses have been running on profits and profits usually are the function of the costs. After industrialization, the costs were reduced by creating efficient processes to run things smoothly over a predictable timeline. This was all good till the time computers came and along came the internet connectivity.
The processes moved from humble registers to computers and when the computer labor became costly in a certain market some of the processes moved to the low-cost centers. All this for maintaining the cost to generate more profits. The business process automation(BPA) has been doing the same. It is about finding the efficiencies in the business processes to cut down unnecessary steps and make them less costly.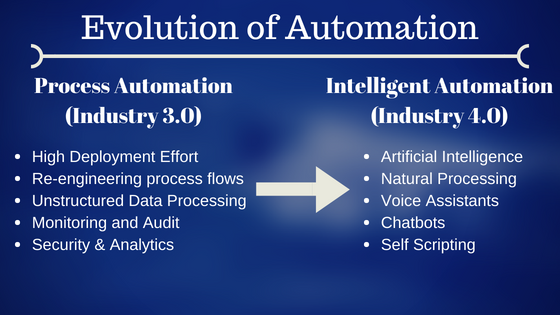 RPA capabilities
The latest revolution was when the virtualized platforms that allowed the addition and removal of resources required for processes based on the workloads. This allowed the companies to investigate opportunities to define their processes based on automated rules. This was the evolution of the Robotic process automation.
RPA goes a step further in terms of making the repetitive processes automated so that human intervention is lost. A simple application for this could be rule-based responses you need to provide for certain workflows. When you code in the Rules once they do not need an intervention of any kind and the RPA takes care of it all. Companies have benefited by implementing RPA based solutions and processes to cut costs multiple times. This is the time where bots started taking over communication as one of the first use cases.
Where is RPA headed?
The current revolution is Industry 4.0 which is going to change the dynamic once again. The RPA process still requires to be trained before they can apply the rules correctly for the given use case. The AI, ML, and cognitive computing provide the capability of self-learning to these systems and make the learning an on the job task, very similar to human way of learning. This change of process automation is being touted as Intelligent robotic process automation (iRPA) and it is here to stay.
iRPA can not only make bots more intelligent with every interaction they have but can also be trained to identify new areas where they could start assisting. So let's say you create a bot for customer support and over the period of time the bot can start providing options of features required in your products based on the feedback received in the interactions or provide you insights about whether a product may be successful or not based on similar product launches in the past.
iRPA is the future and use case are being defined for almost all industries however we feel that Insurance and banking would be the first ones to take the bite.
Knowledge thats worth delivered in your inbox