The chatbot market is predicted to reach a whopping 1.25 billion US dollars by 2025. These figures are not just mind-boggling, but they are proof that shows the relevance of chatbots today. Also, 45% of end users have already got comfortable with chatbots, and they prefer chatbots over other media for communication.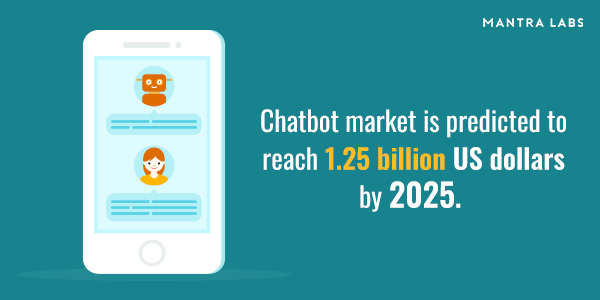 So, we can expect that by 2019 chatbots will reach another level of accuracy and efficiency. Here are the trends to watch out for chatbots in 2019:
1.

 

Intelligent systems:
Chatbots are the future of impeccable customer service. But to make it at par with human customer support it needs to be super interactive and smart. Companies deploying chatbots are continually working on optimizing their bots so they could be an equal replacement for a human counterpart. It is predicted that in the next few years conversational AI-first" user experience, or CUX,  will become mainstream in most organizations. CUX is an advanced version of UI  which is designed to help and improve the user experience so that they can reach their end goals faster.
2.

 

The rise of website chatbots:
By the next year, one can expect that several small, as well as medium-sized businesses who have not yet implemented chatbots, will look forward to adopting it. The emergence of third-party companies that help the organization to develop and build the industry-specific chatbots at affordable prices has made the adoption of bot technology easier. Chatbots are a great source to enhance the user experience and provides a 24*7 customer support as such all businesses need it.
3.

 

Stricter guidelines:
The crux of chatbots is DATA and more data. The introduction of GDPR guidelines this year has made the usage of data restricted. Even with stricter guidelines, the importance of data will not plummet, and it will only increase.  The companies will need to find responsible methods of data processing so that they adhere to the new guidelines and develop GDPR-compliant solutions.
4.

 

Chatbots beyond customer support:
The coming year will witness the use of chatbots for several more processes such as the B2B and B2E business workflows. Some existing examples include the chatbots for CRM, Intranet and IT help desks. As cited by a leading company Juniper Networks that chatbots can reduce the business costs by $8bn by 2022 and 2019 will witness some fantastic advancements in that direction.
5.

 

Mobile app saturation:
The mobile app market is saturating, and in the coming years, it is said that 50% of companies will focus their resources and finances on chatbots rather than mobile apps.
Reasons why chatbots are more preferred than mobile apps:
•    Chatbots are more efficient and intelligent and are a better way to reach customers.
•    Smartphone users do not want to exhaust their limited memory space with unlimited applications.
•    75% of Smartphone users use some messaging app.
•    The UI elements of an application or a website is a collection of information. If all of this can be packaged together and provided in a messaging app, it will be much easier for the users. Wouldn't it be great if you can manage everything from booking a movie ticket to buying groceries through a single interface?
•    Also, chatbots do not need a download you need to message them through a messaging app and ask them to perform a function.
We cannot ignore the immense benefits that chatbots have to offer. The exploration around chatbots is unlimited, and we will see them unravelling one at a time. The experience that chatbots provide whether it is finding a travelling location or getting information is super smooth and comfortable. The personal touch that chatbots offer is another plus point that makes chatbots a perfect fit for businesses.
Knowledge thats worth delivered in your inbox