Table of Contents
01 Decoding the Customers' Perspective
02 The Insurance Monthly Roundup
03 State of Indian InsurTechs in 2022
04 Innovative Insurtechs of 2022
05 Insurers are in the Emerging stage in CX Maturity Graph
Decoding the Customers' Perspective
Consumer perspectives and expectations may differ due to the difference in their demographics. 'One-fit-for-all' approach may not deliver a great experience to insurance consumers. Over the last two years, a large number of customers, particularly older Millennials and Generation X, have shifted to mobile apps to purchase insurance. Surprisingly, insurance apps are becoming increasingly popular amongst the newest generation – Gen Z.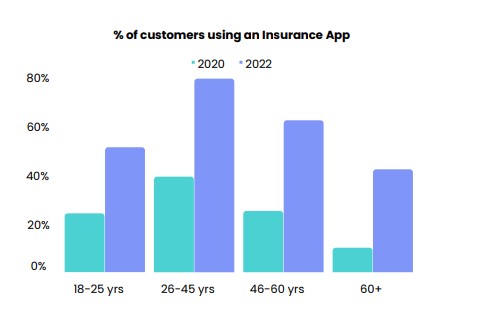 Insurance firms need to align their offerings with this generation's appetite for digital experiences. Also, customer experience may vary as per the demographics and financial stability of the customer.
Hyper-personalized solutions will elevate CX for existing customers: Customer retention has always been a challenge for the insurance industry and the cost of acquiring new customers is comparatively higher than the cost of retaining. For insurance firms, it becomes imperative to find out 'what else can be insured?' to increase the wallet share of the existing consumers who are searching for innovative and personalized insurance solutions to buy. Episodic (on-demand) insurance solutions and usage-based plans according to customer needs would generate cross-sell and up-sell opportunities for insurers. For example, Bajaj Finserv India offers episodic Insurance solutions such as adventure sports insurance cover to the customers.
Affordability and Convenience: Keys to augment the reach in the under-served market: Insurers need to take an out-of-the-box approach to increase the wallet share across the lower-income strata, as they have a different set of expectations. A great buying experience for them would include: a) An easily understandable and affordable product b) a Convenient mode of payment c) Agents who can explain the product features and benefits they shall receive. Micro-insurance products and trained agents will help insurers to connect and build trust amongst this newer audience as they rely on them for all insurance-related transactions. Shriram General insurance India has announced a launch of a separate vertical for a rural section of the country. The company is planning to facilitate doorstep delivery of insurance to remote locations by opening micro-offices and onboarding 40,000+ agents.
State of CX In Insurance
Read the full report.
The Insurance Monthly Roundup
A quick roundup of the month's insurance and insurtech news.
(India)
Bengaluru-based Pazcare secured $8.2 million in a Series A funding round. The company will infuse this fresh capital to improve its product line and scale its business operations. 

Ensuredit earned $4.2 million to increase product lines and strengthen its technical workforce. The company also plans to

invest

in artificial intelligence, machine learning, and computer vision-based products to improve customer experience, optimize sales teams, provide business insights, and eliminate leaks in financial reconciliation.

Tier-2 & 3 cities in India present a huge market opportunity for new-age insurance products like cyber insurance reveals Policybazaar's latest

annual

survey.
(Global)
Mali-based insurtech, OKO

secured

US$500,000 in the funding round. The company plans to use this capital to expand its operation on Ivory Coast.

Upcover has garnered $2.7 million in a Seed funding round. The funds will be

used

in product development and acquiring new customers.
Top 10 Innovative Insurtechs of 2022
Read our Latest Blog here.
State of Indian Insur Techs in 2022
Insurtechs in India has completely transformed the way insurance industry used to operate. With massive deal-breaking investments going on in the insurtech landscape, insurtechs have emerged as the catalyst for boosting customer experience in insurance industry. Digital disruptions in the country have led to the emergence of new distribution models to increase insurance penetration. Here are some key findings from the latest Redseer Consulting report on India's Insurtech industry landscape: 
Why are Super Apps trending?
Read our blog here.
TOP 10 Innovative Insurtechs of 2022
Financial stability has become a global priority now. And the key focus has now shifted to insure everything around whether it's people, pets, or things. With this emerging customer demand for insurance solutions comes the challenge of providing an exceptional customer experience. According to Gallagher's report, 143 deals were recorded worldwide in the first quarter of 2022. Keeping innovation and customers at the center, here's a look at the top ten innovative insurtechs of 2022 (in no particular order) –
Businesses are heading to metaverse-based ecosystems where solutions based on blockchain technology are on the rise. Unique insurance solutions are clear evidence of rapidly evolving customer expectations. Hong Kong-based virtual insurer OneDegree teamed up with Munich Re to insure digital assets due to increased demand from Non-Fungible Token (NFT) holders seeking security against hacking and theft. With investments and advancements on the go, the future of insurance sure looks promising.
(Note: The insurtechs highlighted here are not rank-based and are not indicative of the 'best' insurtech products available today.)
AI and the Gen Z Experience
Read the full blog, here.
Insurers are in the Emerging stage in CX Maturity Graph
According to Mantra Research 2022, 58% of insurers agreed that they are in the Emerging stage in the CX maturity graph. International Data Corporation (IDC) predicts global IT spending in insurance will grow at a CAGR of 6% by 2024, hitting a market size of $135 billion, with customer experience accounting for 37% of this investment. This means more insurance organizations will be deploying AI, IoT, and data analytics to understand customer persona at the grassroots level and scale up customer experience across the entire value chain.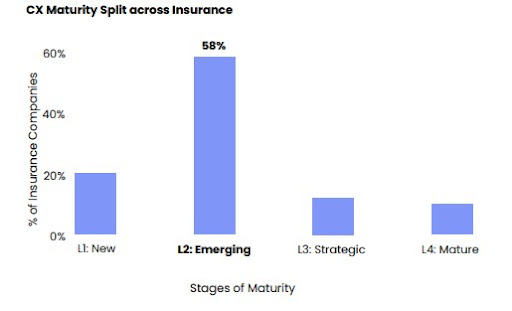 Technology has taken on a human dimension which is why the 'phygital' strategy is the new differentiator where CX will be the deciding factor in building customer loyalty and delivering richer experiences from here on out. 
6G and the Future Customer Experience
Read our blog here.