Table of Contents
01  InsurTalks — Conversations with Industry Leaders
02  Operational Continuity Solutions for Insurers
03  Lessons Learnt: Chinese Insurers in the New Normal
04  Touchless UI: The 'Next Normal' in Digital Interfaces
05  Consumer Spending in the COVID-era
---
Latest
INSURTALKS: CONVERSATIONS WITH INDUSTRY LEADERS
As the World enters into the 7th consecutive week of lockdowns, the future is still uncertain for life in the Post-COVID-19 world. To explore the impact of the ongoing crisis on global businesses, Mantra Labs has launched a Podcast where thought leaders from across all industry sectors are invited to share their insights on the future state of their industry. Listen to our conversational series, as we learn more about the immediate effects, mitigation strategies, long term business opportunities and technology trends that will envelop the New Normal in Insurance.
Watch our conversation with Mr. KB Vijaya Srinivas, Director MD India TPA.
---
Latest
Operational Continuity Solutions For Insurers
Mantra Labs has launched ready-to-deploy solutions for insurers to address the immediate business impact of the COVID-19 crisis — in order to safeguard performance & productivity against any unplanned business interruption. 
Three key challenges for Insurers:
For the medium term, building & protecting 'demand' will be the top most priority, while adapting to shifting sales cycles and new risk factors. 

Rise in Motor & health claims will put undue stress on claims processing systems, and the near term premium pricing outlook.

Direct selling channels are directly affected due to reduced volumes in the car-lease segment and ongoing efforts to maintain social distancing norms, amidst lockdowns.
Business Use-Cases for Operational Continuity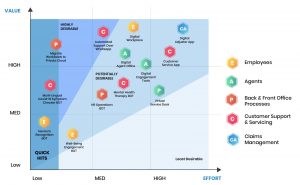 Learn more about our Operational Continuity Solutions, here.
---
Insights
Lessons Learnt: Chinese Insurers In The New Normal
In China, where the virus struck first, the pandemic hit during the life insurance industry's high season; disrupting offline sales and affecting insurers' first-quarter sales targets. Despite the major setback, insurers took rapid action to address the challenges head-on.
Almost all insurers provided extended coverage on existing health policies to cover treatment costs related to COVID-19.

Chinese insurers (life & health) provided over 10 million free policies valued at around $10,000 per policy to agents to sell to customers, as a means to keep the agent network active.

After 76 days of lockdown, Digital health & online medical services is the new normal in China. The country's largest healthcare platform,

Ping An Good Doctor

, for example, experienced 10X growth in newly registered users between  early Jan to mid-February, with their average daily consultations reaching 9X the normal rate.

After 10 weeks of lockdown ended in Wuhan, consumers have slowly shifted from buying daily necessities and home fitness equipment to buying clothing, cosmetics and travel accessories. 

Initially, as businesses and teams connected remotely, the adoption of Alibaba's DingTalk, WeChat Work, and Tencent Meeting increased rapidly. DingTalk, for example, had to add 20,000 cloud servers to support the extra traffic.

According to a Swiss Re consumer survey, nearly 75% of respondents in China said they have recently engaged their insurer or researched new policies — Out of which, over half (around 55%) noticed new or additional benefits they were not aware of before.
The State of Healthcare Industry Post-COVID-19
Read our latest blog here.
---
Opinion
Touchless Ui: The 'next Normal' In Digital Interfaces
While interfacing with machines via touch interfaces, we're not really using 70% of our natural communication skills — mainly voice and gestures. The coronavirus outbreak has made people skeptical about using touch-based interfaces especially in public places. Touchless UI will become the new normal among digital interfaces, of which voice will be the most dominant. Nearly 55% of google search in America (30% in India) are voice-driven, indicating voice assistance will further progress linguistic democratization.
Speech is the next UX.
Read our latest blog here.
---
Opinion
Consumer Spending In The Covid-era
According to a recent McKinsey report, 30-50% of consumers across the world expect their household income to continue to fall in May. Apart from reduced spending on all non-essential products and services, consumer behavior has also started to become more erratic. 
However, the future outlook for some of the World's economies are still optimistic. India's consumers, for example, are displaying higher levels of optimism, with more households planning to increase spend—a trend that is also evident in China, Indonesia, and Nigeria.
Impact of COVID-19 On Customer Spending Categories`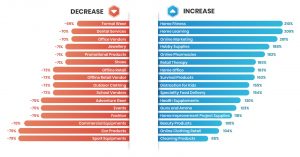 Many industries have witnessed increased online discretionary spending during the new normal. According to a recent survey, by Avalara —
Survival supplies:

The rate of transactions for businesses selling survival products, like water purification systems, preserved food, camp stoves, and solar panels, increased by 163%.

Hobby supplies:

The rate of transactions for hobby supplies, like arts and crafts, collectible car parts, and drones rose by 188%.

Home improvement supplies:

The rate of transactions for home improvement supplies grew by 118%.

Kids entertainment/distractions:

The rate of transactions for things like games, pools, bikes, and playground equipment (really anything to entertain and distract kids for a bit) increased by 155%.

Home learning: T

he rate of transactions for home learning equipment and supplies increased by 209%.

Home fitness:

The rate of transactions for home fitness programs and equipment grew by 210%. We have no knowledge of the use of said programs and equipment once installed, though we assume that minutes spent on fitness are not up 210%.

Specialty food delivery:

The rate of transactions for the delivery of specialty food items like desserts, meat, baked goods, coffee, and gluten-free foods rose by 154%.
Business Continuity for Remote Call Centre Operations
Read our latest case study, here.
Business cognizance for the new-age digital insurers