The much-awaited Global InsurTech100 list is out now! This prestigious list compiled by FinTech Global comprises 100 of the most innovative tech-startups transforming the digital insurance landscape through innovative products and solutions. They are selected by a panel of analysts and industry stalwarts from an exhaustive list of over 1200 technology firms, who are solving the most pressing challenges in insurance today. 
This year three Indian technology companies, the others being Quantiphi and Pentation Analytics, made the list. Mantra Labs has also been featured among the most innovative InsurTechs across the world for the second straight year in a row, along with Pentation Analytics.
InsurTech100 companies offer solutions that enhance functions across the entire insurance value chain, including marketing & distribution, underwriting & risk rating, claims, and customer retention, and they incorporate the latest technologies, such as big data analytics, blockchain, artificial intelligence, the internet of things and bot-assistants. 
In the past couple of years, the insurance industry has seen disruption to several functions across the value spectrum thanks to innovations made by InsurTechs. This has certainly increased budgets for InsurTech collaboration and the adoption of next-gen technologies within their corporate strategies. According to FinTech Global, over $7bn has been invested in InsurTech solution providers since 2015 by insurers looking to benefit from the huge impact new digital models will have on the industry.
This year's cohort is diverse and comprises a wide range of capabilities — with 20% of the companies featured having a focus on AI-based solutions, 42% of firms spread across auto insurance, 38% across health insurance, and 3% of companies that develop insurance specific chatbots. The US covers a major portion of the global InsurTech100 list with 39 InsurTechs, followed by the UK with 20 startups being listed. 17 companies featured in the report are from France, India, Singapore, and Germany. The remaining companies come from Brazil, South Africa, Hong Kong, Sweden, Netherlands, and Australia. 
Evolving Digital Insurer Landscape
Changing business dynamics has brought a radical shift within the insurance industry. This year, with almost every sector being hit by the pandemic COVID-19, user sentiments towards technology have evolved. As predicted by many industry experts AI-driven technologies are being implemented to generate interest among the millennial and Gen Z generations. Insurtech is well poised above all else, to satisfy even the most unique coverage needs, removing traditional challenges like ownership from the mix.
With the growing popularity of digital channels, the importance of Digital Experience (DX) is also rising amongst the users. Insurance companies are trying to match the ever-changing financial and protection needs of the customers by building self-service portals for quick access and instant solutions. 
Last year (2019), the global InsurTech100 recognized 6 Indian companies – Acko, Aritivatic, Mantra Labs, Pentation Analytics, PolicyBazaar, and Toffee Insurance.
According to FinTech's Global director Richard Sachar, "The impact of the most innovative InsurTech companies will be measured in billions of dollars over the next few years".
How Mantra Labs impacts the Insurance Value Chain
Mantra Labs is an AI-driven Products & Solutions Firm. We design and build Intelligent Experiences for the Insurance Industry. Mantra Labs offers three core products for solving the most pressing challenges faced by InsurTechs around — claims processing, workflow management, process automation, onboarding, leads maximization, customer experience & engagement. Here are some of the products by Mantra Labs for the insurance industry-
FlowMagic is a visual AI platform for insurer workflows. With FlowMagic, insurers can create, customize, and monitor workflows. It is built to scale across the insurance value chain. It comprises pre-built AI-powered applications which can be strung together to execute any workflow.
Lead Conversion Administrator is an AI-enabled tool that allows insurers to lower lead leakage and maximize capture from the sales funnel for conversion.
Multilingual AI-Powered Chatbot, Hitee allows insurers to fulfill routine customer support tasks via Natural Language Processing (NLP) and Machine Learning (ML) models trained on insurance-specific parlance.
Mantra Labs has been deeply involved in developing technology solutions for some of the World's leading insurers like SBI General, Care Health (formerly Religare), DHFL Pramerica, Aditya Birla Health, AIA Hong Kong along with unicorn consumer startups like Ola, Myntra, and Quikr.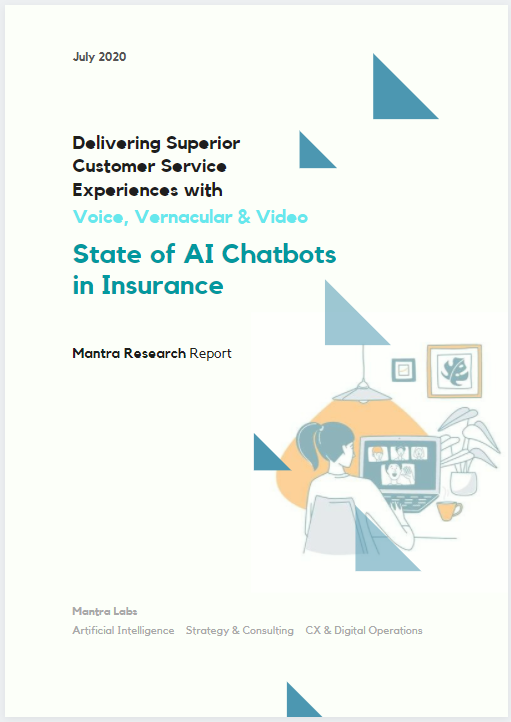 Knowledge thats worth delivered in your inbox