Table of Contents
01   Are Machine Learning Use Cases in Insurance Evolving?
02   India's General Insurance Market is Poised for Big Things in 2020
03   State Of AI In Insurance 2020 Survey
04   5 AI Predictions to Watch out for in 2020
05   The State of Predictive Journeys so far..
06   The Future of Faceless Computing & Voice UX
---
Insights
ARE MACHINE LEARNING USE CASES IN INSURANCE EVOLVING?
Most insurance companies process only 10-15% of the structured data they have access to. This means, there is potential for machine learning to unlock value from both structured and unstructured data throughout the insurance value chain.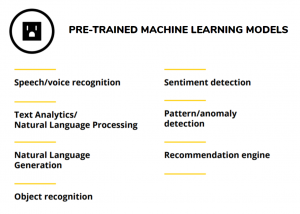 Source: Deloitte Report – AI in Insurance
Is there potential for new ML Use Cases in Insurance?
Yes, the key to becoming a cognitive insurer is to make the most of your existing data. To achieve this, insurers must leverage the ability of advanced machine learning models. 
Insurance Advice:

The models can prevent 'lost business opportunities' from slipping through the funnel by providing timely information to both agents & customers to resolve product queries — for consumers are seeking personalised solutions made possible by machine learning algorithms

Fraud Prevention:

ML is far superior to traditional predictive models because it can tap into unstructured and semi-structured data to retrieve timely insights about the claim. Lemonade, the World's largest Insurtech, makes use of at least 18 anti-fraud algorithms that run in real-time before it can settle a claim in under a few minutes —  improving the claims settlement process.

Risk Management:

For underwriters, predicting risk requires putting the data you already own to effective use — i.e, a streamlined flow of continuous data to understand the behavior of the customer. Health (40%), Home (38%) and Motor (48%) customers are already willing to share their personal information or have insurers track their behavior in exchange for more accurate premiums. 
Millennials & Insurance Beyond Convenience
Read our Latest Blog here.
---
Opinion
INDIA'S GENERAL INSURANCE MARKET POISED FOR BIG THINGS IN 2020?
General Insurers (minus standalone health insurers) underwrote 1,707 Lakh policies during the financial year.