Back in 2016, Apple CEO Tim Cook said that augmented reality would be more significant than virtual reality and as of now we cannot agree more with him on this statement. The first most famous example of AR was the Pokemon Go that shook the entire world with its antic features. The amalgamation of the real and the digital world is not just astounding, but it is irresistible. Unknowingly we have also evolved in how we use our devices from tapping the screen to asking Siri and Alexa to make calls for us. AR is bringing us to the world of holographic computing and introducing the customers to a futuristic user-interface.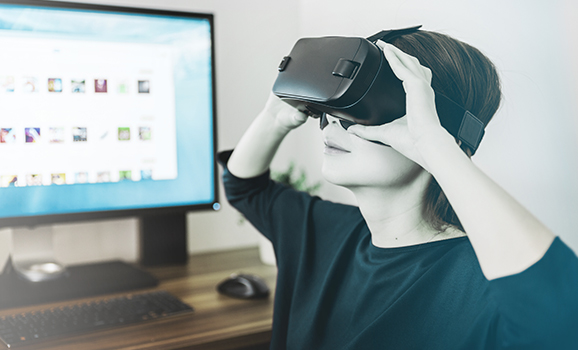 It is profoundly impacting the customer experience as people love to see their real-world through the digital lens. Marketers are coming with new technology ideas to interact with customers in a whole new light. Let us check five ways in which augmented reality is making inroads into the customer experience:
1. 3-D mockups: It is a way which allows customers to see an inexpensive mock-up of their selected goods. I was surfing a furniture store online, and I was quite excited to use their feature where the user can view how a product will look in his space. The customers needed to switch on his camera and point to the area that they want to furnish and see how the selected pieces fit that space.
2. Improved buying experience:  Augmented reality can help the brick and mortar stores to improve the shopping experience of their customers and also the employees on the floor. The users can scan a product and find the detailed information about it and also get redirected to the related products.
3. Optimized customer service: AR is a great option to optimize the customer service. For businesses that have an unlimited number of phone calls coming in and out can easily leverage the benefits of Augment reality. They can use it to answer several customer queries without any wait and hold times. The best examples are the "How-to" and instructional guides that allow customers to see how a particular product works. If you are having problems while setting up your laptop, you can point your camera to it and follow the instructions as illustrated. It is much better than reading or answering the faqs.
4. Revolutionizing the fashion:  Not sure if a fashion accessory is fit for you or not? Welcome to the world of Augment reality that allows people to picture themselves in various fashion items be it clothes or accessories.  You can upload your photo and see how sunglasses fit your face shape or enter your body metrics to know whether a clothing item is right for you or not.
5. Interactive advertising: The one advantage of AR is that it allows a brand to enter a customer's real world making it a natural fit for advertising.  It helps to establish an emotional connection with the customer. Unlike banners and image ads AR advertisements allow customers to interact with a brand. How would you feel if you come across an AR backed movie ad billboard that will play the trailer for the movie on your smartphone as soon as you point your camera towards it?  Isn't it amazing and at the same time tempting?
Mobile AR is predicted to lead the VR/AR market of $108bn by 2021 that is indicative of the fact that how AR is rapidly overhauling the existing businesses. The expectations of the customers have also changed dramatically, and they look forward to more innovative technological advancements. Companies need to keep churning out new techniques to keep the customer interest intact and offer excellent customer experience.
Knowledge thats worth delivered in your inbox