The rapidly advancing world suddenly came to a halt with the outbreak of the COVID-19 pandemic. If anything positive that has come out of this crisis is that it has made people more comfortable with technology. Even people from non-tech-savvy older generations are readily adopting technological advancements. Especially the customer service verticals (helpdesk and support portals) if businesses are seeking automation the most.
Chatbots have come a long way since they were first introduced. In 2016, Facebook allowed chatbots into its Messenger platform to let businesses deliver automated customer support, e-commerce guidance, content, and interactive experiences through chatbots. From answering simple queries to scheduling appointments, chatbots have evolved into AI-driven Virtual Assistants. Given the variety of purposes they solve, chatbots are here to stay. The chatbot market is projected to reach $1.25 billion by 2025.
Let's look at some of the most pressing points which make Customer Service Chatbots so relevant in the current period.
1. The Need to Save Time, Money and Resources
The prolonged lock-downs have left a deep impact on the business cash-flows. To manage the business with limited resources and constraints on budget, this is the right time to integrate chatbots which can take up routine tasks and save bandwidth of human resources for more complex ones. These days, chatbots are available at affordable prices and even on monthly subscription models.
2. Elevate Digital Customer Experience
During the initial stage of the COVID outbreak, people struggled to get essentials. The volume of customer grievances and queries were very high. Businesses struggled to address them. AI-driven chatbots in such situations prove to be a great asset in acknowledging the problems and providing relevant solutions.
Voice-enabled customer service chatbots give a human-like experience to customers which helps add that personal touch in a digital environment. Unlike command-based chatbots, AI-based or Machine Learning chatbots can answer ambiguous questions. Based on the responses, chatbots are learning and can provide better answers over time. NLP chatbots will take the digital CX to another level which is a crucial differentiator for businesses in these times.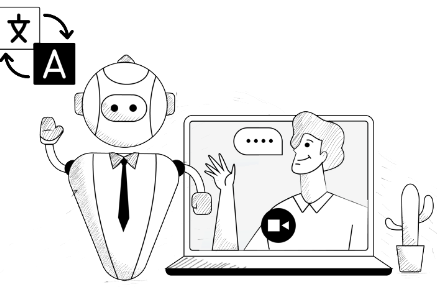 AI in Insurance will value at $36B by 2026. Chatbots will occupy 40% of overall deployment, predominantly within customer service roles.
DOWNLOAD REPORT
3. Build Customer Engagement and Brand Loyalty
One of the biggest pain-points of the lock-downs and social distancing is keeping the existing customers and clients engaged and building trust amongst them. Retaining brand loyalty has been challenging since customers during these times will watch out for businesses that provide the best services. Big names with a huge customer base may fail if they continue with legacy systems and traditional models even in these crucial times.
To keep the business running, organizations will have to engage with customers. Bots can derive data through it's AI capabilities which can be used to re-engage with customers. Especially in the e-commerce sector, bots can remind customers of the unbought items from their wish-list, suggest items to pair with the selected ones, take feedback, and so on.
Customers remember brands that provide good services during difficult times.
4. Dealing with the Issues of Modern Workforce
Due to lockdown, organizations faced a pressing challenge to ensure the smooth functioning of business with a remote workforce. A part of this challenge was also to ensure healthy and transparent communication with the internal workforce i.e. employees.
Especially the larger organizations and MNCs faced communication challenges with their employees across the globe. For instance, the HR department might not be able to reach all its employees. This calls for a need for chatbots that can address some of the basic queries. As Gartner predicts — by 2022, 70% of white-collar workers will interact with conversational platforms daily. The current pandemic is just fueling the adoption of helpdesk automation.
5. Lead Generation
The business development and sales departments have a difficult road ahead. Given the economic slowdown, how to generate leads? Considering the current situation, many businesses are going digital as sales representatives cannot meet clients in-person.
In the B2C space, cold calling and email marketing will soon become redundant. The situation requires an interaction with people through which leads can be found. Bots can provide data on the back-end while interacting with prospects and help businesses reach out to them. Thus, enabling more sales conversions.
[Also read: Conversational Chatbots for SMEs to continue business from home]
What Does the Future Look Like for Customer Service Chatbots?
Modern customers include Millennials and Gen Z who represent 2 billion (27%) and 1.8 billion (24%) of the population respectively. They have a high affinity for self-service portals and look out for their query resolution instantly. Chatbots with integrated workflows can drive historical consumer data and accordingly suggest resolution.
Companies like Uber and Amazon are already deploying self-service customer support, which not only releases the load from call-centers but also satisfies the growing preference for convenience. According to a recent Salesforce survey, 60% of businesses are ready to adopt self-service portals and chatbots are a crucial part of facilitating this.
Knowledge thats worth delivered in your inbox